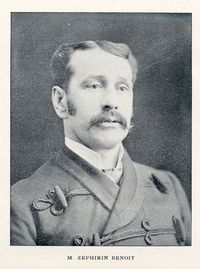 Source: Courtesy of Bibliothèque et Archives Nationales du Québec / 52327/1956923
BENOIT, ZÉPHIRIN, firefighter and chief of the fire brigade; b. 5 March 1850 in Saint-Jean-Chrysostome (Saint-Chrysostome), near Châteauguay, Lower Canada, son of François Benoit, a farmer, and Julienne Sainte-Marie; m. 4 Nov. 1871 Rose de Lima (Délima) Dussault in the parish of Notre Dame in Montreal, and they had three sons and three daughters, two of whom survived them; d. 29 Sept. 1930 in Montreal.
Zéphirin Benoit attended Saint-Rémi school in Napierville and then at the age of 14 went to live in the United States, where he continued his studies. On his return to Quebec four years later, he worked as a clerk in a grocery store. His career as a firefighter began in 1871 with the Montreal fire department. On 9 Aug. 1875 he was appointed chief of the fire department and the police in Saint-Henri, a newly incorporated town. His task was to organize the fire-fighting service in this municipality of about 6,000 people. For 13 years, with only four men under his command, he managed the service efficiently and never had to report a fatality among the firefighters. He himself was seriously injured, however, during a tannery fire in 1885, when he fell from the fifth floor into the ruins of the building.
On 29 Oct. 1888 the city of Montreal appointed him to replace William Patton as chief of the fire brigade, which was under the jurisdiction of the fire department. While he was in command of the brigade, it averaged 170 men on its roster. Benoit introduced many improvements. In 1889, for example, he instituted a night patrol to locate fires quickly and reduce the number of conflagrations. The following year he made a proposal to the fire committee, the body having authority over the fire department, that it hire physicians to treat injured or sick firefighters. As a result, it appointed two physicians who took up their duties in May 1891. Chief Benoit also added to the fire brigade's equipment by purchasing a single-tank chemical pump as well as a water tower for fighting fires in tall buildings. In 1891 he divided the territory of Montreal into three districts (east, centre, and west) to ensure a better allocation of the brigade's personnel and more effective fire-fighting. Realizing also that having electrical power lines in the city streets interfered with the activities of firefighters, he suggested that the wires be buried in conduits (the first underground cables would not be laid until 1913). In 1892 he inspected the city's public buildings and drafted recommendations for eliminating potential fire hazards, planning emergency measures, providing public buildings with appropriate safety equipment, and reducing the loss of human life. Since Montreal had grown with the annexation of the villages of Hochelaga (1883), Saint-Jean-Baptiste (1886), and Saint-Gabriel (1887), a fourth district (northeast) was added in 1893. In 1894 Benoit patented a dual-action reel he had invented, which could hold 1,000 feet of hose. In the same year he proposed that a fund be set up in aid of injured or sick firefighters. The provincial government would act on this suggestion in 1898 by amending the regulations of the Montreal Firemen's Benefit Association to allow the establishment of a retirement or pension fund. In 1894 he also succeeded in getting the municipal building code changed, to ban the use of sawdust as filler for floors, walls, and roofs. Two years later he purchased an attachment for the nozzle of a fire hose, called a Décarie, which allows the stream of water to be varied from a quarter inch to one inch in diameter.
During Benoit's term as fire chief, Montreal underwent unprecedented urban development. Population growth, urban expansion, and increased building activity multiplied the problems connected with fire-fighting. The brigade had to combat on average 680 fires a year, including major ones at the Asile de Longue-Pointe (1890), the Pensionnat Villa-Maria (1893), the Eastern Abattoir (1897), the Montreal Board of Trade (1901), and the Windsor Hotel (1903). Twelve firefighters were killed in the line of duty during this period. Chief Benoit regularly recommended the construction of new fire stations as needed. After more than 20 years in service, he retired on 1 Jan. 1909. In the course of his career he had received various decorations: gold and silver medals for acts of devotion to duty, a gold medal at the international firefighters' tournament in London, England (1896), and from France a rescuer's rosette (1900) and a service medal for courage and dedication.
A few months after his retirement, however, Benoit's integrity was called into question during the hearings of the royal commission to make a general and complete inquiry into the administration of the affairs of the city of Montreal. Set up on 7 April 1909, this inquiry was conducted by Lawrence John Cannon. In the report Cannon submitted on 13 December, the judge accused Benoit of embezzlement and of maladministration in the appointments and promotions to the fire brigade, and recommended that he be forced to repay one-half the costs of the inquiry, a sum of $571.20. This recommendation would not be accepted, however, by the new city council elected in February 1910.
Although the conclusions of the Cannon inquiry tarnished Zéphirin Benoit's reputation, they should not cause his substantial improvements to the Montreal fire-fighting system or his ingenuity to be forgotten.
ANQ-M, CE601-S51, 4 nov. 1871; CE607-S6, 10 mars 1850. VM-DGDA, P23, Procès-verbaux du conseil, 9 août 1875; VM1, Dossiers d'employés, Zéphirin Benoit; Procès-verbaux, 29 oct. 1888; VM6, Dossiers de coupures de presse, D1031.8 (chefs du Service d'incendie); VM50, Rapports, 19 oct. 1908. Le Devoir, 30 sept. 1930. La Presse, 31 oct. 1908. Canadian Patent Office Record (Montreal), 22 (1894). L. J. Cannon, Rapport sur l'administration de la ville de Montréal, décembre 1909 (s.l., n.d.). Huguette Charron et Françoise Lewis, Les débuts d'un chef, Zéphirin Benoit; la naissance d'une ville, Saint-Henri, 1875–1888 (Montréal, 1999). J.-C. Lamothe, Histoire de la corporation de la cité de Montréal depuis son origine jusqu'à nos jours . . . (Montréal, 1903), 537. Ville de Montréal, Dép. des incendies, Rapport annuel du chef du département des incendies, 1889–1909.
© 2005–2023 University of Toronto/Université Laval
Cite This Article
Hélène Charbonneau, "BENOIT, ZÉPHIRIN," in Dictionary of Canadian Biography, vol. 15, University of Toronto/Université Laval, 2003–, accessed October 1, 2023, http://www.biographi.ca/en/bio/benoit_zephirin_15E.html.
The citation above shows the format for footnotes and endnotes according to the Chicago manual of style (16th edition). Information to be used in other citation formats:
| | |
| --- | --- |
| Permalink: | http://www.biographi.ca/en/bio/benoit_zephirin_15E.html |
| Author of Article: | Hélène Charbonneau |
| Title of Article: | BENOIT, ZÉPHIRIN |
| Publication Name: | Dictionary of Canadian Biography, vol. 15 |
| Publisher: | University of Toronto/Université Laval |
| Year of publication: | 2005 |
| Year of revision: | 2005 |
| Access Date: | October 1, 2023 |