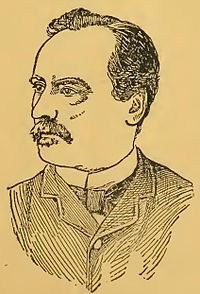 Source: Courtesy of Wikimedia Commons
BERTHELOT, HECTOR (baptized Louis-Hector-Flavien), lawyer, journalist, publisher, and writer; b. 4 March 1842 in Trois-Rivières, Lower Canada, son of Louis-Flavien Berthelot, a merchant, and Jane Mason; d. unmarried 15 Sept. 1895 in Montreal.
Hector Berthelot was born in Trois-Rivières while his parents were moving from Quebec to Montreal. But he often denied that such flimsy grounds made him a native of the place, all the more because "this town of unprogressive people" held little appeal for him, as he declared in a mainly autobiographical talk at the Montreal Cabinet de Lecture Paroissial on 27 Dec. 1889. After finishing his elementary schooling, he did his French studies at the Collège de Chambly in 1853 and the first and second years of the classical program (Latin elements and Syntax) at the Séminaire de Saint-Hyacinthe in 1854 and 1855. He completed his education at the Collège Sainte-Marie in Montreal. From 1861 he was articled to George-Étienne Cartier* and François-Pierre Pominville and on 4 Jan. 1865 at Quebec he was called to the bar. He did not then practise his profession, however, admitting that he had no more taste for petty disputes than for military life. He was, however, commissioned a lieutenant at the Quebec military school in 1865, and he had translated several works on the art of war for Major Louis-Timothée Suzor* in 1863 and 1864.
Berthelot had quickly made his way into the field of journalism. He launched his career as a columnist in Montreal, working first for Le Pays in April 1861, and then for La Guêpe. At Quebec he began in 1863 as a writer for La Scie, a humorous bilingual newspaper intended "to annoy the evil Rouges." As a parliamentary correspondent, he wrote for Le Courrier de Saint-Hyacinthe, whose editor at the time was Honoré Mercier. He turned up later in Ottawa, where he led "a hectic, irregular life," as he himself put it, practising in turn the professions of lawyer, teacher, photographer, columnist for the Montreal paper L'Ordre, and auctioneer's clerk. Berthelot's assertion that he moved to Montreal in 1870 contradicts the claim made by Ernest-E. Cinq-Mars in his history of Hull that he practised law in that city from 1870 to 1873. Whatever the case, in 1874 he was a reporter for the Montreal Bien Public. When it collapsed in 1876, he moved to La Minerve but left two years later, since Le Canard, which he had founded in the fall of 1877, was proving too demanding. It was chiefly through this satirical weekly, to which he devoted his talents as a humorist and caricaturist, that Berthelot soon made a name for himself. Although the paper had already published a few pages during cruises on the steamboat Canada, its first issue came out on 6 Oct. 1877. The 500 copies were quickly sold. The print run was increased to 5,000 in November and 10,000 in December, evidence of the striking success of the paper, which was one of the satirical organs to boast a steam-press and to print colour illustrations. In June 1878 Berthelot turned it over to the firm of Godin, Mondou et Compagnie but retained the post of editor. He resigned in August 1879 and on the 23rd of that month he founded Le Vrai Canard. But he replaced it on 12 Nov. 1881 with Le Grognard, another humorous weekly, to keep the public from confusing Le Vrai Canard with Le Canard, which was still publishing nonsense and insults that inevitably, much to his annoyance, were attributed to him. Because of financial difficulties he had to give up Le Grognard on 8 March 1884.
Berthelot did not abandon his profession, however. He was a journalist at heart and continued to write for the major Montreal newspapers, namely Le Monde, Le Courrier de Montréal, L'Étendard, the Montreal Star, La Patrie, and La Presse. On 8 Aug. 1885 he founded Le Bourru at Longueuil. This "provocative newspaper," which sought "to judge dispassionately and at some remove the important events that from time to time disturb our political and municipal world," ceased publication on 12 September. The next year, on 25 September in Montreal, he launched Le Violon, "the newspaper that mocks people," which like all the other periodicals Berthelot founded and edited would stop at nothing to achieve its ends. It ceased publication on 28 Jan. 1888. He then wrote for La Vie illustrée, "a literary, satirical, humorous, artistic, society and sports newspaper" published in Montreal. On 24 May 1890, during the provincial election called by Honoré Mercier, he launched L'Iroquois, which disappeared soon after on 21 June.
Berthelot had an extraordinarily full journalistic career. He owed his success to talent as a humorist – he was said to be the greatest of his time, indeed of his century – and also as a caricaturist. Ladébauche, a character he created on 9 Nov. 1878, contributed to his popularity. In the letters of Ladébauche he unfailingly kept people informed, in his own way, about federal, provincial, and even municipal politics. Ladébauche stayed abreast of political, social, and cultural activities daily and showed interest in current problems: the Manitoba school question, in which he sided with the Catholics of that province; the northern railways; the downfall of the Rouges. He flayed politicians, lampooned rival newspapers (especially the ultramontane ones), ridiculed the customs of his fellow citizens, and even made jokes at the expense of his friends. Writing in La Presse on 4 July 1931 under the pseudonym Gilles Reynald, Éphrem-Réginald Bertrand averred, "His Ladébauche and his Cane du parc Viger have subtle analyses of the mentality and activities of the populace. . . . [Old Ladébauche] despairs of ever preventing women from liberating themselves; he dares to believe, in 1895, that in another 50 years they will be swearing, drinking, smoking cigars." Berthelot did not spare societies, associations, or clubs. The caricaturist had his favourite whipping-boys: judge Bourgoin, a beaky figure with a long neck, depicted one day as a jack-in-the-box with the caption "to be continued in the next issue," and alderman Charles Thibault*, always caricatured with disproportionately large feet that remind a weeping father of his twin sons' coffins. Short of material one day, Berthelot took "a galley of pied type (jumbles of letters used by apprentices for practice), interspersed them with '(applause),' snatches of highflown words, ellipses, and exclamation marks: behold, a magnificent speech by Thibault," which, like all the famous councillor's other speeches, would require at least a week to digest. He followed closely the "grand vicar," François-Xavier-Anselme Trudel*, a contributor to Le Nouveau Monde of Montreal, who was a favourite target of his, as was Jules-Paul Tardivel* of the Quebec paper La Verité. Berthelot's attacks, even in the guise of humour, sometimes proved risky. In 1889 he was forced to give a humorous talk at the Cabinet de Lecture Paroissial to raise the money for a fine of $422.67 levied in a libel suit brought against him by another celebrated whipping-boy, Odilon Goyette, a member of the Legislative Assembly whom he had fiercely attacked in a dialogue in Le Violon. The judge sentenced him to three months in prison if he failed to pay by 4 Jan. 1890.
One of Berthelot's most spectactular hoaxes was the announcement in Le Canard on 14 Feb. 1885 of his own death following a cowardly attack by two bandits armed with lead-filled canes. In his will, written moments before he died honourably and "in the Roman Catholic religion," he asks "pardon of all those people whom I may have offended during my journalistic career." He specifically addresses himself to the editor of L'Étendard, his favourite target, and, "to make up for the harm I have done," he asks Trudel to take over as editor of Le Canard "in order to bring the subscribers back into the path of holy doctrine." "I regret," he continues, "all the paradoxes and fiendish subtleties that I used in attacking the principles of L'Étendard. I acknowledge my errors and I beg the grand vicar to forgive me for them." Yet he still made fun of Trudel by including, at the end of his column, a telegram from him, dated the previous day, announcing that he had accepted the editorship of the paper and would send in his first article the next day.
When Hector Berthelot died on 15 Sept. 1895, all the newspapers mourned the loss of a great humorist and brilliant journalist who had delighted in denouncing society's shortcomings. In Le Monde of 16 September, Henri Roullaud (under the pseudonym Jean Bâdreux) spoke for his fellow journalists when he confined himself to "giving a final sad salute to one of our own who had nothing but friends in the newspaper world and [who], despite his often cruel attacks, had not a single enemy among those whom his satirical wit sometimes stung."
Hector Berthelot published his only novel, Les mystères de Montréal, roman de mœurs, in Le Vrai Canard, the first part running from 20 Dec. 1879 to 31 July 1880 and the second from 13 Nov. 1880 to 5 March 1881. The novel was republished in Le Canard from 23 May 1896 to 18 Feb. 1897 and then in book form in 1898 by A.-P. Pigeon, publisher of Le Canard. (The latter had ceased to be issued on 24 Sept. 1887 but Berthelot restarted it on 25 Nov. 1893.) Volume I of DOLQ contains an extensive commentary of the novel. Berthelot's mock obituary in Le Canard appeared under the title "Mort de Berthelot"; his "Conférence donnée au Cabinet de lecture paroissial le 27 décembre 1889" was published in the same paper on 26 Oct., 9, 16, 30 Nov. 1895. In 1916 Édouard-Zotique Massicotte* collected more than 70 columns on the history of Montreal written by Berthelot for La Patrie in 1884–85 and republished them as Montréal, le bon vieux temps (2v., Montréal). No bibliography of Berthelot's writings has as yet been compiled.
ANQ-M, CE1-51, 17 sept. 1895. ANQ-MBF, CE1-48, 5 mars 1842. NA, MG 30, D1, 4: 519. L'Électeur, 17 sept. 1895. La Minerve, 16 sept. 1895. Le Monde (Montréal), 16–17 sept. 1895. La Patrie, 16 sept. 1895. La Presse, 16–17, 22 sept. 1895. J. Hamelin et al., La presse québécoise. Oxford companion to Canadian hist. and lit. (Story), 67. P.-G. Roy, Les avocats de la région de Québec, 40–41. Wallace, Macmillan dict., 52. E.-E. Cinq-Mars, Hull, son origine, ses progrès, son avenir (Hull, Qué., 1908), 137. Alfred Duclos De Celles, "Hommes d'esprit d'autrefois," Almanach du peuple, 1919: 299–306. Joseph Jolicœur, Histoire anecdotique de Hull . . . (Hull, [1977]). Henriette Tassé, La vie humoristique d'Hector Berthelot (Montréal, 1934). Gilles Reynald [Éphrem-Réginald Bertrand], "Hector Berthelot, l'ineffable humoriste ou le témoin goguenard et avisé d'un siècle qui s'en va," La Presse, 27 juin, 1er , 4, 8, 13 juill. 1931.
Revisions based on:
Le Canard​ (Montréal), 15 juin 1878, 23 août 1879. Nicole Allard, "Hector Berthelot (1842–1895) et la caricature dans la petite presse satirique au Québec entre 1860 et 1895" (mémoire de ma​, univ. Laval, Quebec, 1997).
© 1990–2023 University of Toronto/Université Laval
Image Gallery

Cite This Article
Aurélien Boivin, "BERTHELOT, HECTOR (baptized Louis-Hector-Flavien)," in Dictionary of Canadian Biography, vol. 12, University of Toronto/Université Laval, 2003–, accessed December 4, 2023, http://www.biographi.ca/en/bio/berthelot_hector_12E.html.
The citation above shows the format for footnotes and endnotes according to the Chicago manual of style (16th edition). Information to be used in other citation formats:
| | |
| --- | --- |
| Permalink: | http://www.biographi.ca/en/bio/berthelot_hector_12E.html |
| Author of Article: | Aurélien Boivin |
| Title of Article: | BERTHELOT, HECTOR (baptized Louis-Hector-Flavien) |
| Publication Name: | Dictionary of Canadian Biography, vol. 12 |
| Publisher: | University of Toronto/Université Laval |
| Year of publication: | 1990 |
| Year of revision: | 2020 |
| Access Date: | December 4, 2023 |