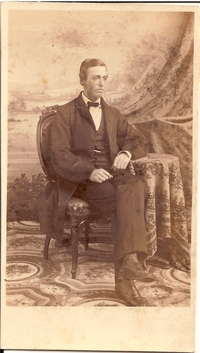 Source: Link
BETHUNE, ROBERT HENRY, banker and sportsman; b. 5 May 1836 in Cobourg, Upper Canada, second son of Alexander Neil Bethune* and Jane Eliza Crooks; m. 1862 Jane Frances Ewart, and they had a son and five daughters; d. 27 March 1895 in Toronto.
Robert Henry Bethune grew up in Cobourg, where his father was the Anglican priest. He and his brothers were educated in private schools and then sent to Upper Canada College in Toronto. In 1853, at the age of 17, Robert started his career in banking as a junior clerk in Brockville for the Bank of Montreal. The next year he was at its Cobourg branch as a teller and in 1855–60 he was in the Toronto branch as assistant accountant. There he came to the notice of Edwin Henry King, the bank's inspector of branches and later its general manager. He saw Bethune as a young man with promise, and rapidly increased his responsibilities. Bethune went for a year to the bank's newly opened New York office as accountant. He held the same position in the Hamilton branch; while in Hamilton he married the eldest daughter of James Bell Ewart* of Dundas. In 1864 he was appointed manager of the St Catharines office.
Bethune's stay in St Catharines was short, for he soon moved to the Quebec Bank. The Bank of Montreal, under King's direction, was reducing its Upper Canadian operations, preferring to concentrate on its American markets. This shift in emphasis reduced the career opportunities for the senior staff and provided an opportunity for rival institutions to expand in the western part of the province. James Stevenson, the cashier (general manager) of the Quebec Bank, oriented Bethune by having him spend a year (1865–66) as inspector and then put him in as manager of the Toronto office, where he stayed for approximately four years.
Bethune thus worked for and was trained by two of the acknowledged giants of Canadian banking in the confederation period. King changed the way Canadian banks lent money. He abandoned the traditional reliance on promissory notes signed by prominent persons and taught his employees to assess the probable success of a loan in terms of the collateral offered. From Stevenson, Bethune learned the intricacies of the timber trade which, with grain, accounted for the vast majority of Upper Canada's exports and hence most of its wealth.
In November 1870, after five years at the Quebec Bank, Bethune became the cashier of the newly formed Dominion Bank in Toronto [see James Austin], at a salary of $4,000 a year. He was far from being the first choice of the directors; he was, in fact, their fourth. But he had already achieved a good name. The Monetary Times described him as having "an unblemished reputation as a man, good abilities as a financier, undoubted qualifications as an accountant." Bethune recruited his branch managers and other senior staff from the Quebec Bank. It says a good deal about his skills as a negotiator that he was able to take at least five experienced clerks away from it without losing Stevenson's friendship. However, hiring his staff from other banks was not Bethune's way over the long term. He preferred to recruit at the most junior level so that his staff knew only his way of operating. For example, Raynald D'Arcy Gamble, who succeeded Bethune as general manager after his death, had been hired as a junior clerk in the first year of the bank's existence.
As befits a bank whose senior management, in contrast to that of the Canadian Bank of Commerce [see William McMaster*], rejected dramatic expansion, the Dominion had a low-key approach to growth. Bethune maintained a policy of spreading slowly but steadily to localities where the bank had strong backing. Starting from Toronto, it opened branches in Whitby, Oshawa, Uxbridge, and Orillia, communities where there was support from local investors. In 1871 it considered amalgamating with the Niagara District Bank, which had a head office in St Catharines and two branches in the peninsula. The merger would have given the Dominion an instant presence southwest of Toronto. However, the proposal was not seriously examined. Throughout the remainder of the century the bank relied on internally generated growth. In fact, its only radical act was to open a second office in Toronto, and that was the idea of its president, Austin.
There is no question that the Dominion Bank under the direction of Bethune was astonishingly successful. In the 24 years that he was its general manager, Canada experienced three severe economic downturns, one in each decade. During that period the bank always reported a profit, always added to its reserves, always paid a dividend which equalled or bettered those of its competitors, and generally kept out of trouble. The value of its shares just kept climbing. By July 1894 the original shareholders had experienced an eight per cent compound annual growth in the value of their shares as compared with four and a half per cent, the rate at the next most successful bank, the Commerce. All this success was accomplished within Ontario, for the Dominion had no office outside the province until after Bethune's death, although other Canadian banks acted as its representative elsewhere. By staying in Ontario the Dominion was able to avoid the effects of the disastrous collapse of the Winnipeg real-estate market in the mid 1880s.
How the bank achieved its success is less certain. Bethune clearly was a strong leader who was able to command the loyalty of his staff. He made up his mind quickly and his judgement of business propositions and those presenting them was usually correct. Well organized and methodical, he had a reputation for calm in trying situations. He also was able to design administrative procedures and ensure that his staff followed them. For example, it was a source of pride for the directors that there were no write downs on loans in any of the branches during the recession of the 1870s.
Bethune was a bold banker, for once he developed confidence in a borrower he would continue to support the loan even under circumstances where conventional banking wisdom said he should not. Overall, though, the Dominion had an extremely conservative approach to investment risk. The bank shocked Ontario's financial world by announcing in its 1879 annual report that it had invested virtually all of its rest account in government securities that earned substantially less than the loan portfolio but were "without risk and always available." The rest account provided a cushion against reductions in asset values caused by bad loans and recessions and also allowed for the payment of dividends in years when earnings were lower than anticipated. It had not been used for either purpose. Even in the worst of economic times the account grew until, in 1894, it equalled the Dominion's paid-up capital stock, something never achieved before in Canadian banking. A rest account equal to 50 per cent of paid-up capital was considered satisfactory by contemporaries. Bethune's achievement can thus be seen for the triumph that it was, especially when one considers that the bank also paid the best dividend rate in the industry.
Bethune was a director of a number of companies, some of which, such as the Canada North-West Land Company and the North of Scotland Mortgage Company, also involved members of the bank's founding group. He was on the boards of Bishop Strachan School and Trinity College School (his brother Charles James Stewart* was head of the latter in 1870–99). Bethune was sedate, undemonstrative, and taciturn – this was his banking character. He appeared cold, but some of his kinder critics thought him shy and kindly in his personal dealings. He seems to have been almost a caricature of the faceless banker. There appears to be no record of anything he said or wrote: at the bank's annual meetings Austin, not Bethune, did the speaking. Bethune's monument was his bank and the success it enjoyed.
He did have outside interests, however. An enthusiastic curler, Bethune was one of the founders of the Granite Club in Toronto and was president in 1890. He was a member of the Royal Canadian Yacht Club, a keen golfer, an all-round cricketer, and an enthusiast of whist. His bank seems to have followed his sporting interests. It had a hockey team in the 1880s, which played other bank teams on Toronto Harbour. One of Bethune's clerks, Thomas Scott, was a solid contender for the Ontario golf title in 1889.
In February 1895 Bethune suffered a slight stroke which left him temporarily paralysed. He recovered sufficiently to return to work although he could not completely uncross his legs. Shortly afterwards he contracted pneumonia. He died on 27 March from a massive haemorrhage in the brain.
"The late R. H. Bethune," Canadian Bankers' Assoc., Journal (Toronto), 2 (1894–95): 425–27, and photographic portrait facing p.425. Monetary Times, 29 March, 31 May 1895. Toronto Daily Mail, 1 Nov. 1889. Toronto World, 5 Feb. 1892, 28 March 1895. Cyclopædia of Canadian biog. (Rose and Charlesworth), vol.2. Dominion Bank, Fifty years of banking service, 1871–1921: the Dominion Bank, [comp. O. D. Skelton et al.] (Toronto, 1922). J. C. Hopkins, "Historical sketch of the Dominion Bank from incorporation up to 1912," Dominion Bank, Annual report (Toronto), 1912: 29–37.
© 1990–2023 University of Toronto/Université Laval
Image Gallery

Cite This Article
Philip Creighton, "BETHUNE, ROBERT HENRY," in Dictionary of Canadian Biography, vol. 12, University of Toronto/Université Laval, 2003–, accessed December 11, 2023, http://www.biographi.ca/en/bio/bethune_robert_henry_12E.html.
The citation above shows the format for footnotes and endnotes according to the Chicago manual of style (16th edition). Information to be used in other citation formats:
| | |
| --- | --- |
| Permalink: | http://www.biographi.ca/en/bio/bethune_robert_henry_12E.html |
| Author of Article: | Philip Creighton |
| Title of Article: | BETHUNE, ROBERT HENRY |
| Publication Name: | Dictionary of Canadian Biography, vol. 12 |
| Publisher: | University of Toronto/Université Laval |
| Year of publication: | 1990 |
| Year of revision: | 1990 |
| Access Date: | December 11, 2023 |