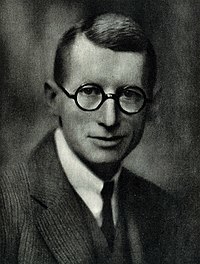 Source: Courtesy of Wikimedia Commons
BLACK, DAVIDSON WILLIAM, physician, anatomist, university professor, and anthropologist; b. 25 July 1884 in Toronto, son of Davidson Black and Margaret Bowes Delamere; m. there 27 Dec. 1913 Adena Sara (Sarah) Nevitt, and they had one son and one daughter; d. 15 March 1934 in Peking (Beijing, People's Republic of China).
Davidson Black was two years old when his father, a Toronto barrister, died of heart failure. His mother then raised her two sons – Dyo (as Davidson was known to his family) and Redmond Dawson Delamere – with the help of her family, especially her brother Thomas Dawson Delamere. Like his father, Davidson had a weak heart, and it suffered damage during a six-month bout of rheumatic fever when he was in his late teens. He did not, however, allow his condition to deter him from engaging throughout his life in energetic outdoor activities. The Blacks often vacationed in the Kawartha Lakes region, and Davidson would spend many summers in the forests of northern Ontario, working as a self-described voyageur with the Hudson's Bay Company, an assistant at a biological field station, and a forest ranger. Later, he would do fieldwork on Vancouver Island for the Geological Survey of Canada.
Black entered the University of Toronto in 1903 and earned his mb three years later. He then broadened his education by studying for a ba, but because of a delay in completing the language requirements, he would not graduate until 1911. Two years before receiving this degree, he took a full-time teaching position in anatomy at Western Reserve University in Cleveland, Ohio. One of his close colleagues there, Thomas Wingate Todd, recommended that he work with the Australian neuroanatomist Grafton Elliot Smith, and in 1914 Black took a leave of absence to travel to England and visit Smith's laboratory at the Victoria University of Manchester. Smith was then pondering the puzzle of the Piltdown fossil (an allegedly prehistoric human skull and jawbone found in Sussex that later proved to be a hoax), and Black was excited to find a fragment of a fossilized rhinoceros tooth at the Piltdown site. Inspired by his first experience with anthropology, Black returned to Cleveland and used the contacts he had made in England to build collections for teaching the subject. Through this work he was introduced to two scientists in New York who were intrigued by Asia's potential as a fossil-hunting ground: Henry Fairfield Osborn, the president of the American Museum of Natural History (AMNH), and Canadian William Diller Matthew (son of geologist George Frederic Matthew*), one of the museum's curators. Matthew's writings, in particular, convinced Black that Asia was key to the search for primate ancestors.
After the outbreak of World War I in 1914 Black made three attempts to enlist but was twice refused because of his weak heart. On his third try, in 1917, he was allowed to join the Canadian Army Medical Corps and was posted to a military camp in southern England. During the war the Rockefeller Foundation provided funding for the development of a teaching hospital in China, the Peking Union Medical College (PUMC), whose head of the department of anatomy, Edmund Vincent Cowdry, was one of Black's old university classmates. Cowdry was instrumental in bringing Black to the PUMC as professor of neurology and embryology. He arrived there in September 1919. To provide a basis for teaching and research at the college, Black collected and cast anatomical specimens from various institutions, including the AMNH, Western Reserve University, and the National Museum of Natural History in Washington, D.C. He succeeded Cowdry in 1921 as head of the department of anatomy.
In his early years at the PUMC, Black spent much of his time analysing human remains found by Johan Gunnar Andersson, a Swedish mining engineer who worked for the Geological Survey of China (GSC). In 1926 Black learned from Andersson that two fossilized teeth had been found by Austrian scientist Otto Zdansky in hills near Zhoukoudian, a village southwest of Peking. Black recognized the teeth as humanlike and persuaded the Rockefeller Foundation to fund systematic excavations that started the next spring. After a third tooth was unearthed, in situ, he told Andersson, "We have got a beautiful human tooth at last! It is truly glorious news, is it not!" Based on this evidence, Black confidently identified a new species, Sinanthropus pekinensis, which became popularly known as Peking Man. Black played a central role in the creation of the Cenozoic Research Laboratory, which was established through the cooperation of the GSC and the PUMC and with the Rockefeller Foundation's support. Researchers working at this facility analysed all biological and cultural material from the Peking Man site, and Black was responsible for describing and evaluating human remains, including a relatively complete cranium discovered in 1929 by Chinese anthropologist Pei Wenzhong. Black travelled throughout Asia, Europe, and North America to promote scientific acceptance of Sinanthropus pekinensis, often carrying with him a fossilized tooth that he kept in a specially made capsule. "The men who have seen 'the tooth,'" he wrote triumphantly in 1928, "are now converts." Sinanthropus pekinensis was initially thought to be an ancestor of Neanderthals, but in the 1950s it would be reclassified as an Asian type of Homo erectus.
Black did not discover Peking Man, but he was a key member of the international, multidisciplinary research team that did, and he acknowledged the work of Zdansky and American geologist Amadeus William Grabau, who suggested the name. Unlike many foreigners, Black got along extremely well with his Chinese colleagues, whom he respected, treated as equals, and involved in decision making. "He altogether forgot their nationality or race," anthropologist Ding Wenjiang would later recall, "because he realized that science was above such artificial and accidental things." Black became fond of China and its people: he declined job offers from western universities to stay at the PUMC, moved with his wife, Adena, into the Chinese community instead of remaining in the PUMC compound, and ensured that their two children, born and raised in Peking, learned Mandarin. Black and his co-workers sometimes found their daily routine interrupted by the civil war that pitted the Kuomintang (the Chinese Nationalist Party) against the Communist Party of China [see Henry Norman Bethune]. Intermittent gunfire during skirmishes between local warlords in and around Peking occasionally led to the early closure of the Zhoukoudian site. To escape, the Black family usually left the capital, the length of their absence depending upon the intensity of the fighting.
Black received many awards for his work, including the Grabau Gold Medal from the Geological Society of China (1929); an honorary doctorate from the University of Toronto (1930); an honorary fellowship in the Royal Anthropological Institute (1931); the Daniel Giraud Elliot Medal from the American National Academy of Sciences (awarded for 1931, conferred posthumously in 1934); and the King Gold Medal from the Peking Society of Natural History (1932). He was made a fellow of the Royal Society in 1932 and delivered its Croonian Lecture that year.
Davidson Black was at the height of his anthropological career when, at age 49, he died of congenital heart failure in his office on 15 March 1934. His colleague Elliot Smith lamented, "One regrets not only the loss of a friend of particular charm and generosity, but also the cutting short of the brilliant work in which he was engaged, and which there is no one else competent to complete." Black has been commemorated by a plaque, dedicated in 1976 by the Historic Sites and Monuments Board of Canada and placed in the Medical Sciences Building of the University of Toronto, and by the Davidson Black Award, which is awarded by the Canadian Association for Physical Anthropology. In China, where he is known as Bu Dasheng, Black is still revered in scientific circles. A species of ancient ape, Gigantopithecus blacki, is named in his honour.
Davidson William Black is the author or co-author of at least 70 scholarly publications, a list of which will appear in the bibliography of the author's forthcoming book, The story of Davidson Black and the search for Peking Man. The following is a list of Black's most important works: "Brain in primitive man," Cleveland Medical Journal (Cleveland, Ohio), 14 (1915): 177–85; "Asia and the dispersal of primates," Geological Soc. of China, Bull. (Peiping [Beijing]), 4 (March–September 1925): 133–83; "The human skeletal remains from the Sha Kuo T'un cave deposit in comparison with those from Yang Shao Taun and with recent north China skeletal material," Palæontologia Sinica (Peking [Beijing]), ser.D, 1 (1925), fascicle 3; "Tertiary man in Asia: the Chou Kou Tien discovery," Nature (London), 20 Nov. 1926: 733–34; "On a lower molar hominid tooth from the Chou Kou Tien deposit," Palæontologia Sinica, ser.D, 7 (1927), fascicle 1; "Evidences of the use of fire by Sinanthropus," Geological Soc. of China, Bull., 11 (March–November 1932): 107–8; Fossil man in China: the Choukoutien cave deposits with a synopsis of our present knowledge of the late Cenozoic in China (Peiping, 1933); and "The Croonian lecture: on the discovery, morphology, and environment of Sinanthropus pekinensis," Royal Soc., Trans. (London), ser.B, 223 (October 1934): 57–120.
UTARMS, B1966-0002 and B2011-0011 (Davidson Black family fonds). Times (London), 17 March 1934. "Bibliography of Davidson Black," Chinese Medical Journal (Peking), 48 (1934): 1182–86. J. L. Cormack, "Davidson Black and his role in Chinese palaeoanthropology," in Current research in Chinese Pleistocene archaeology, ed. Chen Shen and S. G. Keates (Oxford, Eng., 2003), 9–19; "The scientific influence that Dr. Davidson Black (Bu Dasheng) had on Chinese prehistory," in Chinese Academy of Sciences, Instit. of Vertebrate Paleontology and Paleoanthropology, Proc. of 1999 Beijing International Symposium on Paleoanthropology …, ed. Dong Wei (Beijing, 2000), 292–98. G. E. S., "Davidson Black 1884–1934," Royal Soc., Obit. notices of fellows (London), 1 (1932–35): 360–65. Geological Soc. of China and Peking Soc. of Natural Hist., Davidson Black, 1884–1934: in memoriam ([Peiping, 1934?]). Homo erectus: papers in honor of Davidson Black, ed. B. A. Sigmon and J. S. Cybulski (Toronto and Buffalo, N.Y., 1981). Dora Hood, Davidson Black: a biography (Toronto and Buffalo, 1964). Jia Lanpo and Huang Weiwen, The story of Peking Man: from archaeology to mystery, trans. Yin Zhiqi (Beijing, 1990). H. L. Shapiro, Peking Man (New York, [1975]). P. V. Tobias et al., "Davidson Black and Raymond A. Dart: Asian-African parallels in palaeo-anthropology," in Chinese Academy of Sciences, Instit. of Vertebrate Paleontology and Paleoanthropology, Proc. of 1999 Beijing International Symposium on Paleoanthropology …, 299–306; "The establishment of palaeo-anthropology in South Africa and China: with especial reference to the remarkably similar roles of Raymond A. Dart and Davidson Black," Royal Soc. of South Africa, Trans. (Cape Town), 56 (2001): 1–9. G. H. R. von Koenigswald, "Gigantopithecus blacki von Koenigswald, a giant fossil hominoid from the Pleistocene of southern China," American Museum of Natural Hist., Anthropological Papers (New York), 43 (1952), pt.4.
© 2021–2023 University of Toronto/Université Laval
Image Gallery

Cite This Article
Julie L. Cormack, "BLACK, DAVIDSON WILLIAM," in Dictionary of Canadian Biography, vol. 16, University of Toronto/Université Laval, 2003–, accessed November 29, 2023, http://www.biographi.ca/en/bio/black_davidson_william_16E.html.
The citation above shows the format for footnotes and endnotes according to the Chicago manual of style (16th edition). Information to be used in other citation formats:
| | |
| --- | --- |
| Permalink: | http://www.biographi.ca/en/bio/black_davidson_william_16E.html |
| Author of Article: | Julie L. Cormack |
| Title of Article: | BLACK, DAVIDSON WILLIAM |
| Publication Name: | Dictionary of Canadian Biography, vol. 16 |
| Publisher: | University of Toronto/Université Laval |
| Year of publication: | 2021 |
| Year of revision: | 2021 |
| Access Date: | November 29, 2023 |