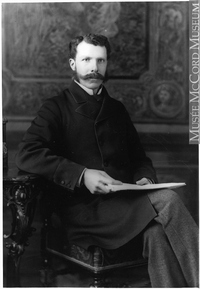 Source: Link
BLACKADER, Alexander Dougall, physician, surgeon, author, professor, and editor; b. 19 June 1847 in Montreal, eldest son of Francis Fraser Blackader, a merchant, and Margaret Pringle Drummond; m. there 12 Sept. 1882 Kate Elizabeth Skelton, and they had five children, of whom one daughter survived him; d. there on 14 March 1932.
Alexander Dougall Blackader grew up in Upper Canada, where he had his elementary and secondary schooling. For three years, before returning to his native city, he held the post of pharmacy assistant. He received a ba from McGill College in 1870 and graduated in medicine and surgery the following year. During the course of his studies he had served in the campaign against the Fenians as assistant surgeon to the Montreal Garrison Artillery Brigade based in Huntingdon. He would be decorated for having obtained valuable information on enemy positions during an incursion.
From 1872 to 1874 Blackader was enlisted as a ship's surgeon with the Montreal Ocean Steamship Company, and then with the Royal Mail Company, which took him to several ports in Latin America, the Middle East, and Asia. His voyage ended in England, where he spent a few years in order to further his knowledge of medicine. In London he studied at St Thomas's Hospital, where he obtained his licence from the Royal College of Physicians in 1875. Admitted as a resident, he subsequently underwent varied training with renowned doctors in different hospitals: the Royal Pimlico Dispensary, the Hospital for Consumption and Diseases of the Chest, and the Royal London Ophthalmic Hospital. For four months he worked at the Hospital for Sick Children, where he probably received the instruction that would make him a recognized specialist in children's health.
Blackader settled in Montreal in 1877 and began his career in private practice. The following year the faculty of medicine at Bishop's College awarded him the post of lecturer in medical diagnosis. In 1882 he left the college to rejoin his alma mater as an instructor in childhood diseases, a position he held until 1891; he was then a lecturer on the topic for the 1891–92 session, and from 1895 to 1905. From 1906 to 1921, with the title of professor, he taught the same subject, which from 1912 was known as paediatrics. From 1891 to 1921 he was also professor of pharmacology and therapeutics. He was acting dean of the faculty of medicine from 1915 to 1918 and became professor emeritus of pharmacology in 1921.
Blackader was a pioneer more than once. In 1880 he established an outpatient clinic for children near the Montreal Maternity Hospital. He inaugurated the first paediatric clinic in Canada at the Montreal General Hospital in 1883, just a few months after the first facility of this kind was opened in New York City. As well as acting as medical consultant at the Protestant Infants' Home of Montreal, the Montreal Dispensary, the Children's Memorial Hospital, and the Montreal Foundling and Sick Baby Hospital, he worked as associate physician (1885–92), physician (1893–1912), and then medical consultant (1913–32) at the Montreal General Hospital, where he carried out innovative work on septicaemia. He took advantage of his duties at the latter institution to offer his students the opportunity of taking clinical classes in childhood diseases.
Blackader's reputation reached far beyond Montreal and Canada. In the scientific community he would be recognized as one of the leading physicians in North America and the first in Canada to demonstrate that childhood diseases should constitute a separate field of medical specialization. Along with American colleagues such as Frederick Forchheimer, Luther Emmett Holt, Abraham Jacobi, and Thomas Morgan Rotch, he helped found the American Pediatric Society in 1888; he was its president in 1892–93. He also launched the Canadian Society for the Study of Diseases of Children in 1922, becoming its first president. He became particularly well known because of his numerous writings and speeches. His dedication to children was recognized both nationally and internationally: he was president of the Montreal Medico-Chirurgical Society (1895), the American Therapeutic Society (1911–12), the Pure Milk League of Montreal (1912), the American Clinical and Climatological Association (1912), the Canadian Medical Association (1917), and the medical board of the Alexandra Hospital in Montreal. In addition, he was appointed vice-president of the British Medical Association in 1930.
It was in the field of publishing as editor for the CMA's Journal that Blackader took up his final challenge. He had been a writer for the Montreal Medical Journal (1895–1910), a periodical bought by the CMA in 1910 that became the Journal the following year. In 1919, when the cessation of its publication was under serious consideration, Blackader offered to chair the editorial board (he assumed the title of editor in 1923). Despite being racked with illness, he devoted ten years of his life to extending the influence of this journal, giving it new life and putting its finances on an even keel. As a token of its gratitude, the CMA in 1929 announced the creation of the Blackader Lecture in Diseases of Children.
Blackader wrote several articles on advancements in medical science, on diet, and on childhood illnesses. His writings appeared in A system of practical therapeutics and Cyclopaedia of the diseases of children, medical and surgical, among other works. He also contributed to many scientific journals, including the CMA's Journal, the Archives of Pediatrics, published in New York City and elsewhere, and International Clinics: a Quarterly of Clinical Lectures … (Philadelphia).
Alexander Dougall Blackader, a friend of Sir William Osler*, was a pioneer in various fields of medicine because of his work on septicaemia at the Montreal General Hospital, his recognition of the special status of paediatrics, and the creation of appropriate medical facilities for the treatment of children. Without a doubt he left his mark on his time and on his science.
The Alexander Dougall Blackader fonds (P093), held in the Osler Library at McGill Univ. Libraries in Montreal, includes correspondence, a logbook, autobiographical notes, reports of conferences, certificates, diplomas, and photographs.
BANQ-CAM, CE601-S63, 12 sept. 1882; CE601-S95, 29 août 1847. Gazette (Montreal), 15 March 1932. M. E. [S.] Abbott, History of medicine in the province of Quebec (Montreal, 1931); McGill's heroic past, 1821–1921: an historic outline of the university from its origin to the present time (Montreal, 1921). "A. D. Blackader, m.a., m.d., ll.d.," British Medical Journal (London), 16 April 1932: 730–31. "Alexander Dougall Blackader, m.a., m.d., ll.d., m.r.c.s., f.r.c.p.(c.)," Canadian Medical Assoc., Journal (Toronto), new ser., 26 (1932): 519–24. E. H. Bensley, "Alexander Dougall Blackader (1847–1932)," in McGill medical luminaries (Montreal, 1990), 38–41; "Dr. A. D. Blackader remembered," Montreal General Hospital News (Montreal), 17 (1978), no.1: 5. Canada Medical Record (Montreal), 19 (October 1890); 22 (November 1893); 28 (May 1900); 32 (February 1904). Canadian men and women of the time (Morgan; 1912). A. L. Chute, "Canadian paediatric contributions to medical progress," Medical Library Assoc., Journal (Baltimore, Md), 48 (1960): 37–43. Johanne Collin et Laurence Monnais-Rousselot, "La communauté médicale montréalaise de 1850 à 1890: variations sur le thème d'élite," Social Hist. (Ottawa), 32 (1999): 173–207. Cyclopædia of the diseases of children, medical and surgical, ed. J. M. Keating (5v., Philadelphia, 1889–99). L[éon] Gérin-Lajoie, "Le docteur A. D. Blackader," L'Union médicale du Canada (Montréal), 61 (1932): 631. Joseph Hanaway and R. [L.] Cruess, McGill medicine (2v., Montreal and Buffalo, N.Y., 1996–2006), 1. H. E. MacDermot, A history of the Montreal General Hospital (Montreal, 1950); One hundred years of medicine in Canada, 1867–1967 (Toronto and Montreal, 1967). McGill Univ., Annual calendar (Montreal), 1882–1921. E. H. Milner, Bishop's medical faculty, Montreal, 1871–1905: including the affiliated dental college, 1896–1905 (Sherbrooke, Que., 1985). A system of practical therapeutics, ed. H. A. Hare, assisted by Walter Chrystie (4v., Philadelphia, 1891–97).
© 2017–2023 University of Toronto/Université Laval
Cite This Article
In collaboration with Érica Boisvert, "BLACKADER, ALEXANDER DOUGALL," in Dictionary of Canadian Biography, vol. 16, University of Toronto/Université Laval, 2003–, accessed September 23, 2023, http://www.biographi.ca/en/bio/blackader_alexander_dougall_16E.html.
The citation above shows the format for footnotes and endnotes according to the Chicago manual of style (16th edition). Information to be used in other citation formats:
| | |
| --- | --- |
| Permalink: | http://www.biographi.ca/en/bio/blackader_alexander_dougall_16E.html |
| Author of Article: | In collaboration with Érica Boisvert |
| Title of Article: | BLACKADER, ALEXANDER DOUGALL |
| Publication Name: | Dictionary of Canadian Biography, vol. 16 |
| Publisher: | University of Toronto/Université Laval |
| Year of publication: | 2017 |
| Year of revision: | 2017 |
| Access Date: | September 23, 2023 |