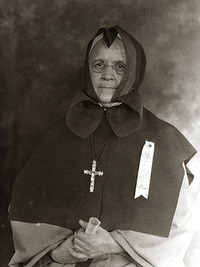 Source: Courtesy of Wikimedia Commons
BONNEAU, ROSE-DE-LIMA, Sister of Charity at the Hôpital Général of Montreal and director of charitable works; b. 14 Dec. 1859 in Iberville (Saint-Jean-sur-Richelieu), Lower Canada, daughter of Jules Bonneau, a blacksmith, and Émélie Granger; d. 3 Aug. 1934 at the community's mother house in Montreal.
Rose-de-Lima Bonneau studied at the Orphelinat Saint-Alexis, located in the École Saint-Jacques in Montreal and run by the Sisters of Charity of Providence [see Émilie Tavernier*]. On 20 Nov. 1871 she received the sacrament of confirmation. She became a postulant of the Sisters of Charity of the Hôpital Général of Montreal, known as the Grey Nuns, on 28 Aug. 1878. She began her noviciate on 6 Feb. 1879 and made her perpetual vows two years later on 8 February.
In 1881 Sister Bonneau worked as a seamstress at the Hospice Saint-Joseph, on Rue de la Cathédrale, and sold the goods she produced to contribute financially to the institution. An energetic and diligent artisan, she was also meticulous in her work. After 15 years of service, she was appointed local superior of the Asile Saint-Antoine in Longueuil, a shelter dedicated to caring for the poor, the orphaned, and the aged. From 1896 to 1905 the inspired director aided its development by, for example, seeing to its enlargement. A natural leader, she planned meetings with her superiors, managed the budget, organized fund-raising, and supervised the building sites. Her efforts culminated in the construction of an additional floor at one of the hospice buildings in 1901 and in the inauguration of a new building on 29 Jan. 1902. Oral tradition even has it that she performed miracles to provide the hospice with supplies; she is said on one occasion to have brought about the inexplicable delivery of bags of flour by placing a statue of St Joseph on top of the empty barrels.
In 1905 Sister Bonneau was back at the mother house as a teacher for young girls, probably at the school of home economics. In 1905–6 at the Manoir d'Youville in Saint-Joachim-de-Châteauguay (Châteauguay), and 1906–7 at the Asile Nazareth on Rue Sainte-Catherine Ouest in Montreal, she was responsible for the sacristy. Then, for almost three years, she held the office of local superior at the Asile Bethléem in Richmond Square (Parc Jessie-Maxwell-Smith); the organization assisted the poor in their homes and ran an orphanage.
From 1910 Sister Bonneau was director of the Œuvre des Sans Foyer, Vestiaire des Pauvres. This charity for the poor and homeless had its origins in the Hospice Saint-Charles, which had been founded on 7 May 1877 near the port of Montreal by boatman and philanthropist Joseph Vincent, the Grey Nuns, and René-Marie Rousseau, a Sulpician and chaplain of the St Vincent de Paul Society of Montreal. The hospice, which provided food and shelter to the poor and to people with disabilities, was expropriated and closed in 1894 to make room for the Viger railway station and hotel (Édifice Jacques-Viger). Nonetheless, since need remained as pressing as ever, the charity's spirit did not die out. Some indigents went to the Fourneau Économique Saint-Antoine, which opened in 1895 on Rue du Champ-de-Mars to give clothing and food to the impoverished. This organization was supported by the Sulpician Joseph-Charles-Onésime Hébert, the St Vincent de Paul Society, and the Grey Nuns. In October 1903 Hébert, aided by these partners, founded the Hospice Saint-Antoine de Bonsecours on Rue Saint-Paul Est, with the mission of taking in the elderly and providing an education to poor children. The Fourneau Économique Saint-Antoine moved into the premises of the hospice in May 1904; adopting the name the Œuvre des Sans Foyer, Vestiaire des Pauvres in 1910, it distributed food to the poor daily, and provided shoes and clothing as necessary.
Sister Bonneau devoted herself wholly to this undertaking. An eloquent and confident woman, she succeeded in obtaining financial assistance from neighbourhood merchants and sought food from the farmers who supplied the Bonsecours Market. She never hesitated to approach the needy and, aware of certain people's embarrassment, she herself sometimes brought meals and clothing to them. Determined to help all indigents, in 1930 she would note in a special questionnaire about the activities of the charity that she distributed food to "everyone who comes forward, without exception." This document also reveals that in October of 1930, a year marked by a global economic crisis, she had 18,218 meals served, twice as many as during the previous October. She was assisted in her work by volunteers, contributions from donors, and financial and administrative support from the Society of Saint-Sulpice and the local St Vincent de Paul Society; she made use as well of the items sewn by the Dames Ouvrières, a group of volunteers that she had founded on 1 Feb. 1910.
A pious woman, Sister Bonneau was deeply concerned not only with the material necessities of the underprivileged but also with their spirituality. To address the latter, she organized three-day annual retreats beginning in 1920, which were supported by the St Vincent de Paul Society. These periods of reflection and prayer during Lent were known as "retreats for the unemployed." According to Robert Rumilly*, the 1925 retreat welcomed 675 people, evidence of its popularity. In the course of time, Sister Bonneau succeeded in convincing Olivier Maurault*, the curé of the parish of Notre-Dame, and the St Vincent de Paul Society of the need for a Sunday mass. The Chapelle Saint-Christophe was inaugurated on 1 May 1927 in the Hospice Saint-Antoine de Bonsecours.
Sister Rose-de-Lima Bonneau died of cancer at the age of 74 while still director of the Œuvre des Sans Foyer, Vestiaire des Pauvres. Her deep commitment to helping the poor and vulnerable earned her the admiration of Montreal's Roman Catholics. The daily newspaper Le Devoir noted in an article published on 7 Aug. 1934, "The memory of Sister Bonneau will be cherished in the many wounded hearts she mended. But all her brothers in Christ must be grateful to her for having made the first and most beautiful of the virtues …, divine charity, shine with such a pure light." Understanding, attentive to humble people, and entirely devoted to the cause of the poor, this charismatic director demonstrated to the end of her life a Christian generosity and a self-giving beyond the ordinary. On 23 May 1922 a street was named in her honour. On 1 Jan. 1968, to perpetuate her memory, the charity to which she devoted herself – still in operation – would be officially renamed the Accueil Bonneau.
The author wishes to thank François M. Nadeau, the archivist of the Grey Nuns of Montreal, for his valuable collaboration. The baptismal certificate of Sister Rose-de-Lima Bonneau has an error. Her name should read Rose-de-Lima and not Léon: BANQ-M, CE604-S3, 14 déc. 1859.
Arch. des Sœurs Grises (Montréal), Dossier de sœur Rose-de-Lima Bonneau, notice biogr. Le Devoir, 3, 7 août 1934. Nicole Fournier et Pierre Filion, L'accueil Bonneau: 115 ans de partage (Montréal, 1992). Huguette Lapointe-Roy, Charité bien ordonnée: le premier réseau de lutte contre la pauvreté à Montréal au 19e siècle (Montréal, [1987]). Estelle Mitchell, Cent ans d'histoire: de l'hospice St-Charles à l'accueil Bonneau ([Montréal], 1977). Shirley Roy, Seuls dans la rue: portraits d'hommes clochards (Montréal, 1988). Robert Rumilly, La plus riche aumône: histoire de la Société de Saint-Vincent-de-Paul au Canada (Montréal, 1946).
© 2014–2023 University of Toronto/Université Laval
Image Gallery

Cite This Article
In collaboration with François Bisson, "BONNEAU, ROSE-DE-LIMA," in Dictionary of Canadian Biography, vol. 16, University of Toronto/Université Laval, 2003–, accessed June 7, 2023, http://www.biographi.ca/en/bio/bonneau_rose_de_lima_16E.html.
The citation above shows the format for footnotes and endnotes according to the Chicago manual of style (16th edition). Information to be used in other citation formats:
| | |
| --- | --- |
| Permalink: | http://www.biographi.ca/en/bio/bonneau_rose_de_lima_16E.html |
| Author of Article: | In collaboration with François Bisson |
| Title of Article: | BONNEAU, ROSE-DE-LIMA |
| Publication Name: | Dictionary of Canadian Biography, vol. 16 |
| Publisher: | University of Toronto/Université Laval |
| Year of publication: | 2014 |
| Year of revision: | 2014 |
| Access Date: | June 7, 2023 |