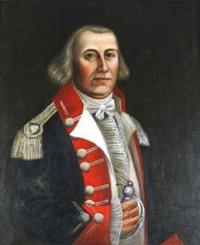 Source: Link
BOUCHER DE BOUCHERVILLE, RENÉ-AMABLE, army and militia officer, seigneur, office holder, and politician; b. 12 Feb. 1735 at Fort Frontenac (Kingston, Ont.), son of Pierre Boucher* de Boucherville, an officer in the colonial regular troops, and Marguerite Raimbault; d. 31 Aug. 1812 in Boucherville, Lower Canada.
Following his father's example René-Amable Boucher de Boucherville chose a military career. As a cadet in the colonial regular troops, during May 1754 he participated in a reconnaissance mission led by Joseph Coulon* de Villiers de Jumonville near Fort Duquesne (Pittsburgh, Pa). Jumonville's force was attacked and scattered by a detachment of the Virginia militia under George Washington. Boucher de Boucherville was taken prisoner and sent to Virginia. He regained his freedom after Louis Coulon* de Villiers's victory at Fort Necessity (near Farmington, Pa) in July 1754. Promoted second ensign in 1755, he acquired the rank of ensign on the active list two years later. François de Lévis* entrusted him in July 1757 with a reconnaissance mission on the north shore of Lac Saint-Sacrement (Lake George, N.Y.). In September 1759 he took part in the battle on the Plains of Abraham and was seriously wounded. He was captured by the British forces and sent to England; an exchange of prisoners enabled him to go to France, where he remained until his return to the province of Quebec after the Treaty of Paris was signed in 1763.
Upon his father's death in 1767 René-Amable inherited a quarter of the seigneury of Boucherville. Having obtained a dispensation for consanguinity, on 6 June 1770 he married 17-year-old Madeleine Raimbault de Saint-Blaint in Montreal. The marriage contract acknowledged community of property and accorded the bride a jointure of 3,000s. The couple went to live at Boucherville, where their eleven children were born; only Madeleine-Charlotte, Pierre-Amable, Charles-Marie, and Thomas-René-Verchères* reached adulthood.
At the time of the American invasion of the province [see Benedict Arnold; Richard Montgomery*], Boucher de Boucherville made an open display of his loyalty to the crown. In July 1776 he commanded a reconnaissance patrol that pushed as far as Crown Point, N.Y., and the following year he served as a captain under the command of John Burgoyne*. Boucher de Boucherville later claimed that he had been a faithful royalist throughout the invasion and had risked his life, leaving his family and abandoning his own interests to serve the king. He hoped to be rewarded for his support.
The colonial administration was slow in meeting Boucher de Boucherville's expectations. In 1784 Governor Haldimand recommended him for the seat in the Legislative Council that had been left vacant by the death of Luc de La Corne*. The following year he was appointed overseer of highways for the district of Montreal by Lieutenant Governor Henry Hope*, and in 1786 he finally received a place on the Legislative Council, which he retained until his death. Boucher de Boucherville made it a point of honour to attend all meetings of the council and proved a tenacious defender of the régime instituted under the Quebec Act.
Like the majority of Canadian seigneurs Boucher de Boucherville was opposed to the constitutional reform desired by the Canadian petite bourgeoisie and the British merchants. To counteract the burgeoning reform movement, the seigneurs setup a committee whose principal members were René-Ovide Hertel* de Rouville, Joseph-Dominique-Emmanuel Le Moyne de Longueuil, François-Marie Picoté* de Belestre, and Pierre-Amable De Bonne and his brother-in-law, Michel-Eustache-Gaspard-Alain Chartier* de Lotbinière. In a petition of December 1784, which bore the signatures of most of the seigneurs and co-seigneurs from the south shore of Montreal, among them Boucher de Boucherville, this committee expressed its disagreement with the proposals for reform. Because he derived a large income from seigneurial dues, he shared the fears of the Canadian seigneurs at the rise of the British merchant class, one of whose aims was to call in question the seigneurial system.
After the Americans had withdrawn, Boucher de Boucherville had in fact devoted himself to managing his seigneury. In 1782 he bought his brothers' and sisters' rights of succession to it, paying each of them 2,700 livres. Eager to improve the roads on his property, Boucher de Boucherville took advantage of his position as overseer of highways to have various roadworks done in the period 1786–98. In 1810 the seigneury had more than 2,250 inhabitants. The village of Boucherville had a church built from Pierre Conefroy's plans, a presbytery, a chapel, a boys' school, and a convent run by the nuns of the Congregation of Notre-Dame. This village in the Montreal region enjoyed a reputation as a centre of Canadian social life. Indeed, the small community of Boucherville included several families descended from the nobility or from the élite of the colony who, because of their style of life and degree of wealth, lived apart from the local population.
In 1806, pleading advanced age, René-Amable Boucher de Boucherville had resigned as overseer of highways in favour of his son-in-law, Louis-René Chaussegros* de Léry. He continued, however, to serve as colonel in the militia, a rank he had acquired in 1790. He died on 31 Aug. 1812 and his funeral was held in the parish church, where he was buried on 2 September.
ANQ-M, CE1-22, 2 sept. 1812; CE1-51, 6 juin 1770; CN1-158, 24 avril 1782; CN1-308, 5 juin 1770. Arch. du séminaire de Trois-Rivières (Trois-Rivières, Qué.), Fonds Boucher, K1, nos.63–69. AUM, P 58, U, Boucher de Boucherville à Baby, 23 mai 1777, 31 oct. 1781, 4 févr. 1782, 10 nov. 1796, 13 mai 1797, 9 mai 1800, 9 oct. 1804, 20 sept. 1810; Boucher de Boucherville à Perrault l'aîné, 29 juill. 1771. G.-J. Chaussegros de Léry, "Journal de Joseph-Gaspard Chaussegros de Léry, lieutenant des troupes, 1754–1755," A. [-E.] Gosselin, édit., ANQ Rapport, 1926–27: 366. "Papiers d'État," PAC Rapport, 1890: 151. "Tableau général des différentes grades des officiers de la Marine servants en Canada . . .," PAC Rapport, 1886: clxxviii. Montreal Gazette, 7 Sept. 1812. Quebec Gazette, 29 June 1786, 22 Jan. 1789, 17 Sept. 1812. Quebec almanac, 1791–1810. Bouchette, Topographical description of L.C., 196–98. Le Jeune, Dictionnaire, 1: 214. P.-G. Roy, Inv. concessions, 2: 280; 3: 36. Lanctot, Le Canada et la Révolution américaine, 188. Stanley, L'invasion du Canada (MacDonald), 160. Tousignant, "La genèse et l'avènement de la constitution de 1791." Montarville Boucher de La Bruère, "Les Boucherville à l'étranger," Cahiers des Dix, 1 (1936): 233–57. P.-G. Roy, "Les grands voyers de la Nouvelle-France et leurs successeurs," Cahiers des Dix, 8 (1943): 181–233.
© 1983–2023 University of Toronto/Université Laval
Image Gallery

Cite This Article
Céline Cyr, "BOUCHER DE BOUCHERVILLE, RENÉ-AMABLE," in Dictionary of Canadian Biography, vol. 5, University of Toronto/Université Laval, 2003–, accessed December 3, 2023, http://www.biographi.ca/en/bio/boucher_de_boucherville_rene_amable_5E.html.
The citation above shows the format for footnotes and endnotes according to the Chicago manual of style (16th edition). Information to be used in other citation formats:
| | |
| --- | --- |
| Permalink: | http://www.biographi.ca/en/bio/boucher_de_boucherville_rene_amable_5E.html |
| Author of Article: | Céline Cyr |
| Title of Article: | BOUCHER DE BOUCHERVILLE, RENÉ-AMABLE |
| Publication Name: | Dictionary of Canadian Biography, vol. 5 |
| Publisher: | University of Toronto/Université Laval |
| Year of publication: | 1983 |
| Year of revision: | 1983 |
| Access Date: | December 3, 2023 |