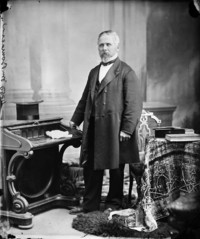 BOURASSA, FRANÇOIS, farmer, Patriote, militia officer, and politician; b. 5 June 1813 in Sainte-Marguerite-de-Blairfindie (L'Acadie), Lower Canada, eldest son of François Bourassa, its first mayor, and Geneviève Patenaude; brother of Napoléon Bourassa* and uncle of Henri Bourassa*; d. 13 May 1898 in Saint-Valentin, Que.
François Bourassa attended the small rural school in what later became L'Acadie, and then, to help provide for the family's needs, worked on the farm with his father, who owned 336 arpents of land. His keen intelligence and sound judgement made up for his lack of formal education. On 28 Feb. 1832 in Dorchester (Saint-Jean-sur-Richelieu), at the age of 18, he married Sophie Trahan, who was only 17 years old. They were to have 13 children, of whom 11 survived; the eldest, Alfred, would be mayor of L'Acadie from 1875 to 1877.
Bourassa took part in the 1838 rebellion as captain of a company in the Association des Frères-Chasseurs. When the uprising failed he was arrested and imprisoned in the Montreal jail, but he later secured his own release without a trial. By 1847 he had regained the confidence of the authorities, and was appointed captain in the 3rd Battalion of Chambly militia, a rank he held until 1859.
After farming for a time at L'Acadie, Bourassa settled in Saint-Jean (Saint-Jean-sur-Richelieu) in 1849. On 8 July 1850 he was elected to represent his community on the municipal council of Chambly County and he continued to serve in this capacity until 24 July 1854. Having urged the abolition of the seigneurial system of landholding, he was chosen on 22 Aug. 1853, along with Pierre-Paul Démaray*, as a delegate to the Anti-Seigniorial Tenure Convention held in the Montreal region.
On 1 Aug. 1854 Bourassa, campaigning as a Rouge, was elected to the House of Assembly for the new constituency of Saint-Jean with a 434-vote majority. Returned in 1857, 1861, and 1863, he was one of the people's representatives opposed to the confederation of the British North American provinces who sent a petition in 1866 to the colonial secretary in London, Lord Carnarvon. This stand did not, however, prevent him, once confederation had come into effect, from running as a candidate in the first federal election, held in September 1867, and becoming the Liberal member of parliament for Saint-Jean. He was extremely popular in his constituency and retained his seat in all subsequent elections from 1872 to 1891.
Bourassa retired from politics in 1896 at the age of 83, after an astonishing 42-year career which was, as Le Canada français of Saint-Jean stressed, "marked by unfailing honesty and strict adherence to his duty." Even though Bourassa, who had become a "zealous spokesman for the agricultural interests of his constituents," spoke no English and from 1854 had to rely on Félix-Gabriel Marchand as his interpreter when communicating with those of them who were English-speaking, they continued to give him their support. He was considered the dean of federal parliamentarians and was known as "the father of the House of Commons."
In addition to his parliamentary duties Bourassa served as mayor of L'Acadie from 1 February to 6 Sept. 1858. In 1862 he failed, however, to win a seat on the Legislative Council for the division of Lorimier.
François Bourassa died at Saint-Valentin on 13 May 1898. He was buried three days later in the cemetery of his native parish in L'Acadie. The funeral was attended by many prominent citizens and politicians, including Marchand, who was then premier of Quebec.
ANQ-M, CE4-1, 5 juin 1813, 16 mai 1898; CE4-10, 28 févr. 1832. ANQ-Q, E17/19, no.1241; E17/20, nos.1251, 1268–70. Arch. de la ville de Longueuil (Longueuil, Qué.), Fonds Brais, doc. concernant l'élection des conseillers de Saint-Jean-l'Évangéliste au conseil de la municipalité du comté de Chambly, 8 juill. 1850, 12 juill. 1852, 24 juill. 1854. Arch. municipales, L'Acadie (Qué.), Livres des délibérations du conseil municipal, 1er févr., 6 sept. 1858. NA, RG 68, General index, 1841–67. Private arch., Lionel Fortin (Saint-Jean-sur-Richelieu, Qué.), Lionel Fortin, "Le député François Bourassa" (paper prepared for history course 924 at the CEGEP Saint-Jean-sur-Richelieu, 1973), 1–6. J. E. Atkinson, "A quintette of veterans: five relicts of the legislature of the United Canadas who are now members of the House of Commons," Canadian Magazine, 6 (November 1895–April 1896): 431–32. Le Canada français/Le Franco-Canadien (Saint-Jean-sur-Richelieu), 15 janv. 1897. Audet, "Les législateurs du Bas-Canada." F. R. É. Campeau, Illustrated guide to the House of Commons and Senate of Canada . . . (Ottawa, 1879), 40–42, 90–91. Canadian directory of parl. (Johnson), 61–62. J. Desjardins, Guide parl., 180, 294. Pierre Brault, Histoire de L'Acadie du Haut-Richelieu (Saint-Jean-sur-Richelieu, 1982), 269–73. Cornell, Alignment of political groups, 38. Lionel Fortin, Félix-Gabriel Marchand (Saint-Jean-sur-Richelieu, 1979), 20–22. W. L. Morton, The critical years: the union of British North America, 1857–1873 (Toronto, 1964). Robert Rumilly, Papineau et son temps (2v., Montréal, 1977), 2.
© 1990–2023 University of Toronto/Université Laval
Cite This Article
Lionel Fortin, "BOURASSA, FRANÇOIS," in Dictionary of Canadian Biography, vol. 12, University of Toronto/Université Laval, 2003–, accessed June 10, 2023, http://www.biographi.ca/en/bio/bourassa_francois_12E.html.
The citation above shows the format for footnotes and endnotes according to the Chicago manual of style (16th edition). Information to be used in other citation formats:
| | |
| --- | --- |
| Permalink: | http://www.biographi.ca/en/bio/bourassa_francois_12E.html |
| Author of Article: | Lionel Fortin |
| Title of Article: | BOURASSA, FRANÇOIS |
| Publication Name: | Dictionary of Canadian Biography, vol. 12 |
| Publisher: | University of Toronto/Université Laval |
| Year of publication: | 1990 |
| Year of revision: | 1990 |
| Access Date: | June 10, 2023 |