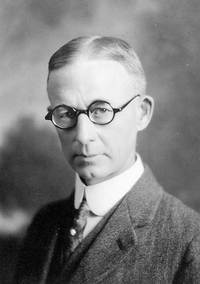 Source: Link
BROADUS, EDMUND KEMPER, university professor and author; b. 27 Aug. 1876 in Alexandria, Va, son of Thomas Andrew Broadus and Sarah Jane Botts; m. 15 Aug. 1900 Eleanor Hammond in Chicago, and they had one son; d. 17 Dec. 1936 in Edmonton.
As a young man, Edmund Kemper Broadus attended Columbian College in Washington, D.C., earning his ba in 1897. He received an ma from the University of Chicago in 1900 and a phd from Harvard University in Cambridge, Mass., in 1908. During these years, he taught English at Stetson University in Florida, the University of South Dakota, and Harvard.
In the essay "Small beginnings," later collected in Saturday and Sunday (Toronto, 1935), Broadus recalled his first meeting with Henry Marshall Tory*, president of the newly founded University of Alberta: "On a day in June, 1908, the president of a university not yet in being, in a province which I had never heard of, in a country which I had never visited, came to Harvard and offered me the professorship of English. The offer sounded like midsummer madness. I think that what I accepted was, not the position or the salary, but the man." His own health might also have been a factor since he had apparently developed a tubercular gland in his neck and been advised to seek a healthier climate in the west.
Broadus began lecturing in Strathcona (now southern Edmonton) in the fall, one of only four faculty members among 45 students in the fledgling institution, which for the first term occupied the top floor of an elementary school. He would remain at the University of Alberta, as professor of English language and literature and head of the department, until his death. He readily adapted to life in what was still a pioneer community at the end of a branch railway line. Broadus and his family spent two winters in a rented house; then he, classics professor William Hardy Alexander, and their wives built well-insulated houses out in the country on a site overlooking the North Saskatchewan River. Broadus's essay about his "Little Brown House" portrayed the coming of winter to this northern landscape – winter that could bring temperatures of "forty below" but also an "austere and magnificent" beauty.
By all accounts, he was an outstanding teacher who made a lasting impression on his students. Both feared and esteemed, he was described as exacting, sarcastic, and "like a Regimental Sergeant-Major" but also inspiring, spellbinding, and a "beautiful reader" with a "melodious voice." He could be equally demanding of his colleagues. In the 1930s students not enrolled in the courses came to audit his classes. Of his pedagogical credo, Broadus wrote: "The only thing that really matters is to persuade the student to go on a voyage of discovery for himself with his own aroused curiosity at the helm." With university colleagues he golfed, fished, and refereed amateur boxing matches. Many years later he was remembered for driving a "very cool car" named Hotspur after the Shakespearean character.
E. K. Broadus's academic publications included The laureateship: a study of the office of poet laureate in England … (Oxford, Eng., 1921), the definitive work on the subject for many years; The story of English literature (New York, 1931; Toronto, 1936); English prose from Bacon to Hardy (London and Toronto, 1918), edited with Robert Kay Gordon, a member of the English department; and the influential volume for which he is chiefly remembered today, A book of Canadian prose and verse (Toronto, 1923, 1934), co-edited with his wife, Eleanor Hammond Broadus, a noted scholar and translator.
The editors had "two objects in view – to bring together into a single volume of usable size a representative selection of Canadian poetry and prose; and, in so doing, to create, with its proper setting, a picture of Canadian life, past and present. The two objects have not been found to be incompatible. Lyric poetry that lacks the flavour of locality, and imaginative prose that transports the reader to other scenes than Canadian, have been with a few exceptions excluded." The first section, "Canada and the Canadian scene," was devoted to poetry. In the second section, entitled "The people" and made up of prose selections, the editors "intended to present, by means of excerpts from the records of early explorers, from essays and from novels, a picture of the past and a panoramic view of the varied aspects of Canadian life to-day." The third section, called "The nation builders," contained passages from the speeches of six political leaders "at epochal moments of national growth."
Originally authorized for use in Alberta schools and published in the Macmillan Company of Canada's Western Canada series, the textbook was adopted for senior students in several other provinces and also at the college level. By 1928 more than 17,000 copies had been printed. In 1934, largely at the instigation of poet and university teacher Edwin John Pratt* at Victoria College in the University of Toronto, the volume was extensively revised; the university was introducing an honours course in American and Canadian literature in the 1934–35 year, for which A book of Canadian prose and verse was to be an assigned text. A number of older poems by minor authors were dropped and more recent works added throughout the volume. The revisions were made in-house at Macmillan's with the approval of the Broaduses.
E. K. Broadus held visiting lectureships over the years at the University of California in Berkeley and Los Angeles, the University of Oxford, Haverford College in Pennsylvania, and the University of Chicago. At the University of Alberta he served several terms on the senate as a faculty representative. In 1933, on the 25th anniversary of the university and his arrival there, he delivered one of the celebratory public lectures and received an honorary lld. A year later he was elected fellow of the Royal Society of Canada.
But by this time his health was failing. Early in 1936 he suffered what he called "a sort of general nervous breakdown" and spent several months in a sanitarium in British Columbia. At the same time he was struggling to complete revisions to The story of English literature that had been demanded by the Nova Scotia department of education. In writing this book Broadus had wanted to inspire "interest and curiosity" in students by presenting the story as a narrative. But the department insisted on "inter-chapters" that provided historical context and other factual information which he thought "any moderately competent teacher" could supply. He returned to Edmonton at the end of April and with the help of his wife was able to correct proofs for the new edition. But he did not live to see the book in print; he died in December 1936 at the age of 60. The Edmund Kemper Broadus Lectures were established in his honour at the University of Alberta in 1971.
Ernest George Mardon and Austin Mardon in collaboration with Elizabeth Hulse
In addition to the titles mentioned in the text, Edmund Kemper Broadus is the author of Studies in oral English (n.p., n.d.), a textbook for students at the University of Alberta; Principles and practice of debating (Edmonton, 1913); and articles in both popular and scholarly journals. His lecture "English poetry during these twenty-five years," given during the 25th anniversary celebrations of the University of Alberta, appears in These twenty-five years: a symposium … (Toronto, 1933), 27–51. He also edited Books and ideals: an anthology (London and Toronto, 1921), Thomas Fuller: selections … (Oxford, Eng., 1928), and works by Charles Dickens and Robert Louis Stevenson.
McMaster Univ., William Ready Div. of Arch. and Research Coll. (Hamilton, Ont.), Macmillan Company of Canada fonds, box 77, file 11; box 78, files 1–3; production files. Lovat Dickson, The ante-room (Toronto, 1959). W. H. Johns, A history of the University of Alberta, 1908–1969 (Edmonton, 1981). Rod Macleod, All true things: a history of the University of Alberta, 1908–2008 (Edmonton, 2008). F. J. Nezoson, "A most memorable lesson," History Trails, winter 1982: www.ualberta.ca/ALUMNI/history/peoplea-g/82winbroadus.htm (consulted 26 Jan. 2013). RSC, "Edmund Kemper Broadus," Trans., 3rd ser., 31 (1937), proc.: vii–ix. Ellen Schoeck, I was there: a century of alumni stories about the University of Alberta, 1906–2006 (Edmonton, 2006). Georgina Thomson, "The burning word," History Trails, winter 1957–58: www.ualberta.ca/ALUMNI/history/peoplea-g/57winword.htm (consulted 26 Jan. 2013). Univ. of Alta, "Edmund Broadus": www.ualbertacentennial.ca/cgi-bin/people/displaybio.php?bio_id=608 (consulted 26 Jan. 2013).
© 2015–2023 University of Toronto/Université Laval
Image Gallery

Cite This Article
Ernest George Mardon and Austin Mardon in collaboration with Elizabeth Hulse, "BROADUS, EDMUND KEMPER," in Dictionary of Canadian Biography, vol. 16, University of Toronto/Université Laval, 2003–, accessed December 6, 2023, http://www.biographi.ca/en/bio/broadus_edmund_kemper_16E.html.
The citation above shows the format for footnotes and endnotes according to the Chicago manual of style (16th edition). Information to be used in other citation formats:
| | |
| --- | --- |
| Permalink: | http://www.biographi.ca/en/bio/broadus_edmund_kemper_16E.html |
| Author of Article: | Ernest George Mardon and Austin Mardon in collaboration with Elizabeth Hulse |
| Title of Article: | BROADUS, EDMUND KEMPER |
| Publication Name: | Dictionary of Canadian Biography, vol. 16 |
| Publisher: | University of Toronto/Université Laval |
| Year of publication: | 2015 |
| Year of revision: | 2015 |
| Access Date: | December 6, 2023 |