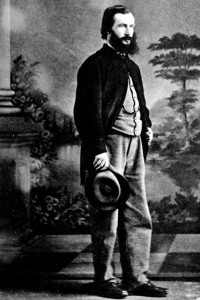 Source: Courtesy of Wikimedia Commons
BROWN, ROBERT, explorer, botanist, and author; b. 23 March 1842 in Camster, Scotland, son of Thomas Brown; m. 1875 Kristiane Augusta Maria Eleonora Rudmose of Ferslev, Denmark, and they had two sons; d. 26 Oct. 1895 in Streatham (London), England.
As a young man, Robert Brown displayed an inclination for travel. In 1861, at the age of 19, he interrupted his medical studies at the University of Edinburgh, where he was a prize-winner in botany, in order to go on a seal and whale hunt in the Arctic. The party visited Iceland, Greenland, and Baffin Bay (N.W.T.), an area frequented by many Scottish whalers in that period [see William Penny]. Further opportunity for travel occurred when the British Columbia Botanical Association of Edinburgh appointed Brown its seed collector in February 1863.
Brown arrived in Victoria on 6 May. His first expedition was to Great Central Lake, Sproat Lake, Alberni Inlet, and Nootka Sound. Subsequently, he travelled on the Olympic peninsula (Wash.) and up the Fraser River. Brown's Scottish sponsors were dissatisfied with the seeds he sent back from these expeditions, and he was dismayed that they considered him a mere seed collector rather than a botanist. He further antagonized his patrons by accepting in May 1864 the position of commander and government agent on the Vancouver Island Exploring Expedition, organized by a committee of prominent Victoria businessmen and funded in part by the colonial government under Governor Arthur Edward Kennedy*. Brown's relationship with the committee became uneasy when he realized that its members were primarily interested in the discovery of gold.
The expedition succeeded in crossing Vancouver Island at several points, in some instances by new routes. From Cowichan Lake, Brown led a group down the Nitinat River to Whyac along a route approximating the one travelled by Joseph Despard Pemberton in 1857, while another party followed a more arduous route from Cowichan Lake to Port San Juan. Subsequently, Brown and a few others went from Comox to Alberni via Comox Lake and Great Central Lake; another group had the harder task of journeying from Nanaimo to Alberni via the Nanaimo Lakes. The expedition lasted from 7 June to 21 Oct. 1864 and covered an estimated 1,200 miles.
The most celebrated achievement of the expedition was its discovery in July of gold on a river that the explorers named after Peter John Leech, the second in command. Ironically, this find, which led to the establishment of Leechtown, was made when Brown had briefly left the party and returned to Victoria in order to clarify his relationship with the organizing committee. Brown himself valued more highly the discovery of coal on a river near Comox that was named after him. Although the discovery proved of no immediate commercial value, it was an early indication of coal in the region.
Brown's Scottish sponsors continued to be dissatisfied with his dispatches of seeds, and they did not grant his request that his three-year contract be renewed. Prior to its termination, Brown travelled in Washington Territory, Oregon, the Queen Charlotte Islands, and northern Vancouver Island. On 2 Aug. 1866, when he was about to leave Vancouver Island, the Daily British Colonist and Victoria Chronicle described him as "a valuable man, who has done more towards exploring its unknown regions, unfolding its natural resources, and drawing attention to the latent wealth of the Island, than any other man in it."
Brown's writings on the northwest coast are diverse. Vancouver Island; exploration, 1864 (Victoria, [1865]), a 27-page official report outlining the expedition's route and fixing place-names, was followed in 1869 by "Memoir on the geography of the interior of Vancouver Island," a work which appeared only in German and for which Brown was awarded a doctorate by the University of Rostock (German Democratic Republic) in 1870. Brown had planned to write in addition a popular account of the expedition, illustrated with drawings made by its artist, Frederick Whymper*, but he found the market glutted by other accounts of exploration. He published articles ranging from reports on the botany, ornithology, and geology of the area he explored to sketches of life in colonial society. The author of several works of popular education, he also contributed a number of articles to Illustrated travels. In these publications he sometimes narrates his travels directly and sometimes transforms his accounts into fiction. His descriptions of Indian life include sensational narratives depicting its treachery and meanness, but also reports on mythology and native customs such as the potlatch that are exceptional for his time in their attempt at understanding.
Brown was an unsuccessful candidate for the chair of botany at the Royal College of Science for Ireland in 1868 and at the University of Edinburgh in 1873. In 1876 he joined the editorial staff of the Echo (London) and transferred to the Standard (London) in 1879. In later life he seems to have been a driven and disappointed man. As a result, he looked back nostalgically to his youthful years on the northwest coast, and it is fitting that his final work, published posthumously, should have been an edition of John Rodgers Jewitt*'s Adventures, which in the introduction and notes draws upon his experience of 30 years earlier on Vancouver Island.
Robert Brown's educational works include The countries of the world: being a popular description of the various continents, islands, rivers, seas, and peoples of the globe (6v., London, [1876?–92?]), The peoples of the world: being a popular description of the characteristics, condition, and customs of the human family (6v. in 3, London, 1882); and various articles in Science for all (5v., London, [1877–82]), which he edited. Among his contributions to Illustrated travels; a record of discovery, geography, and adventure, ed. H. W. Bates (6v., London, [1869–75?]), the most noteworthy are "The first journey of exploration across Vancouver Island," 1: 254–55, 274–76, 302–4, 349–51, and "In pawn in an Indian village," 3: 271–75, 338–43, 358–64.
A holograph copy of Brown's unpublished "Memoir on the geography of the interior of Vancouver Island" is preserved among his papers at PABC, Add. mss 794. The German translation appeared under the title "Das Innere der Vancouver-Insel" in Mitteilungen aus Justus Perthes' Geographischer Anstalt (Gotha, [German Democratic Republic]), 15 (1869): 1–10, 85–95.
Rigsarkivet (Copenhagen), Marriage record, 1875. Royal Botanic Garden Library (Edinburgh), British Columbia Botanical Assoc. papers, minute-books, accounts, and letters from Robert Brown, 1863–66. Scott Polar Research Institute (Cambridge, Eng.), ms 441/1/1–2 (Robert Brown, journals, 1861, 1867). Wilhelm-Pieck-Universität Rostock, Universitätsbibliothek (Rostock, German Democratic Republic), Record of doctorate, 1870. J. [R.] Jewitt, The adventures of John Jewitt, only survivor of the crew of the ship "Boston," during a captivity of nearly three years among the Indians of Nootka Sound in Vancouver Island, ed. Robert Brown (London, 1896), esp. preface by A. J. W[ilson], 5–8. Testimonials in favour of Robert Brown . . . , candidate for the chair of botany, in the Royal College of Science for Ireland ([Edinburgh, 1868]; copy in Royal Botanic Garden Library). Daily British Colonist (Victoria), 1863–66. Daily British Colonist and Victoria Chronicle, 2 Aug. 1866. Standard (London), 28 Oct. 1895. Times (London), 29 Oct. 1895. Victoria Daily Chronicle, 1863–66. DNB. Walbran, B.C. coast names, 67–68. John Hayman, Robert Brown and the Vancouver Island Exploring Expedition (Vancouver, 1989); "Robert Brown and the Vancouver Island Exploring Expedition," Beaver, 66 (1986), no.3: 15–29.
© 1990–2023 University of Toronto/Université Laval
Image Gallery

Cite This Article
John Hayman, "BROWN, ROBERT," in Dictionary of Canadian Biography, vol. 12, University of Toronto/Université Laval, 2003–, accessed December 6, 2023, http://www.biographi.ca/en/bio/brown_robert_12E.html.
The citation above shows the format for footnotes and endnotes according to the Chicago manual of style (16th edition). Information to be used in other citation formats:
| | |
| --- | --- |
| Permalink: | http://www.biographi.ca/en/bio/brown_robert_12E.html |
| Author of Article: | John Hayman |
| Title of Article: | BROWN, ROBERT |
| Publication Name: | Dictionary of Canadian Biography, vol. 12 |
| Publisher: | University of Toronto/Université Laval |
| Year of publication: | 1990 |
| Year of revision: | 1990 |
| Access Date: | December 6, 2023 |