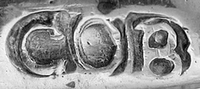 Source: Link
BRUFF, CHARLES OLIVER, silversmith and goldsmith; b. 1735 in Talbot County, Md, son of James Earle Bruff; m. October 1763 Mary Letellier in New York City; d. 27 Jan. 1817 in Liverpool, N.S.
Charles Oliver Bruff was descended from a long line of Maryland silversmiths and goldsmiths. He evidently served his apprenticeship with his father in Talbot County, and between 1760 and 1763 he worked in partnership with his brother James Earle in Elizabeth Town (Elizabeth), N.J. Early in 1763 he began working independently in New York City, and within a few years his shop was described in a local newspaper as a "fashionable resort" which was "sure to attract attention." Here Bruff produced some of his finest silver tankards, covered bowls, mugs, and table silver, all stamped with his mark, COB. He also offered engraving, seal cutting, and a wide variety of precious jewellery, including buckles, rings, brooches, lockets, necklaces, and assorted "trinkets for Ladies."
The outbreak of the revolution gave Bruff an ideal opportunity to expand his business: although he later stated that he was by inclination a supporter of the British crown, he was also shrewd enough to attract the patronage of rebels by making swords with such rousing inscriptions as "Magna Charta and Freedom." His true political sympathies did not become apparent until the summer of 1776, when he decided to join the British army under Sir William Howe that had recently landed on Long Island. For the next few years his life remains something of a mystery; indeed, he is not heard of again until late 1782, when he joined a group of loyalists who were planning to found a new town, untainted by republicanism, at Port Roseway, N.S., soon to be renamed Shelburne. Arriving in Shelburne, probably in May 1783, with a household that included his wife, five children, and eight servants, Bruff was granted a town lot and additional land in the adjacent countryside. By January 1785 he was once again operating a shop where, according to one newspaper advertisement, he made and repaired "all sorts of goldsmith and jewellery work."
After the summer of 1785 Shelburne's population dwindled rapidly as most of the settlers either returned to the United States or dispersed to Halifax, England, and Upper Canada. Bruff, however, remained in Shelburne despite the waning demand for his skills. In April 1786 he made himself highly unpopular by refusing to serve as town constable, an act that prompted the grand jury to sentence him to jail for contempt of court. Later in the same year he again revealed the cantankerous side of his character when appearing before the loyalist claims commission. Presenting a testimonial from no less a personage than the mayor of New York City, Bruff claimed almost £4,000 in compensation for the loss of more than 3,000 acres in Maryland and 25 acres of silver and lead mines in Pennsylvania. The commission, finding these claims wildly extravagant, repeatedly warned Bruff of possible charges of perjury, and one of the judges wrote on his account of the proceedings that "the man is insane." Eventually Bruff was awarded an additional land grant in Lunenburg County but he failed to obtain compensation in cash – a failure that became all the more difficult to bear when he learned shortly afterwards that he and his brother Peter Schuyler had been disinherited by their father.
Little is known about Bruff's life from the 1790s until the time of his death in 1817. There is reason to believe that by the early 1790s he was no longer practising his craft, for in the Shelburne assessment rolls of 1792 and 1793 he is described as a "tinker." He may have moved to Liverpool in 1794: on 30 Dec. 1793 Simeon Perkins noted in his diary that "one Mr. Bruf, of Shelburne . . .has agreed to set up his Business here . . . is about to take Capt. Zebulon Perkins House for £6 a year." The next mention of his name in documentary sources occurs in 1817, when his death in Liverpool at the age of 82 was commented upon in the Acadian Recorder of Halifax. Only one example of his craftsmanship has been found in Nova Scotia. Now in the possession of the Nova Scotia Museum, it is a two-handled wafer-iron for the communion host with cross-hatched discs five and three-quarter inches in diameter. The inscription around the border reads "Charles Oliver Bruff – Maker."
PAC, MG 9, B9, 14 (incomplete photocopy at PANS). PANS, MG 4, 140 (photocopy); 141 (typescript); RG 1, 444–44 1/2; RG 34–321, P, 1. PRO, AO 13, bundle 11 (copies at PAC). The arts and crafts in New York: advertisements and news items from New York City newspapers, comp. R. S. Gottesman (3v., New York, 1938–54), 1–2. Perkins, Diary, 1790–96 (Fergusson); Diary, 1797–1803 (Fergusson). "United Empire Loyalists: enquiry into losses and services," AO Report, 1904: 139–41. Acadian Recorder, 8 Feb. 1817. Royal American Gazette (Shelburne, N.S.), 24, 31 Jan. 1785. Marion Gilroy, Loyalists and land settlement in Nova Scotia (Halifax, 1937). J. E. Langdon, American silversmiths in British North America, 1776–1800 (Toronto, 1970); Canadian silversmiths & their marks, 1667–1867 (Lunenburg, Vt., 1960). D. C. Mackay, Silversmiths and related craftsmen of the Atlantic provinces (Halifax, 1973). Sabine, Biog. sketches of loyalists, 2: 487. H. B. Dawson, New York City during the American revolution . . . (New York, 1861). J. M. Phillips, American silver (London, 1949). Harry Piers, Master goldsmiths and silversmiths of Nova Scotia and their marks . . . , ed. U. B. Thompson et al. (Halifax, 1948). J. H. Pleasants and Howard Sill, Maryland silversmiths, 1715–1830 . . . (Baltimore, Md., 1930).
© 1983–2023 University of Toronto/Université Laval
Image Gallery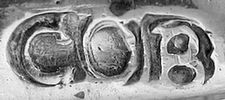 Cite This Article
Donald C. Mackay, "BRUFF, CHARLES OLIVER," in Dictionary of Canadian Biography, vol. 5, University of Toronto/Université Laval, 2003–, accessed December 4, 2023, http://www.biographi.ca/en/bio/bruff_charles_oliver_5E.html.
The citation above shows the format for footnotes and endnotes according to the Chicago manual of style (16th edition). Information to be used in other citation formats:
| | |
| --- | --- |
| Permalink: | http://www.biographi.ca/en/bio/bruff_charles_oliver_5E.html |
| Author of Article: | Donald C. Mackay |
| Title of Article: | BRUFF, CHARLES OLIVER |
| Publication Name: | Dictionary of Canadian Biography, vol. 5 |
| Publisher: | University of Toronto/Université Laval |
| Year of publication: | 1983 |
| Year of revision: | 1983 |
| Access Date: | December 4, 2023 |