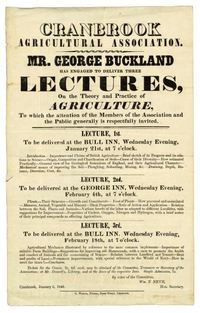 Source: Link
BUCKLAND, GEORGE, agriculturalist, editor, and educator; b. 10 Dec. 1804 in England; d. 27 Feb. 1885 at Toronto, Ont. He and his wife Amelia had one son and three daughters.
George Buckland was a prominent English agriculturalist and a member of the Royal Agricultural Society of England when he toured parts of Canada and the United States in the early 1840s. In Toronto he became acquainted with William G. Edmundson*, editor of the British American Cultivator, and continued corresponding with him after his return to England. Buckland considered establishing a model farm and agricultural school near Toronto but decided the venture was too risky for one individual. In 1847, however, Robert Baldwin* and agriculturalist Adam Fergusson* persuaded Buckland to return to Canada on the understanding that he would be named professor of agriculture at King's College in Toronto; he finally received the appointment when the chair of agriculture was created in 1851, two years after King's College had become the University of Toronto.
In October 1847, shortly after his arrival, Buckland joined Edmundson as co-editor of the British American Cultivator and served as the editor of various agricultural journals until 1864. Buckland was a strong advocate of scientific agricultural methods including the cultivation of high-grade seeds, the importation of pure-bred livestock, and the use of improved agricultural implements. He succeeded Edmundson as secretary of the Board of Agriculture of Upper Canada when the latter left the province in 1849. The position dovetailed nicely with his work as co-editor, with William McDougall*, of the Canadian Agriculturist, begun in January 1849, which contained the transactions of the board and reported extensively on its activities and projects. Buckland spent much time, especially before 1852, giving lectures around the province, attending meetings of agricultural societies, and reporting on their activities. He also helped organize the annual provincial exhibition, begun in 1846.
After receiving his appointment at the university Buckland immediately set up a 25-acre experimental farm on the campus and planted 16 acres of wheat. He had seeds sent from England to help determine how to adapt English methods and products to Canadian climate, soil, and markets. In addition to lecturing on the science, history, and practice of agriculture, he directed the landscaping of the university grounds. Although the agricultural journals publicized the programme and the university provided five scholarships of £30 each, his classes were poorly attended. Only one or two students received diplomas in agricultural science, and in 1855 the classrooms were "almost tenantless." By 1860 the experiment was an acknowledged failure although Buckland probably held the chair of agriculture until his death when it was abolished. His critics laid the responsibility, in part at least, on his shoulders, accusing him of neglecting his duties at the university. From 1859 to 1865 he served as first dean of residence at University College.
Buckland had resigned in 1859 as secretary of the Board of Agriculture. Before doing so, he had arranged for Andrew Smith* to come from Scotland to be the veterinary surgeon for the board. Smith became the director of the Upper Canada Veterinary School (later the Ontario Veterinary College), established as a result of the efforts of Buckland and Adam Fergusson, and he gave the first lectures in Toronto in 1862. Buckland also lectured on the history, breeding, and management of animals.
He was also instrumental in the establishment of the Ontario Agricultural College for which William F. Clarke, editor of the second Canada Farmer, had procured 400 acres near Guelph in 1871. In spite of opposition because of the expense, notably from William Weld, editor of the Farmer's Advocate and Home Magazine, the college opened on 1 May 1874. Buckland gave his time freely to the college and, had it not been for the devotion which he and a few others showed, the institution might not have survived. Until January 1876 he lectured there, as often as three times a week, on the theory and practice of agriculture as well as the anatomy and physiology of farm animals.
Buckland suffered a heart attack in February 1885 on the way to his home at Upper Canada College after attending services at St Luke's (Anglican) Church with his son. He was taken to the central police station where he died. At the time of his death he was assistant commissioner of agriculture for Ontario.
PAC, RG 31, A1, 1861 census, Toronto, St Patrick's Ward. UTA, A-73-0026, Dept. of Graduate Records, George Buckland file. York County Surrogate Court (Toronto), no.5548, Will of George Buckland, 17 March 1885 (mfm. at AO). Agriculturist & Canadian Journal (Toronto), 1 (1848): 61–72. British American Cultivator (Toronto), 2 (1843): 129–44. Canada Farmer (Toronto), 1 (1847): 85–92. Canada Farmer (Toronto), 1 (1864): 1–16. Canadian Agriculturist (Toronto), 1 (1849): 1–28; 5 (1853): 65–96, 129–60, 321–52; 8 (1856): 261–88; 11 (1859): 241–64. Farmer's Advocate and Home Magazine (London, Ont.), 9 (May 1874); 20 (April 1885): 97. Globe, 2 March 1885. Dominion annual register, 1885. F. E. Gattinger, A century of challenge: a history of the Ontario Veterinary College (Toronto, 1962). R. L. Jones, History of agriculture in Ontario, 1613–1880 (Toronto, 1946; repr. 1977). G. E. Reaman, A history of agriculture in Ontario (2v., Toronto, 1970). A. M. Ross, The college on the hill: a history of the Ontario Agricultural College, 1874–1974 (Vancouver, 1974). The University of Toronto and its colleges, 1827–1906, [ed. W. J. Alexander] (Toronto, 1906). Wallace, Hist. of the Univ. of Toronto.
© 1982–2023 University of Toronto/Université Laval
Image Gallery

Cite This Article
Ann MacKenzie, "BUCKLAND, GEORGE," in Dictionary of Canadian Biography, vol. 11, University of Toronto/Université Laval, 2003–, accessed September 28, 2023, http://www.biographi.ca/en/bio/buckland_george_11E.html.
The citation above shows the format for footnotes and endnotes according to the Chicago manual of style (16th edition). Information to be used in other citation formats:
| | |
| --- | --- |
| Permalink: | http://www.biographi.ca/en/bio/buckland_george_11E.html |
| Author of Article: | Ann MacKenzie |
| Title of Article: | BUCKLAND, GEORGE |
| Publication Name: | Dictionary of Canadian Biography, vol. 11 |
| Publisher: | University of Toronto/Université Laval |
| Year of publication: | 1982 |
| Year of revision: | 1982 |
| Access Date: | September 28, 2023 |