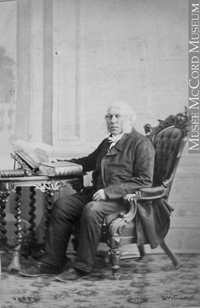 Source: Link
BURRAGE, ROBERT RABY, Church of England clergyman and educator; b. 1794 in Norwich, England, son of Robert Burrage; d. 5 Dec. 1864 in Montreal.
Robert Raby Burrage was admitted to Corpus Christi College, Cambridge, in 1813 where he studied classics. He came to Lower Canada in 1816 to take charge of the Royal Grammar School of Quebec. Shortly after his arrival, on 23 Dec. 1817, he married Elizabeth Chapman. He was ordained deacon on 23 Aug. 1819, and priest on 9 Sept. 1820, by Jacob Mountain*, first Church of England bishop of Quebec. In addition to his teaching duties, Burrage was named missionary at Pointe-Lévi in 1819. Within a few years his ministry was extended to include the "Protestant settlers in parts adjacent" to Lévis. In 1833 he was acting chaplain to the garrison in Quebec, and in 1839 he became secretary to the Clergy Reserves Corporation which handled the administration of the lands granted by the crown for the support of Protestant clergy in Lower Canada.
Burrage's main contribution was in the field of education. He was master of the Royal Grammar School of Quebec from its establishment in 1816 to its dissolution in 1836. This school came under the controversial Royal Institution for the Advancement of Learning established in 1801 to administer Lower Canada's first public educational system. But this system was not particularly effective because of the lack of a central administrative body (a board and secretary were appointed only in 1818) and poor financial support, and because the French Canadian population feared schools controlled by an English establishment. Between 1801 and 1818, by local initiative and grants from the assembly, only 37 schools were set up and not all lasted. From 1814 to 1829 the assembly struggled in vain with governors and councils to pass legislation for a more appropriate system. Opposition to the Royal Institution came from the Roman Catholic hierarchy principally because it feared too much English Protestant influence, but also because the institution's grammar schools in Quebec and Montreal, as well as in Kingston [see George Okill Stuart], were being funded through revenues of the Jesuit Estates. In Quebec City, for example, from 1816 to 1832, the school received annually £200 for the master and £90 for rent. From 1832 to its closure the Quebec school was supported by annual grants of the legislature.
Burrage's connection with the Royal Institution led him to disagreements with the Roman Catholic clergy. In 1822 he became a visitor of its school in Pointe-Lévi along with the parish priest of Saint-Joseph-de-Lévis (Lauzon), Michel Masse, but Masse resigned in 1823 because he had not been consulted in the appointment of a new teacher. This incident was unfortunate since Pointe-Lévi was one of the few parishes where the parish priest had cooperated in the administration of a Royal Institution school, something the institution's board was trying to encourage but with virtually no success. In 1823, invited to testify before a committee of the assembly, Burrage blamed the attitude of parents and the Roman Catholic Church for the poor state of education in Lower Canada. He recommended expansion of the work of the Royal Institution. In neither instance did Burrage's actions help the institution in establishing a working relationship with the Roman Catholic Church.
The driving force behind the growth of the Royal Institution in the 1820s was the Reverend Joseph Langley Mills*, its first secretary. He was in England from 1829 to 1832 and Burrage was acting secretary from February to December 1831. When Mills died shortly after his return, Burrage followed him as secretary from October 1832 until May 1856. In 1846, in poor health, he was placed on retirement allowance from the church though he continued to act as secretary of the Royal Institution; he remained in residence at Pointe-Lévi. Later he practised his ministry in the diocese of Montreal: in 1860 he was in Laprairie, and from 1862 to 1864 in Hochelaga when once again, shortly before his death, he retired.
By the 1830s the role of the Royal Institution in public education was declining rapidly as a result of the Syndics' Act of 1829, which gave to trustees elected in each parish authority for the administration and construction of schools, and of subsequent legislation. It now concentrated its attention on McGill University. As secretary during the 1840s and 1850s, Burrage witnessed a particularly controversial period in McGill's early history. The board of the Royal Institution held funds willed to McGill and acted also as official visitor of the college [see John Bethune*]. There were numerous disagreements between the board of the institution and the board of governors of McGill over budgets, academic appointments, and administration. Fortunately, this situation came to an end on 6 July 1852 when the two boards were combined.
During his career Burrage held relatively important posts as clergyman and educator, and was linked closely to the evolution of public education in Lower Canada and of McGill University. It is difficult to evaluate his personal impact upon the religious and educational events of this period, but any adequate study of them must make reference to him.
ANQ-M, État civil, Anglicans, Christ Church, 1853–65. McGill University Archives (Montreal), Royal Institution for the Advancement of Learning, incoming correspondence, 1820–64; letterbooks, 1820–58, 1–6; minute books, 1837–56. QDA, 56 (B-10), pp.65–83; 80 (C-9); 81 (C-10); 96 (D-15); 100 (D-20). Can., prov. du, Assemblée législative, Journaux, 1841–46. L. C., House of Assembly, Journals, 1816–37. Church of England, Diocese of Montreal, Proc. of the Synod (Montreal), 1860; 1862; 1863; 1864. Journal of Education for Lower Canada (Montreal), February–March 1865, 34. Journal of Education for U.C., XVII (1864), 186. L.-P. Audet, Le système scolaire, III, IV. R. G. Boulianne, "The French Canadians under the Royal Institution for the Advancement of Learning, 1818–1829" (unpublished ma thesis, University of Ottawa, 1964); "The Royal Institution for the Advancement of Learning: the correspondence, 1820–1829, a historical and analytical study" (unpublished phd thesis, McGill University, Montreal, 1970). Cyrus MacMillan, McGill and its story, 1821–1891 (London and Toronto, 1921). T. R. Millman, Jacob Mountain, first lord bishop of Quebec, a study in church and state, 1793–1825 (Toronto, 1947); Life of Charles James Stewart. G. W. Parmelee, "English education," Can. and its provinces (Shortt and Doughty), XVI, 445–501.
© 1976–2023 University of Toronto/Université Laval
Image Gallery

Cite This Article
Réal G. Boulianne, "BURRAGE, ROBERT RABY," in Dictionary of Canadian Biography, vol. 9, University of Toronto/Université Laval, 2003–, accessed December 3, 2023, http://www.biographi.ca/en/bio/burrage_robert_raby_9E.html.
The citation above shows the format for footnotes and endnotes according to the Chicago manual of style (16th edition). Information to be used in other citation formats:
| | |
| --- | --- |
| Permalink: | http://www.biographi.ca/en/bio/burrage_robert_raby_9E.html |
| Author of Article: | Réal G. Boulianne |
| Title of Article: | BURRAGE, ROBERT RABY |
| Publication Name: | Dictionary of Canadian Biography, vol. 9 |
| Publisher: | University of Toronto/Université Laval |
| Year of publication: | 1976 |
| Year of revision: | 1976 |
| Access Date: | December 3, 2023 |