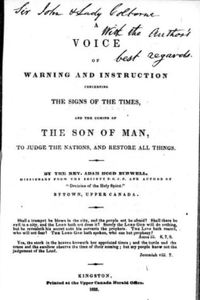 Source: Link
BURWELL, ADAM HOOD, author, journalist, and clergyman; b. 4 June 1790 near Fort Erie (Ont.), son of Adam Burwell and Sarah Veal; m. 22 Feb. 1829 Sarah Barnard in Troy, N.Y.; d. 2 Nov. 1849 in Kingston, Upper Canada.
Adam Hood Burwell spent his childhood on the family farm in Bertie Township. By 1818 the family had moved to the flourishing settlement on the north shore of Lake Erie founded by Thomas Talbot*. The settlement had been partly surveyed by Adam's elder brother, Mahlon, who had established the Talbot Road. While working on Mahlon's farm at Port Talbot, Burwell had a vision in which an oracle foretold the birth of a great poet in Upper Canada. That poet, Burwell concluded, was himself. "Talbot Road: a poem," published that same year in the Niagara Spectator (Niagara-on-the-Lake), is the first long poem of pioneer life in Upper Canada by a native-born author. Dedicated to Talbot, it combines aristocratic 18th-century poetic diction with local charm and colour. Erieus, Burwell's pseudonym, identifies him as the author of poems in the Niagara Gleaner. Other poems appeared in the Scribbler and the Canadian Review and Literary and Historical Journal. Most describe the everyday joys and sorrows of life; some display Burwell's political sentiments. His affinity for natural scenery, evident in "Talbot Road" and early poems such as "A summer's evening" and "Journal of a day's journey in Upper Canada in October, 1816," adumbrates his later theological beliefs in an apocalyptic nature. His poems display both sensitivity and a sincere commitment to literature as a means of social change. He was active in local affairs and apparently took an interest in the political issues of the day. An advertisement from 1819 announces a proposed volume of Burwell' s verse including the "The Gourlay-ad," no doubt a treatment of the controversial Robert Gourlay*. It is also possible that in 1824 Burwell was the Spanish Freeholder who libelled Chief Justice William Dummer Powell* in William Lyon Mackenzie*'s Colonial Advocate.

Talbot eventually recommended Burwell to Bishop Jacob Mountain* as a candidate for holy orders. In March 1827, at Quebec, Burwell was ordained by Bishop Charles James Stewart as a deacon of the Church of England. His first appointment was at Lennoxville, but by 1830 he and his family had moved to Trois-Rivières. Between 1830 and 1831 Burwell edited the Christian Sentinel and Anglo-Canadian Churchman's Magazine, a weekly Anglican journal. He hoped to transform it into a "constitutional political paper," but he also published poems and a quantity of prose in it. After only a year of publication (and despite the moral support of Archdeacon John Strachan*), the journal succumbed to financial and administrative pressures. Burwell's writings in the early 1830s reflect an increasing propensity for evangelical politics. In spite of frail health and warnings from Stewart to curb his "Low Church calvinistic evangelism," Burwell vigorously promulgated his religious and political ideas in a series of essays published in the Kingston Chronicle from March 1831 to February 1832 under the pseudonym One of the People.
In May 1832 Burwell succeeded Amos Ansley at Hull, where he ardently advocated a controversial brand of religious fundamentalism based, in part, on the teachings of Edward Irving, the Scottish-born preacher whose movement became the Catholic Apostolic Church. Burwell published two Irvingite tracts in 1835: Doctrine of the Holy Spirit . . . (Toronto) and A voice of warning and instruction concerning the signs of the time . . . (Kingston). By October 1836 Burwell's doctrinal differences had divorced him from the Church of England; he moved to Kingston where he helped to found the first Catholic Apostolic Church in North America.
Burwell continued to write and publish (primarily in Montreal's Literary Garland between January and September 1849). The neoclassical emphasis of his early poetry had, however, been replaced by the intense mysticism evident in such poems as "Nebuchadnezzar's vision of the tree . . ." and "Summer evening contemplations." Essays like "On the doctrine of social unity" and "On the philosophy of human perfection and happiness" continued to reflect Burwell's commitment to the achievement of a fundamentalist Christian society. These writings did not, it seems, find a receptive audience. In 1844 Strachan tactfully praised Burwell as a writer but cautioned him that his works "may be too elaborate – too full of reasoning or too abstract for general Reading." Adam Hood Burwell served in the Catholic Apostolic Church until his death.
All of Adam Hood Burwell's poetry which had been traced in contemporary periodicals and newspapers by 1965 is republished in "The poems of Adam Hood Burwell, pioneer poet of Upper Canada," ed. C. F. Klinck, Western Ontario Hist. Nuggets (London), no.30 (1965). Fourteen additional poems appear in "'New' poems of Adam Hood Burwell," ed. M. L. MacDonald, Canadian Poetry (London), no.18 (spring–summer 1986): 99–117. No copy of the proposed volume advertised in the Gleaner, and Niagara Newspaper of 5 Aug. 1819 has come to light.
AO, ms 35, letter-books, 1844–49; ms 78, Burwell corr., 1831. Literary Garland, new ser., 7 (1849): 15–16, 69–73, 119–26, 178–81, 403–9, 448–57. Daily British Whig, 3 Nov. 1849. Scribbler (Montreal), 9 Aug. 1821–12 June 1823. Upper Canada Gazette, 1 June, 11 July 1822; 24 April, 3 July 1823. Weekly Register, 1 Aug. 1822. Lucien Brault, Hull, 1800–1950 (Ottawa, 1950); Ottawa old & new (Ottawa, 1946). T. R. Millman, The life of the Right Reverend, the Honourable Charles James Stewart, D.D., Oxon., second Anglican bishop of Quebec (London, Ont., 1953). P. E. Shaw, The Catholic Apostolic Church, sometimes called Irvingite: a historical study (New York, 1946). Paul Romney, "The Spanish freeholder imbroglio of 1824: inter-elite and intra-elite rivalry in Upper Canada," OH, 76 (1984): 32–47.
© 1988–2023 University of Toronto/Université Laval
Image Gallery

Cite This Article
Michael Williams, "BURWELL, ADAM HOOD," in Dictionary of Canadian Biography, vol. 7, University of Toronto/Université Laval, 2003–, accessed December 11, 2023, http://www.biographi.ca/en/bio/burwell_adam_hood_7E.html.
The citation above shows the format for footnotes and endnotes according to the Chicago manual of style (16th edition). Information to be used in other citation formats:
| | |
| --- | --- |
| Permalink: | http://www.biographi.ca/en/bio/burwell_adam_hood_7E.html |
| Author of Article: | Michael Williams |
| Title of Article: | BURWELL, ADAM HOOD |
| Publication Name: | Dictionary of Canadian Biography, vol. 7 |
| Publisher: | University of Toronto/Université Laval |
| Year of publication: | 1988 |
| Year of revision: | 1988 |
| Access Date: | December 11, 2023 |