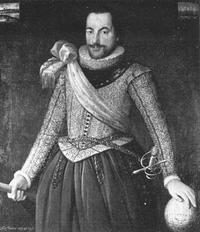 Source: Courtesy of Wikimedia Commons
BUTTON, Sir THOMAS, naval captain and explorer, fourth son of Miles Button, of Worleton in the parish of St. Lythans, Glamorganshire, and Margaret, daughter of Edward Lewis of Van, Caerphilly, Glamorganshire; d. April 1634, probably at Worleton.
Thomas Button married Mary, daughter of Sir Walter Rice of Dynevor, Carmarthenshire, and the eldest of his three sons, Miles, married Barbara, daughter of Rhys Merrick, from whom she inherited the family estate of Cottrell in Glamorganshire: the Buttons were thus connected by marriage with some of the more influential landowning families in South Wales.
Little is known of Button's early career, but his letters in his old age suggest that he first saw service in the navy in the critical years 1588–89. In 1601, at the time of the Spanish invasion of Ireland, he was commended for gallantry as captain of the Queen's pinnace, Moon, at Kinsale, and was awarded a pension of 6s. 8d. per diem for life. In 1602 he sailed in command of the Wylloby on privateering raids in the West Indies. The Wylloby was owned by his fellow Welshmen, Sir Robert Mansel, who became treasurer of the navy in 1604, and Sir John Trevor, surveyor of the navy; owing to their influence, and his close friendship with Phineas Pett, the naval shipwright, he gained more important commands in the navy. It was with their backing that Button was selected in 1612 to command the expedition to find out what had become of Henry Hudson, set adrift by a mutinous crew in the previous spring, and to complete "ye full and perfect discovery of the North-west Passage."
Button's instructions were drawn up by Edward Wright, mathematician and tutor to Prince Henry, eldest son of James I, and indicate clearly that Button was expected to observe carefully the elevation, declination, and variation of the compass, "the beginning and ending of the Eclipse that will happen on the 20th of Maye next"; he was not to waste time entering "Bais, inlets or sands," but rather to observe the set of the tides, "remembering that your end is West, we would have you stand over . . . in the latitude of some 58 degrees, where, riding at some headland, observe well the flood; if it come in south west, then you maie be sure the passage is that waie: yf from the north or northwest, your course must be to stand upp into it." No mention is made in these instructions of Henry Hudson.
In April 1612 Button sailed in command of the Resolution (which had been specially selected by Pett and Button) and the Discovery. The "Company of the Merchants Discoverers of the North-West Passage" (known as The Northwest Company) was granted its charter on 26 July 1612. Among its members are cited Button and several who sailed with him, including Robert Bylot who had sailed with Hudson and was later to make further expeditions to the northwest in company with Baffin, William Gibbons, a relative of Button, and William Hawkeridge who respectively led the fruitless expeditions of 1614 and 1625.
Button's own journal of his voyage has been lost, but according to the fragments of it published in Capt. Luke Fox's North-west Fox in 1635, (taken largely from the accounts of Button's companions, Abacuk Pricket and William Hawkeridge, and abstracts from Button's journal by Sir Thomas Roe) Button penetrated Hudson Strait, naming the island at its entrance after his own ship, and eventually sailed southwestwards across what is now called Hudson Bay, and made landfall at a point which he called "Hopes Checkt." He then sailed southwards and wintered at the mouth of a river which he named after Robert Nelson, master of the Resolution, who died there. The winter was extremely hard, and Button lost many men, but in the spring he sailed northwards from this area which he had called New Wales. Creeping uncertainly forward in fog and storms, Button probably reached his most northerly point towards the end of July in the channel afterwards named "Sir Thomas Roe's Welcome," and then turned southwards, mistakenly believing that he was embayed. In August he reached the island he named after his friend and kinsman, Mansel, and reluctantly decided to return home.
Button's skilled seamanship in the combined operations against rebels in the west of Scotland in 1615 earned him high praise and in 1616 he was knighted. One of the few to emerge with credit from the unsatisfactory expedition against the pirates of Algiers in 1620–21 when he served as rear admiral, Button served for many years as "Admiral upon the Irish Coast," and became involved in endless quarrels with the Commissioners of the Navy over victualling for his undermanned ships, and the non-payment of monies due to him. In 1631 Button was delighted to be consulted when the voyages of Luke Fox and Thomas James to the northwest were being planned, for he was still confident that the northwest passage existed, "W'ch I doe as confidently beleave to be a passage as I doe there is on[e] either between Calis and Dover or between Holy Head and Ireland." A courageous seaman and an able navigator, Button had the misfortune to serve during a period of considerable corruption in the Stuart navy, and this is inevitably reflected in his obstinate and intractable behaviour in his old age, and the scores of contentious letters which he wrote to the naval authorities in London.
Many letters from and to Button as admiral on the Irish station are in PRO, CSP, Dom., and CSP, Ireland (particularly for the 1625–32 period). Also scattered references in the Rawlinson MSS in the Bodleian Library, Oxford, e.g., Rawlinson MSS, A455. The charter granted to the Company of Merchants Discoverers of the North-West Passage, 26 July 1612, and the fragments relating to Button's voyage have been printed in Voyages of Foxe and James (Christy). For Button's naval career see Naval tracts of Sir William Monson, ed. M. Oppenheim (5v., Navy Records Soc., XXII, XXIII, XLIII, XLV, XLVII, 1902–14), passim; and The autobiography of Phineas Pett, ed. W. G. Perrin (Navy Records Soc., LI, 1918). G. T. Clark, Some account of Sir Robert Mansel, and Admiral Sir Thomas Button (Dowlais, 1883). DNB. Dodge, Northwest by sea, 129–34. Oleson, Early voyages, 166–67. D. W. Waters, The art of navigation in Elizabethan and Stuart times (London, 1958), 251–88.
© 1966–2023 University of Toronto/Université Laval
Cite This Article
Aled Eames, "BUTTON, SIR THOMAS," in Dictionary of Canadian Biography, vol. 1, University of Toronto/Université Laval, 2003–, accessed December 8, 2023, http://www.biographi.ca/en/bio/button_thomas_1E.html.
The citation above shows the format for footnotes and endnotes according to the Chicago manual of style (16th edition). Information to be used in other citation formats:
| | |
| --- | --- |
| Permalink: | http://www.biographi.ca/en/bio/button_thomas_1E.html |
| Author of Article: | Aled Eames |
| Title of Article: | BUTTON, SIR THOMAS |
| Publication Name: | Dictionary of Canadian Biography, vol. 1 |
| Publisher: | University of Toronto/Université Laval |
| Year of publication: | 1966 |
| Year of revision: | 1979 |
| Access Date: | December 8, 2023 |