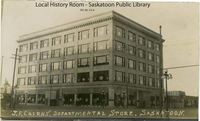 Source: Link
CAIRNS, JAMES FREDERICK, teacher, editor, businessman, and office holder; b. 23 March 1870 in Lawrenceville, Que., son of Hugh Cairns, a Methodist minister, and Maria Mountain; m. 1900 Edith Beatrice Moore of Chatham, Ont., and they had a son; d. 18 March 1928 in Saskatoon, Sask.
Born to parents of Irish descent, James Frederick Cairns was educated at the academy in Knowlton, Que., Albert College in Belleville, Ont., and Victoria University in Cobourg, from which he graduated in 1890. After teaching for nine years at the Chatham Collegiate Institute, he edited the Canadian Wheelman: a Journal of Cycling (London, Ont.) and managed opera houses in Chatham and London. Nothing in his early life suggested he would own one of the premier department stores in western Canada.
Cairns and his wife went west in 1902, arriving in Saskatoon, then a small village. Mill owner James Robert Wilson recounted meeting him: "On one cold afternoon I noticed a man walking across the prairie toward the mill. He asked what I thought of Borden village [to the northwest] and mentioned that he thought of starting a bakery and grocery store there." Persuaded by Wilson to stay in Saskatoon, he opened a bakery in December. When the trainloads of colonists led by Isaac Montgomery Barr* arrived in the spring of 1903, he worked 24 hours a day, one of a handful of merchants who did not gouge them. Later that year he moved to a large store with a theatre on its second floor; among the performers were poet Emily Pauline Johnson*, actor Walter Jackson McCrea*, and the touring company of Thomas Henry Marks*. His third store opened in 1906 at the centre of the growing city and soon employed 75 people. It was replaced six years later by a splendid five-storey building at 2nd Avenue and 23rd Street. Financed in part by the Canadian Agency (an English investment firm) and executed in the Chicago School style by the Montreal firm of David Robertson Brown and Hugh A. Vallance, who had designed the University of Saskatchewan, the store welcomed 12,000 people on opening day (17 March 1913) and had 250 employees in 25 departments. Because of Cairns, property prices at this location jumped during Saskatoon's boom years to almost $2,000 a front foot on land that had cost $20 an acre 20 years earlier. In 1917 the J. F. Cairns Company Limited was incorporated.
Though best known as a merchant, Cairns played other important roles in the young community. He was the secretary of the Board of Trade at its founding in January 1903 and president the following year. In 1904 and 1905 he took part in delegations to attract more railways. He served as first chair (1908-14) of the Collegiate Institute Board and remained a member until 1923. "Not only was Mr. Cairns the prime mover of creating the school board," recalled secretary W. P. Bate, "he nursed it through its adolescence, and started it on the high road to success." He served as well with the parks commission and the industrial fair, and was first president in 1911 of the Saskatoon Auto Club, which opened a resort at nearby Pike Lake. (It was there, on 15 June 1917, the darkest day of Cairns's life, that his son, Hugh Charles John (Jack), drowned.) In 1914 and 1915 he was a board member of the Young Men's Christian Association. Eminent too in sports, he built a baseball stadium, Cairns Field, which sat 1,700 and drew an opening-day crowd of 6,422 on 14 May 1914. Playing professionally in the Western Canada League and sponsored by Quaker Oats, the Saskatoon Quakers won titles that year and in 1919; a number of Quakers made it to the major leagues. In 1921 Cairns was president of the Saskatoon Baseball Club. As was consistent with his public prominence, he was a freemason, a Shriner, a Rotarian, and an Oddfellow and he belonged to clubs in Saskatoon, Winnipeg, and Los Angeles.
Cairns was deeply involved in early industrial projects, most of them failures. A founder in 1904 of the Saskatoon Cement Works, which flourished, he had a stake too in the Saskatchewan Power Company, established in 1908 to dam the South Saskatchewan River, but it failed for lack of capital in 1912. He then joined the Canadian Agency in an attempt to acquire the company's charter and the rights to construct a street railway. Cairns worked behind the scenes to secure city council's backing and discourage public debate; he was thus not the faultless figure lionized by American writer Elbert Hubbard. When the scheme ground to a halt, Cairns and Canadian Agency representatives concentrated on developing subdivisions. He had an interest as well in Saskatoon Gas and Oil in 1911 and Saska-Alta Petroleum Products in 1914, and was a prime mover and first president in 1914 of the Industrial League, formed to bring industry to Saskatoon, though by then its real-estate boom had ended and credit had dried up.
In politics Cairns was an active Liberal. Within three weeks of his arrival in 1902, he was at a party meeting. "Every Liberal in town was there," he remembered. "There were seven of us." Nominated as an electoral candidate in 1906 and 1908, he stepped aside each time; selected again in 1915, he withdrew in 1917 in favour of a Unionist candidate.
In 1924 Cairns sold his store to the Hudson's Bay Company. The following year he became manager of one of Saskatchewan's new liquor stores, a sign of the end of Prohibition. He died in 1928, just short of 58 years and much mourned. Cairns left two monuments to his industry, his store and Cairns Field, both now demolished.
Daily Phoenix (Saskatoon), 30 Oct. 1907; 28 July, 24 Dec. 1908; 5 March 1910; 2, 15, 18 April 1912; 4 Feb., 17 March 1913; 13, 15-16 May, 15 Oct. 1914; 28 May 1915; 30 Oct. 1917; 8 March, 23 Aug. 1919; 19 March 1928. Daily Star (Saskatoon), 16 Jan. 1916. Saskatoon Phoenix, 9 Dec. 1902; 26 Jan., 20 March, 3 Aug. 1903; 29 Jan., 5 Feb., 11, 19-20 May 1904; 26 Jan., 17 Feb. 1905; 11 Jan. 1906. N. F. Black, History of Saskatchewan and the North-West Territories (2v., Regina, 1913). Lorraine Blashill, From a little stone school: the story of the development of the Saskatoon public school system over the past one hundred years (Saskatoon, 1982). John Gilpin, "The dark side of the 'Saskatoon Spirit'; James F. Cairns and power, street railway and land development in Saskatoon, 1908-1914," Saskatchewan Hist. (Saskatoon), 45 (1993), no.2: 15-23. Hist. Assoc. of Saskatoon, Narratives of Saskatoon, 1882-1912, by men of the city ([Saskatoon, 1927]). Elbert Hubbard, Cairns of Saskatoon (East Aurora, N.Y., 1913). D. [C.] Kerr and S. [D.] Hanson, Saskatoon: the first half-century (Edmonton, 1982). Who's who and why, 1921.
© 2005–2023 University of Toronto/Université Laval
Cite This Article
Donald Cameron Kerr, "CAIRNS, JAMES FREDERICK," in Dictionary of Canadian Biography, vol. 15, University of Toronto/Université Laval, 2003–, accessed December 5, 2023, http://www.biographi.ca/en/bio/cairns_james_frederick_15E.html.
The citation above shows the format for footnotes and endnotes according to the Chicago manual of style (16th edition). Information to be used in other citation formats:
| | |
| --- | --- |
| Permalink: | http://www.biographi.ca/en/bio/cairns_james_frederick_15E.html |
| Author of Article: | Donald Cameron Kerr |
| Title of Article: | CAIRNS, JAMES FREDERICK |
| Publication Name: | Dictionary of Canadian Biography, vol. 15 |
| Publisher: | University of Toronto/Université Laval |
| Year of publication: | 2005 |
| Year of revision: | 2005 |
| Access Date: | December 5, 2023 |