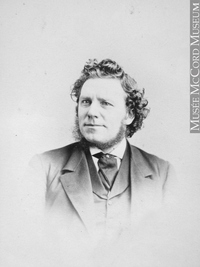 Source: Link
CAMERON, ALEXANDER, lawyer and businessman; b. 22 June 1827 in Ireland, son of Allan Cameron; m. first 2 Nov. 1853 Calcina Medora Buell in Toronto, and they had two sons and two daughters; m. secondly 7 Nov. 1878 Catharine Ward, née Lyon, in Conneaut, Ohio; they had no children; d. 15 May 1893 in Toronto.
Alexander Cameron was born in Ireland during the military service there of his Scottish father, a member of the 79th Foot. Alexander was raised in Amherstburg, Upper Canada, where Cameron Sr received his discharge and became a customs inspector. He could not afford, however, to send his son to school. Self-educated, Alexander reputedly worked for three years for a local grocery firm and then taught school in Malden Township. In 1846 he entered Upper Canada College, supporting himself by writing for various newspapers. The following year, still a student, he wrote to Robert Baldwin*, the pre-eminent reformer, asking to article in his law office and suggesting that he could take a university degree at the same time. After the reformers' electoral victory of 1848, he petitioned Baldwin for a court clerkship, as he was "one whose services for the cause are such as deserves reward." Baldwin's reply, if any, to this avid but presumptuous young reformer is unknown. After college, Cameron articled in Toronto with Stephen Richards and was called to the bar in 1853; he established law offices there and in Windsor, which was to be his main residence. He became a friend of the Buells, the prominent reform family of Brockville, and married Dora, daughter of Andrew Norton Buell*, master in chancery, and cousin to judge William Buell Richards*.
An admirer of co-premier Francis Hincks*, Cameron worked in his campaign in the 1854 election. Despite such involvement with Hincks, who was successful, he was able to obtain only a secretaryship of a commission and, he wrote to his father-in-law in November 1854, he was beginning to "sicken of politics." Before the 1861 election, it was rumoured that Cameron would be a candidate in Essex, but he supported Arthur Rankin, who agreed to "give the Reformers a fair share of the patronage" and Cameron "the Crown business on this circuit." In his only attempt at elective office, encouraged by George Brown*, Cameron contested Essex in the 1867 provincial election and was narrowly defeated.
During the boom period of the 1850s Cameron had turned his vast energies towards land speculation. Beginning in 1853 he bought thousands of acres throughout Upper Canada, especially in Essex County. Using information supplied by friends in the Crown Lands Department, he was able to buy land at undervalued prices. On at least one occasion Cameron's dealings embarrassed his political friends. In November 1853 the opposition press alleged that he, with ministerial help and acting as the "unscrupulous tool" of Postmaster General Malcolm Cameron*, had bought a large number of underpriced clergy reserves. It was implied that the postmaster general had also profited from the deal though, in fact, Alexander (falsely identified as Malcolm's kinsman) had arranged this purchase independently. Nevertheless, to the opposition the incident was proof that the "corruptionist" government of Francis Hincks was profiting from the sale of clergy reserves.
That September Cameron had predicted to Buell that he would "make a fortune in ten years." It was not to be. Instead of rising, property prices declined in the late 1850s, leaving Cameron with land he could not sell and mortgages he could not pay. His in-laws held off some creditors until he could stabilize his finances. In addition to his financial woes, he had become estranged from his temperamental wife, who hated Essex and domestic duties, and had returned to Brockville. Dora would die in 1875, still unreconciled with her husband.
After his electoral defeat, Cameron threw himself into a number of enterprises in Windsor. He operated toll-roads, attempted to start a private bank in 1867, purchased a newspaper (no doubt the Essex Record), and had law offices in both Windsor and Toronto. Although he never abandoned land speculation, his dealings became rational, deliberate, and, at last, profitable. He took advantage of government funding programs to drain potential farm land he owned in Essex so that he could sell it. In a six-week period in 1872 he sold land worth $6,000 and was able to brag to his father-in-law, "My time is coming our Western lands will go up constantly for years yet." He understood clearly that property adjacent to proposed railway lines could soar in value. In 1872 Cameron and a business partner, George Wilson, learned of the path of the Canada Southern Railway and purchased the land where the railway would intersect Cameron's toll-road. There Cameron had buildings erected and a town, Essex Centre (Essex), laid out. By manipulating politicians, he even got a bonus paid to the Canada Southern in 1879 to induce it to re-route its trains through Windsor, thus enhancing the town's position as a major railway terminus and guaranteeing the value of his property there.
Working first with James Curry and then with his brother John, a Windsor banker and merchant, Cameron started banking schemes to use money on deposit to finance his land acquisitions. In 1879 Cameron and John Curry became partners under the name of the Essex County Bank. During the 1880s they anticipated that Windsor would share in the industrial and commercial growth of Detroit. Indeed, a number of American businessmen, such as Hiram Walker, had already crossed the Detroit River to establish enterprises and invest in the Windsor area. The expanding labour force needed houses, and Cameron and Curry filled the need by creating a number of subdivisions around Windsor's core. In partnership with others, they created more than 1,280 building lots between 1880 and 1892, far more than all other Windsor developers combined. This expansion led to Windsor's incorporation as a city in 1892, and along the way made a fortune for Cameron and Curry.
At the time of his death in 1893, Cameron was reported to have been worth $1,500,000, the "richest man in Western Canada." However, when his will was probated, his estate was estimated at $700,000, and much of it was tied up in land that would take years to be sold. Yet, although he had become wealthy, happiness had still eluded him. In 1878 Cameron was remarried, to the widow of a rich Detroit shipbuilder, Eber Ward. She disliked living in small-town Windsor so they moved to Toronto about 1890, but even then she was more interested in the dazzling social life of Paris than in her husband's company. Cameron rarely saw her. He remained in Toronto, maintaining contact with his business associates and such members of the old guard of the Liberal party as Goldwin Smith* and George Goldwin Smith Lindsey. Business, it appears, was the only spouse he could properly attend to.
AO, Hiram Walker Hist. Museum Coll., 20–38 (Alexander Cameron, political poster, 5 Aug. 1867); 20–57 (John Curry, personal cheque-book, 1880–81); MU 303–9; RG 53, ser.56. Essex Land Registry Office (Windsor, Ont.), Records. NA, RG 31, C1, 1871, Essex County. Windsor Public Library, Municipal Arch., Assessment records. Detroit Free Press, 24 Nov., 15 Dec. 1878; 9 April 1890. Globe, 16 Nov. 1853. Leader (Toronto), 11, 21, 23, 29 Nov. 1853. North American (Toronto), 22 Nov. 1853. Canadian album (Cochrane and Hopkins), 4: 441. Ont. marriage notices (Wilson), 244. Roll of U. C. College (A. H. Young), 152. Ian MacPherson, Matters of loyalty: the Buells of Brockville, 1830–1850 (Belleville, Ont., 1981), 168–69. Robertson's landmarks of Toronto, 3: 532–33. Patrick Brode, "Alexander Cameron and the flowering of the county of Essex, 1853–1893," Essex County Hist. Soc., Occasional papers (Windsor), no.4 (1987).
© 1990–2023 University of Toronto/Université Laval
Cite This Article
Patrick Brode, "CAMERON, ALEXANDER," in Dictionary of Canadian Biography, vol. 12, University of Toronto/Université Laval, 2003–, accessed June 8, 2023, http://www.biographi.ca/en/bio/cameron_alexander_12E.html.
The citation above shows the format for footnotes and endnotes according to the Chicago manual of style (16th edition). Information to be used in other citation formats:
| | |
| --- | --- |
| Permalink: | http://www.biographi.ca/en/bio/cameron_alexander_12E.html |
| Author of Article: | Patrick Brode |
| Title of Article: | CAMERON, ALEXANDER |
| Publication Name: | Dictionary of Canadian Biography, vol. 12 |
| Publisher: | University of Toronto/Université Laval |
| Year of publication: | 1990 |
| Year of revision: | 1990 |
| Access Date: | June 8, 2023 |