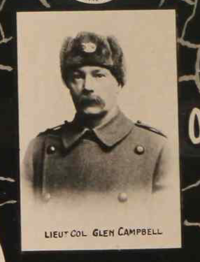 Source: Link
CAMPBELL, ARCHIBALD GLENLYON (he signed Glen), rancher, politician, office holder, and militia and army officer; b. 23 Oct. 1863 in Fort Pelly (Sask.), second son of Robert Campbell*, an explorer and HBC chief trader, and Elleonora C. Stirling; m. first, 1 April 1886 Harriet Burns, daughter of Saulteaux chief Keeseekoowenin*, and they had three daughters and one son; m. secondly 1916 Florence Wesley, and they had one son; d. 21 Oct. 1917 in Camiers, France.
Glen Campbell grew up at the Hudson's Bay Company post of Fort Pelly. In 1870, rather than risk pillage by Métis leader Louis Riel*, his father, by then the chief factor, sent the year's furs to London via the Sioux country of the United States; Glen and his mother, brother, and sister accompanied the brigade. In Scotland, his mother died of typhoid and he nearly followed her. After he recovered, he was educated at Glasgow Academy in Glasgow and Merchiston Castle School in Edinburgh. When he returned to the northwest, his father sent him to a cattle ranch in Montana Territory to learn stock-raising.
In 1884 Campbell became the first white settler of Gilbert Plains, Man. During the rebellion of 1885, he joined the 1st troop of Boulton's Scouts [see Charles Arkoll Boulton*]. He was the type of prairie-bred scout Major-General Frederick Dobson Middleton* sensibly preferred to the politically vocal cavalry from eastern Canada. After a troop commander was wounded and another killed, Campbell was promoted captain at Batoche (Sask.) and given command of his troop.
Following the rebellion, Campbell returned to ranching, trapping, and developing his property. In 1897–98 he attempted the difficult overland route from Edmonton to the Klondike. A Conservative, he unsuccessfully battled Theodore Arthur Burrows* for the seat of Dauphin in the Legislative Assembly of Manitoba in 1892 and 1896, but he won the new constituency of Gilbert Plains by 202 votes in 1903. He was acclaimed in 1907 and was persuaded, a year later, to seek election for the federal riding of Dauphin. Aided by a heavy cloud of allegations against Burrows and his brother-in-law, mp Clifford Sifton*, Campbell won by 217 votes.
Like many western mps, Campbell added colour to the Ottawa scene, but his years there were painful and frustrating. His wife died, his family needed him, and only loyalty to his party and leader kept him in the national capital. At the end of 1910, he made one of his infrequent speeches to explain that he would neither quit nor switch parties, as some had predicted that he would. In 1911 voters in Dauphin rejected him by a margin of 748. The Conservatives rewarded him with the chief inspectorship of Indian affairs in western Canada, which included an office at Winnipeg and a salary of $3,000.
The outbreak of World War I in 1914 brought a greater opportunity. By December, Campbell was pleading with the prime minister, Sir Robert Laird Borden*, and the minister of militia, Samuel Hughes*, to be allowed to raise a hard-riding battalion of natives and cowpunchers. In another army, a man of 51 with only a brief military experience almost 30 years earlier might have pleaded in vain. Hughes made him a major, assigned him to the Brandon-based 79th Infantry Battalion of the Canadian Expeditionary Force, and authorized him to raise his own company. Having found men for the 79th, Campbell asked for permission to raise his own battalion. Hughes granted it on 4 Nov. 1915.
The 107th Infantry Battalion had no links to the existing militia; recruiting depended entirely on Campbell's reputation. With the motto "Follow me," and the regimental march, "The Campbells are coming," he attracted 1,741 volunteers, many of them natives. He rejected 600 men and achieved full strength within three months. The inspector-general reported that the "NCOs and men are very good, of good physique and above average intelligence, though few hold certificates." In June 1916 the 107th moved to Camp Hughes for serious training. Campbell's own senior officer's course was interrupted by months in hospital, during which he battled a serious kidney infection. To his family's dismay, he married a young Englishwoman living in Winnipeg. The children of his first marriage persuaded their father to exclude her from his will.
On 19 September Campbell sailed from Halifax on the Olympic. As senior officer, he commanded the 5,000 Canadians aboard, among them the 107th. In England battalions of the CEF were routinely broken up to reinforce existing units. Within weeks, half of his men were gone. The 107th was spared further depletion because of the need for four new pioneer battalions in France. Campbell himself had insisted that his men were suited to such work and his superiors felt that the natives would work better under their own officers. Authorities made special efforts to transfer native officers and soldiers from other units to his. In February 1917 the 107th Pioneer Battalion moved to France, the last complete unit from western Canada to join the Canadian Corps.
As part of the 1st Canadian Division, Campbell's men were soon engaged in an endless series of exhausting and often dangerous tasks behind the line. During the campaign to capture Hill 70 in France in August and at Passchendaele in Belgium in October, the 107th and other Canadian pioneer battalions worked amid mud, rain, and German shells to keep roads open. No engineer, Campbell earned two mentions in dispatches and the Distinguished Service Order by sustaining morale. His own health suffered. On 13 October, as his men began work at Passchendaele, he was admitted to a British general hospital at Camiers with a renewed bout of his kidney trouble; eight days later he was dead.
Glen Campbell fitted a western pioneer stereotype. "His towering figure, bronzed swarthy face, large brown eyes, capped off with a cow boy hat," were familiar to Winnipeggers, wrote a local newspaper. It added that Campbell's "hand and heart were always open to calls of assistance from the needy." His success in raising the 107th and holding it together in exhausting and dangerous work was evidence of his strong character. He symbolized, in short, the virtues of a vanished past.
NA, MG 26, H, 315: 109527–28; RG 9, II, A5; B5, 6; III, 49, 8-5-10; 1537, T-58-7; 1540, T-113-7; 4696; RG 24, 1384, file HQ 593-6, pt.2; 1810, file GAQ 1-9; 4596; RG 150, Acc. 1992–93/166. Manitoba Free Press, 23 Oct. 1917. Winnipeg Tribune, 23 Oct. 1917. Can., House of Commons, Debates, 1 Dec. 1910; Parl., Sessional papers, 1915, no.1, H. Canadian directory of parl. (Johnson). CPG, 1893–1904. [J. W.] G. MacEwan, Fifty mighty men (special ed., Saskatoon, 1982). Nicholson, CEF. Clifford Wilson, Campbell of the Yukon (Toronto, 1970).
© 1998–2023 University of Toronto/Université Laval
Cite This Article
Desmond Morton, "CAMPBELL, ARCHIBALD GLENLYON," in Dictionary of Canadian Biography, vol. 14, University of Toronto/Université Laval, 2003–, accessed May 31, 2023, http://www.biographi.ca/en/bio/campbell_archibald_glenlyon_14E.html.
The citation above shows the format for footnotes and endnotes according to the Chicago manual of style (16th edition). Information to be used in other citation formats:
| | |
| --- | --- |
| Permalink: | http://www.biographi.ca/en/bio/campbell_archibald_glenlyon_14E.html |
| Author of Article: | Desmond Morton |
| Title of Article: | CAMPBELL, ARCHIBALD GLENLYON |
| Publication Name: | Dictionary of Canadian Biography, vol. 14 |
| Publisher: | University of Toronto/Université Laval |
| Year of publication: | 1998 |
| Year of revision: | 1998 |
| Access Date: | May 31, 2023 |