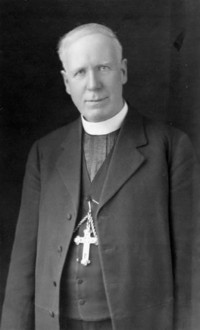 CASEY, TIMOTHY, Roman Catholic priest and archbishop; b. 20 Feb. 1862 in Flume Ridge, N.B., fourth son of Jeremiah Casey and Catherine Splan; d. 5 Oct. 1931 in Vancouver.
Timothy Casey attended grammar school in St Stephen (St Stephen-Milltown), N.B., and from 1878 to 1881 he was a prize-winning student at the College of St Joseph [see Camille Lefebvre*] in Memramcook. He received part of his theological education at the Université Laval and the Grand Séminaire de Québec, which he frequented in 1882–83 and during a few days or weeks in 1883–84. Why he did not complete his studies there is not known. During the years 1884–85 and 1885–86 he taught English and religion at the College of St Joseph. Ordained a priest on 29 June 1886 in Saint John by Bishop John Sweeny*, he spent 11 years there as a curate in the cathedral parish of the Immaculate Conception and 2 years as pastor of St Dunstan's Church in Fredericton. On 30 Sept. 1899 he was named coadjutor to Sweeny with right of succession; he was consecrated on 11 Feb. 1900. Many Acadians objected to his nomination; they had been urging the appointment of one of their own priests. At Sweeny's death on 25 March 1901 he became bishop of Saint John.
During Casey's years as bishop 15 new churches were erected in the diocese (many as replacements for older buildings) and a Catholic school was established in the city. By 1912, when he left Saint John to take up the charge of archbishop of Vancouver, the diocese had 64 priests, 93 churches, a diocesan college, two academies, two orphanages, three industrial schools, a home for the elderly, and a hospital to serve almost 60,000 Catholic laypeople. But the situation had changed very little since his arrival, and any growth was due to others, not to him. Although he was known for the quality of his pastoral letters and was said to have been a fine orator, Casey, a recluse, rarely associated with anyone unless public ceremonies required him to do so. On his nomination in 1912 to succeed Neil McNeil as archbishop, the Saint John Globe touched on his preference for solitude when it described him as "unobtrusive," an indication that he was not a leader, and thus a poor choice to deal with the problems that beset the sphere of his new responsibilities.
Due to McNeil's mismanagement, the archdiocese of Vancouver was almost bankrupt when Casey arrived on 1 Dec. 1912. Enormous sums invested in land speculation had been lost when property prices collapsed in 1911; the predicament would worsen with the onset of an economic recession in 1913. Given such a financial morass, a good leader would not have complained at the outset that he had no "proper palace" to reflect his "high status," but Casey's remark was only a sign of worse to come. In the summer of 1913 Arthur B. Mostyn, a priest whom McNeil had brought with him from Nova Scotia, lamented that no one knew what Casey was doing, since few ever saw him. In fact, during his first year in the archdiocese, Casey did not visit a single parish. Others would voice similar concerns. By 1916 Mother Wenceslaus, former head of St Paul's Hospital in Vancouver, felt that Casey was a dismal failure. Believing that Rome should never have appointed him, she remarked that the "poor man" had neither "the courage nor will to grasp" what was needed in the "new country" of British Columbia. The situation demanded "tact and enterprise," skills she believed Casey totally lacked.
Others tried to compensate for Casey's serious shortcomings in leadership. John Althoff, a secular priest and vicar general of the archdiocese, acted as a father figure for many of his colleagues. From his parish in Nelson, he motorcycled throughout the southern interior, assisting and supporting overworked priests while trying to attract new secular clergy to the region. In 1915 John Welch, provincial (vicar of missions) of the Oblates of Mary Immaculate, travelled in central and eastern Canada, with Casey's eager approval, to obtain funds for the financially strapped archdiocese. Hoping to raise thousands of dollars, Welch returned to British Columbia almost empty-handed, largely because of the depressed economy; his one success was a contribution of $1,000 from the archbishop of Quebec, Cardinal Louis-Nazaire Bégin*.
In backing Welch's plan Casey also revealed his feelings about the church's position in Vancouver, contrasting it to that in New Brunswick. The lack of publicly financed separate schools was a major shock for him. As an easterner, he found it impossible to accept that the provincial government offered no money for separate schools. He longed for the lay Catholics he had left back east, who were "so much better" than those he found on the Pacific coast. He made this comment because Catholics in his archdiocese strongly upheld the separation of church and state, and saw no reason to pay for what were essentially private, parochial schools when public, tax-supported ones were readily available. Additionally, there was the problem of the taxation system in British Columbia, which made municipalities totally dependent on revenues from property taxes. The local authorities accused land speculators such as McNeil of driving up prices. At first the increased value had meant that more money went into city coffers, but after property values collapsed church leaders were blamed for their inability to provide the needed tax revenues. Of course, Casey was not responsible for McNeil's poor judgement, but rather than attempt to deal with the difficulties and help others to cope, he played the part of a victim of a situation he could not change. Complaining to Welch in 1914 that a Vancouver parish would soon lose its school due to its inability to pay property taxes of over $12,000, he was certain that such "unjust conditions" were unheard of in any other Canadian province or, indeed, in "the British Empire!"
The meagre funds Casey had were often mismanaged, compounding the archdiocese's financial problems. For example, McNeil had foolishly expanded the scope of a diocesan newspaper, the B. C. Western Catholic (Vancouver). Founded in 1909 by the Oblate William Patrick O'Boyle, it had reported only local news, but McNeil felt that, as he put it, all "good" Catholics "must" be interested in Catholic world news, so he extended its coverage, making it more expensive to operate. By 1914 the paper, which attracted few readers, was just one more drain on funds. Its plant and equipment were worth several thousand dollars, yet Casey allowed John Dominic Kearns, a local Catholic businessman, to acquire everything for a mere $1,000 and assurances that he would continue publication. Kearns soon allowed the paper to languish and sold the facilities at a significant profit.
Others also tried to take advantage of Casey. In 1916 Foley, Welch and Stewart [see John William Stewart], a company of notable railway contractors who had promoted the ill-fated property schemes in which McNeil had invested, almost convinced Casey to spend $53,000 on four acres of land in Shaughnessy Heights, Vancouver, for his archiepiscopal residence and cathedral. But for the fact that he did not have the enormous sum, Casey might well have fallen for the ploy. Instead he used a building nearby, owned by the Sisters of St Anne, as his residence; despite his promise to pay rent, he never did so.
Casey's inability to make decisions only added to the archdiocese's woes. He ignored problems or procrastinated. He was a poor record keeper, and, as the archdiocesan archives reveal, he threw away most of his correspondence. Largely due to the work of others, the Casey years saw some growth, mixed with many problems. Five new parishes were established and the number of secular clergy rose from 17 to 38. However, frequent transfers between posts also reflected the low morale. For example, priests were assigned to parishes and then just disappeared. Substance abuse, especially alcoholism, was partly to blame, and men were usually simply sent away with no concern as to where they might go or from whom they might seek help. Throughout this period the Oblates, long the clerical backbone of the archdiocese, remained so, although Casey, jealous of their prominence, designated the most prosperous Oblate parish in the archdiocese, Our Lady of the Holy Rosary in Vancouver, as his cathedral parish and replaced the Oblates there with secular clergy.
Finally, in 1928, William Mark Duke, also from Saint John, was named Casey's coadjutor with right of succession. With his appointment, the archdiocese at last had a competent leader. One major, immediate, and very practical change was Duke's subdivision of the huge territory into districts that would eventually become the dioceses of Nelson (1936) and Kamloops (1945). When Casey died on 5 Oct. 1931, few people in the know would have mourned his passing.
While his years in Vancouver were marked by serious financial problems not of his creation, a good leader could have lessened their more negative effects. However, it was others, rarely Timothy Casey, who provided whatever positive direction had been possible during his archiepiscopacy.
A number of circular and pastoral letters written by Timothy Casey while he was bishop of Saint John are listed in CIHM's Register.
Arch. of the Archdiocese of Vancouver, Chancery Office fonds, Archbishop Timothy Casey sous-fonds. Arch. of the Roman Catholic Archdiocese of Toronto, MN (McNeil papers). BCA, GR-2951, no.1931-09-453471. Saint John Globe, 28 Nov. 1912. Canada ecclésiastique, 1903–31. College of St Joseph, Calendar (Shediac, N.B.), 1884/85–85/86; Distribution solennelle des prix … (Montreal), 1879; Distribution solennelle des prix … (Shediac), 1881; Proclamation solennelle des prix … (Shediac), 1880. LeBlanc, DBECC. V. J. McNally, The Lord's distant vineyard: a history of the Oblates and the Catholic community in British Columbia (Edmonton, 2000). Standard dict. of Canadian biog. (Roberts and Tunnell), 2. Univ. Laval, Annuaire, 1882–84.
© 2016–2023 University of Toronto/Université Laval
Cite This Article
Vincent J. McNally, "CASEY, TIMOTHY," in Dictionary of Canadian Biography, vol. 16, University of Toronto/Université Laval, 2003–, accessed October 2, 2023, http://www.biographi.ca/en/bio/casey_timothy_16E.html.
The citation above shows the format for footnotes and endnotes according to the Chicago manual of style (16th edition). Information to be used in other citation formats:
| | |
| --- | --- |
| Permalink: | http://www.biographi.ca/en/bio/casey_timothy_16E.html |
| Author of Article: | Vincent J. McNally |
| Title of Article: | CASEY, TIMOTHY |
| Publication Name: | Dictionary of Canadian Biography, vol. 16 |
| Publisher: | University of Toronto/Université Laval |
| Year of publication: | 2016 |
| Year of revision: | 2016 |
| Access Date: | October 2, 2023 |