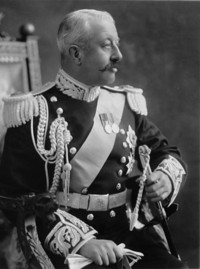 Source: Courtesy of Wikimedia Commons
CAVENDISH, VICTOR CHRISTIAN WILLIAM, 9th Duke of DEVONSHIRE, governor general; b. 31 May 1868 in London, England, eldest son of Lord Edward Cavendish and Emma Elizabeth Lascelles; m. there 30 July 1892 Lady Evelyn Emily Mary Petty-Fitzmaurice (d. 1960), elder daughter of the 5th Marquess of Lansdowne [Petty-Fitzmaurice*], and they had two sons and five daughters; d. 6 May 1938 at Chatsworth House, Derbyshire, England.
Victor Cavendish was educated at Eton College and Trinity College, Cambridge, receiving a ba in 1891. He then trained in an accountant's office for several months and studied law at the Inner Temple in London before assuming responsibility for a number of family businesses. In the meantime, following the death in May 1891 of his father, who had been a Liberal Unionist mp for West Derbyshire, Cavendish was returned unopposed to the House of Commons for this constituency. On 24 March 1908 he succeeded his uncle, Spencer Compton Cavendish, as 9th Duke of Devonshire and took his place in the House of Lords. While a member of the lower house, Victor Cavendish had served in Lord Salisbury's last administration as treasurer of the royal household, a position he held from 1900 to 1903, and had been financial secretary to the Treasury in the government of Arthur James Balfour from 1903 to 1905. In the House of Lords he was an influential and active member – his contribution to debate was "simple, direct, weighty, and balanced," commented Lord Morley. In 1912 Andrew Bonar Law, then leader of the opposition, named Devonshire to his shadow cabinet. He was civil lord of the Admiralty in Herbert Henry Asquith's coalition government in 1915–16, during World War I.
As holder of the family title, Devonshire was responsible for an immense estate of more than 180,000 acres in Derbyshire and became lord lieutenant of the county and high steward of Derby, as well as honorary colonel of the 5th Battalion of the Sherwood Foresters (Nottinghamshire and Derbyshire Regiment). He served in 1909–10 as mayor of Eastbourne in Sussex, which his grandfather had helped develop as a resort, and in 1911–12 as mayor of Chesterfield, near the family estate at Chatsworth. In 1908 he had assumed the presidency of the British Empire League, and a year later he was appointed chancellor of the recently established University of Leeds. He was created gcvo in 1912 and named to the Order of the Garter in January 1916.
Devonshire learned that he was being considered for appointment as governor general of Canada, to succeed the Duke of Connaught [Arthur*], just days before the launch of the battle of the Somme on 1 July 1916. He noted in his diary that Lord Lansdowne, his father-in-law and a former governor general, spoke on 21 June of "a good many attractions but at the same time many difficulties" of the position. After a talk with the duchess, Devonshire was "inclined to refuse," he recorded. The next day Lansdowne, his wife, and Arthur Balfour, now foreign secretary, all urged him to go. After yet another long conversation with Lansdowne on the 23rd, the duke, perhaps also driven by his sense of public duty, said he "would agree to accept the offer of Canada but [it] wd be terribly difficult." In November he and the duchess sailed for Halifax. They landed there on the 11th, and he was sworn into office by Sir Louis Henry Davies*, a justice of the Supreme Court of Canada. Two days later the viceregal couple arrived in Ottawa and were greeted warmly by the prime minister, Sir Robert Laird Borden.
The manner of Devonshire's appointment by the imperial government had annoyed Borden. From the beginning of the war Devonshire's predecessor, the Duke of Connaught, a field marshal in the British army, had frequently sought to use his military experience to influence Canadian war policy in ways that Borden believed far exceeded the governor general's constitutional responsibility, much to the prime minister's displeasure. That concern, and Borden's pride in the extensive contribution that Canada was making at home and at the front, persuaded him that he should have been consulted about the appointment of Connaught's successor. He was especially anxious that the new governor general "should not be a military man." But the Asquith administration in London would have none of Borden's pretensions. Devonshire was appointed without any consultation with Canada. Even so, Borden got the more important half of his wish: Devonshire was not a military man. An experienced politician, Devonshire, in contrast to Connaught, preferred "listening to speaking," as a recent biographer put it, a trait that Borden came to admire beyond measure.
The new governor general quickly learned that Borden's government was in trouble. The prime minister was being criticized for failing to provide "inspiring leadership"; Sir Samuel Hughes*, minister of militia and defence, had been forced to resign (some of his duties had been taken over by Sir George Halsey Perley, the acting high commissioner to London, as minister of the overseas military forces, and he was soon replaced by a new minister in Canada, Albert Edward Kemp*); the pace of volunteer recruiting, lively in the spring of 1916, had fallen precipitately in the fall, and at the same time Canadian casualties at the Somme had reached more than 24,000. Pressure for conscription was mounting, an agreement between Borden and Sir Wilfrid Laurier*, the leader of the opposition, to postpone a general election was increasingly precarious, and the "dangers that would arise at a general election" were becoming more apparent to Borden and, through him, to Devonshire.
The parliamentary session of 1917 was brief, opening in January and adjourning the next month to allow Borden to attend the initial meetings of the imperial war cabinet in London in March. In the prime minister's absence, Devonshire carried out the customary responsibilities of the governor generalship. There were official visits to cities and small towns, longer tours to regions of the country, the giving of an address here, the promoting of a worthy cause there. Devonshire took seriously his role as patron of numerous institutions and organizations, including the Canadian Patriotic Fund, the Canadian Red Cross, and the Boy Scouts of Canada (he was named chief scout). As the owner of vast estates himself, he was keenly interested in agricultural pursuits. Fairs were favourite places to visit, and supporting the dominion's network of experimental farms [see William Saunders*], especially the central farm on the southern edge of Ottawa, was a priority on his busy schedule. In winter Rideau Hall, his official residence in the capital, was frequently the scene of skating and tobogganing parties and theatrical performances. In summer Devonshire and his family especially enjoyed their time at the Citadel in Quebec City.
But there was no escaping the war and the ever-increasing demands on his government in Ottawa. Borden returned in May, convinced that the days of voluntary recruiting were over. At Vimy Ridge on Easter Monday 1917 the Canadians had suffered more than 10,000 casualties. There were more than double that number by the end of May, but only just over 11,000 new enlistments were recorded for the two preceding months. Borden wanted to lengthen the parliamentary term again, to invite Laurier to join him in a coalition government, and to introduce conscription. Sir Wilfrid listened and demurred; then on 6 June he told Borden he would neither join a conscription government nor agree to extend the current parliament. At the end of July the governor general proposed a conference at Rideau Hall and Borden eagerly agreed. It convened on 9 August. As well as the prime minister and Laurier, Quebec premier Sir Lomer Gouin*, railway executive Lord Shaughnessy*, newspaper publisher Lord Atholstan [Graham], prominent Liberal Sir Clifford Sifton*, now head of the Commission of Conservation, and Sir George Eulas Foster, the minister of trade and commerce, were present. Devonshire opened the meeting, speaking of the "gravity of the situation" in general and then offering to withdraw. All urged him to stay. There was no common ground, however. Borden was committed to conscription, Laurier to opposing it. But in the end, Devonshire believed, "no harm was done & the atmosphere may to some extent be cleared."
The governor general, with the agreement of all participants at the conference, had tried to resolve a difficult political problem. In the summer of 1920 Borden asked him to do so again. The prime minister, exhausted by the strains of war and of peacemaking, was going to resign. His Union government, originally formed in October 1917 with the support of a number of Liberals who were in favour of conscription and confirmed in the general election that December, was breaking up. His problem was how to select a new leader who would have the confidence of his fractious caucus. It was resolved that each member should give his first and second choices to Borden, who would then choose a successor. According to Devonshire's diary, on 1 July Borden told him that Sir William Thomas White* had "received far more support than any others." But, the prime minister added, White was worn out by his long service as minister of finance, and it was "very doubtful" that he would take the position. White, when approached earlier, had asked Borden "not to press." However, given the overwhelming preference for him, the prime minister asked Devonshire to summon White, who was not in Ottawa, to "come immediately." A military aide to the governor general was dispatched to find White, who was located on the 6th and hurried to Ottawa. But it was all in vain. The next day, 7 July, White told Devonshire he was "not strong enough in health to undertake a lot of work." That same evening, at ten o'clock, Borden came to Rideau Hall with Arthur Meighen*, who had likely had the support of more non-cabinet members of caucus than White from the outset. Meighen had agreed to succeed Borden and reported that all but two of their cabinet colleagues would remain in office "for now." On Saturday, 10 July, at 11:00 a.m. the formal transfer of leadership of the party and the government took place in the duke's office on Parliament Hill.
The governor general knew Meighen well. He had been a key member of Borden's wartime government, and Devonshire and the new prime minister began to form the same kind of cordial working relationship that the duke had enjoyed with Borden. But it was short-lived. Devonshire's five-year term drew to a close in the early summer of 1921. In May Borden had urged him to stay on for another term. Devonshire, Borden thought, had proved to be the very model of a proper governor general. He came to know Canada and its people, travelling widely and championing worthy causes throughout the nation. He was a popular figure with Canadians. He listened carefully and spoke cautiously throughout the trying times of the war and the early years of recovery. "No Governor General has come as an inheritor of finer traditions of public service or with a more comprehensive grasp of public questions, as they touch not only this country and the United Kingdom, but the whole Empire," Borden wrote in January 1917. But another term was not to be. "Afraid it is impossible," Devonshire noted in his journal. After a final western tour and a round of farewell addresses, the duke and his family left the Citadel on Tuesday afternoon, 19 July, he made a final inspection of his guard of honour, and they sailed for home. The new governor general, Lord Byng, and his wife arrived in August.
Back in Britain, Devonshire refused an offer to serve as secretary of state for India in David Lloyd George's cabinet in March 1922, but in October he became colonial secretary in Bonar Law's new government. In this post, which he held until January 1924, he is chiefly remembered for the declaration of the previous year that bears his name. In the colony of Kenya, he announced, the interests of African natives must take precedence over those of immigrant settlers. On 12 April 1925 the duke suffered a paralytic stroke that changed him, in the words of his biographer, "from a calm, impassive, and patient man into at best a querulous, morose invalid and at worst a ferocious bully." Victor Christian William Cavendish, 9th Duke of Devonshire, died at his Chatsworth estate in May 1938.
LAC, R4694-0-8. Times (London), 7 May 1938. R. L. Borden, Robert Laird Borden: his memoirs, ed. Henry Borden (2v., Toronto, 1938), 2. R. C. Brown, Robert Laird Borden: a biography (2v., Toronto, 1975–80), 2. Roger Graham, Arthur Meighen: a biography (3v., Toronto, 1960–65), 2. ODNB.
© 2019–2023 University of Toronto/Université Laval
Cite This Article
Robert Craig Brown, "CAVENDISH, VICTOR CHRISTIAN WILLIAM, 9th Duke of DEVONSHIRE," in Dictionary of Canadian Biography, vol. 16, University of Toronto/Université Laval, 2003–, accessed June 10, 2023, http://www.biographi.ca/en/bio/cavendish_victor_christian_william_16E.html.
The citation above shows the format for footnotes and endnotes according to the Chicago manual of style (16th edition). Information to be used in other citation formats:
| | |
| --- | --- |
| Permalink: | http://www.biographi.ca/en/bio/cavendish_victor_christian_william_16E.html |
| Author of Article: | Robert Craig Brown |
| Title of Article: | CAVENDISH, VICTOR CHRISTIAN WILLIAM, 9th Duke of DEVONSHIRE |
| Publication Name: | Dictionary of Canadian Biography, vol. 16 |
| Publisher: | University of Toronto/Université Laval |
| Year of publication: | 2019 |
| Year of revision: | 2019 |
| Access Date: | June 10, 2023 |