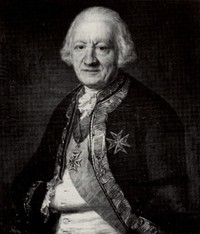 Source: Link
CHABERT DE COGOLIN, JOSEPH-BERNARD DE, Marquis de CHABERT (he signed both Chabert and Chabert-Cogollin), naval officer, hydrographer, and author; b. 28 Feb. 1724 in Toulon, France, son of Joseph-François de Chabert and Madeleine de Bernard; m. 1 Dec. 1771 Hélène-Marguerite-Barbe Tascher; d. 1 Dec. 1805 in Paris, France.
Grandson of a rear-admiral and eldest son of a post-captain who died of wounds received in action, Joseph-Bernard de Chabert de Cogolin followed family tradition when he entered the navy as a midshipman in July 1741. After several voyages in the Mediterranean, where he displayed an interest in science and a talent for drawing charts that brought him to the attention of the minister of Marine, he was appointed sub-section leader of midshipmen and posted to Brest. In 1746 he made two voyages to reconnoitre the coasts of Acadia and correct the defectiveness of French charts. While in the frigate Castor he drew a chart of the roads and harbour of the Baie de Chibouctou (Halifax harbour), and later the same year he was sent in the Sirène to reconnoitre the harbour at Annapolis Royal and spy out the British ships anchored there. The next spring he joined Jacques-Pierre de Taffanel* de La Jonquière's squadron in the Gloire and was taken prisoner by the British during the battle off Cape Ortegal, Spain. After repatriation Chabert was promoted ensign in April 1748 and retained in Paris by the minister, who wanted him to learn astronomy in order to instruct naval officers. Two years later he was chosen to go to Île Royale (Cape Breton Island) and continue his survey of the shores of Acadia. His expedition was organized by Roland-Michel Barrin* de La Galissonière, then head of the Dépôt des Cartes et Plans de la Marine in Paris.
Chabert reached Louisbourg in August 1750 and immediately began to make a long series of observations about the waters of Île Royale. Although the weather was continually bad, he entered what is now the Strait of Canso, obtained a longitude from the shore, and twice observed the astronomical latitude. He also recorded tides and compass variations and charted the strait. At Canso itself he carried out similar observations and drew a second chart before returning to Louisbourg. He then surveyed the coast of Île Royale from Guyon Island, southwest of Cape Gabarus, northward beyond Scatarie Island. During the winter he had a but constructed on the ramparts at Louisbourg and despite the rigours of the climate successfully established the longitude of the town before spring. In June 1751 he departed for Cape Sable at the southern extremity of Nova Scotia to determine its latitude and longitude and then coasted along the shore. At the conclusion of his survey he discovered the length of Nova Scotia to be about 15 to 20 leagues shorter than was shown on contemporary charts. The following month he successfully located Sable Island, and in August he charted the southern coast of Newfoundland from Cape Ray to Cape Race.
Returning to France in November, Chabert was attached to the Dépôt de la Marine under La Galissonière's direction and prepared his surveys for publication. The result appeared in 1753 as Voyage fait par ordre du roi en 1750 et 1751, dans l'Amérique septentrionale. The work is in two parts: the first is an abridgement of his journal accompanied by charts; the second is devoted to his astronomical observations. It contained the most accurate hydrographic survey of the east coast that had yet been made, and the ministry of Marine subsidized publication by taking 200 copies for its own use. In 1754 Chabert was made a knight of the order of Saint-Louis as a reward for his services and two years later he was promoted lieutenant.
Chabert served briefly at sea between 1756 and 1758 but then returned to the Dépôt de la Marine. Over the next quarter of a century he contributed frequently to the Académie des Sciences, of which he became a member in 1758. In 1760 he was instrumental in selecting the site in the south Pacific for the French observation of a transit of Venus. During the next decade Chabert devoted himself to charting the Mediterranean, work he had begun in the 1750s. In 1771 he was promoted post-captain and two years later became deputy head of the Dépôt de la Marine. A further promotion, as brigadier of naval forces, followed in 1776. After the signing of the Franco-American alliance Chabert obtained command of the Vaillant in Vice-Admiral Jean-Baptiste-Charles d'Estaing's West India squadron (1778–79), and he later served under Rear-Admiral François-Joseph-Paul de Grasse (1781–82). On 5 Sept. 1781 he was seriously wounded while engaging five ships of the line in Thomas Graves's fleet. He was promoted rear-admiral in January 1782.
On 1 Jan. 1792 Chabert's long years of service were rewarded with promotion to vice-admiral. The revolution forced him to flee to England but he returned to France in 1802. While engaged in his last great work, a general sea atlas of the Mediterranean, he was struck by blindness. At the time of his death he was laden with all the honours the country could bestow: senior admiral of the French navy, commander of the Order of Saint-Louis, and member of the Académie des Sciences and the Académie de Marine. He was also a member of scientific institutions in Berlin, Stockholm, and Bologna and of the Royal Society of London. His long career had been marked by scholarship in hydrographic surveying and courage in combat.
[Joseph-Bernard de Chabert de Cogolin's Voyage fait par ordre du roi en 1750 et 1751, dans l'Amérique septentrionale, pour rectifier les cartes des côtes de l'Acadie, de l' isle Royale & de l'isle de Terre-Neuve; et pour en fixer les principaux points par des observations astronomiques (Paris, 1753) has been reprinted ([East Ardsley, Eng., and New York], 1966).
Most of the biographical material concerning Chabert can be found in AN, Marine, C7, 58 (dossier Chabert-Cogolin); this file is more extensive than most. Other manuscript sources are AN, Marine, B2, 343: f.413; B3, 535: f.123; B4, 63: ff.261–61v; 3JJ, 272–73; and Bibliothèque nationale (Paris), mss, Fr., 12224: ff.405–6. Three of Chabert's letters in AN, Marine, 3JJ, and the report of his expedition to Louisbourg delivered to the Académie des sciences in Paris in 1753 have been reprinted in Roland Lamontagne, Chabert de Cogolin et l'expédition de Louisbourg (Montréal, 1964). Biographical notices appear in Biographie universelle (Michaud et Desplaces); DBF; and Nouvelle biographie générale . . . , [J.-C.-F.] Hoefer, édit. (46v., Paris, 1852–66). j.s.p.]
© 1983–2023 University of Toronto/Université Laval
Image Gallery

Cite This Article
J. S. Pritchard, "CHABERT DE COGOLIN, JOSEPH-BERNARD DE, Marquis de CHABERT," in Dictionary of Canadian Biography, vol. 5, University of Toronto/Université Laval, 2003–, accessed October 1, 2023, http://www.biographi.ca/en/bio/chabert_de_cogolin_joseph_bernard_de_5E.html.
The citation above shows the format for footnotes and endnotes according to the Chicago manual of style (16th edition). Information to be used in other citation formats:
| | |
| --- | --- |
| Permalink: | http://www.biographi.ca/en/bio/chabert_de_cogolin_joseph_bernard_de_5E.html |
| Author of Article: | J. S. Pritchard |
| Title of Article: | CHABERT DE COGOLIN, JOSEPH-BERNARD DE, Marquis de CHABERT |
| Publication Name: | Dictionary of Canadian Biography, vol. 5 |
| Publisher: | University of Toronto/Université Laval |
| Year of publication: | 1983 |
| Year of revision: | 1983 |
| Access Date: | October 1, 2023 |