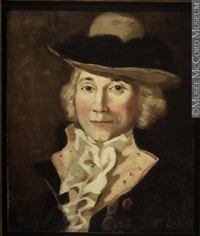 Source: Link
CHABOILLEZ, CHARLES-JEAN-BAPTISTE (he signed Charles), fur trader and merchant, and militia officer; b. 9 July 1736 at Michilimackinac (Mackinaw City, Mich.), eldest son of Charles Chaboillez, voyageur and fur trader, and Marie-Anne Chevalier; m. 27 Oct. 1769 Marguerite Larcheveque, the 20-year-old daughter of merchant Jacques Larchevêque, dit La Promenade, and Jeanne Godet in Montreal, Que.; they had nine children but only five survived him; d. 25 Sept. 1808 in Montreal and was buried there two days later.
Charles-Jean-Baptiste Chaboillez concentrated his trading activity at Michilimackinac, in the area south of Lake Superior, and in the Mississippi region. At first he was very successful. After his father's death in 1757 his mother settled in Montreal, where on 1 Sept. 1763 she bought a spacious house on Rue Saint-Paul for 9,000 livres. During the next two decades Chaboillez and his brothers were active in the fur trade. According to a receipt dated 1768 Chaboillez had sent pelts to his mother and brother Pierre-Louis in Montreal in 1765. Apart from this slim indication the available documents throw little light on their commercial relations.
Chaboillez's business continued to prosper. When he married in 1769, his fortune as declared in the marriage contract amounted to 30,000 livres in cash. His wife brought to the joint estate 40,000 livres in the form of a lot with house, furnishings, silverware, and cash. The following year an investment of £2,550 in the fur trade put him in the forefront of Canadian investors.
Chaboillez's movements over the next 30 years cannot all be established. The documents located, however, make it possible to trace them in broad outline. Until about 1780 he wintered in the region of Grand Portage (near Grand Portage, Minn.) and the "Grande Riviere," and went to Montreal for the summers. Then it seems the order was reversed: the winters were spent in Montreal, the summers on trading trips. After May 1793, when he gave his wife a power of attorney, he was to be found in Montreal less and less. He was absent when his wife died on 29 April 1798 and during the period when the estate was settled. In 1802 he was appointed storekeeper for the Indian Department at St Joseph Island in Upper Canada and was there when his daughter Marie-Charlotte-Domitille died in October 1805. John Askin Jr replaced him in the summer of 1807. It was at this time that he returned to Montreal, where he died the following year.
Chaboillez's activities in the three decades prior to 1802 are known only in part. He was one of the clients of Jean Orillat*, a Montreal merchant. In 1778, after wintering in the region of Grand Portage, he was supplied from Michilimackinac by John Askin Sr on instructions from his wife, who was his agent in Montreal. He maintained business relations with Benjamin Frobisher*, who stood surety for him in 1778 and again in 1783. That year Frobisher and Chaboillez guaranteed an expedition costing £3,500 which Benjamin and his brother Joseph sent to Grand Portage. In 1785 Frobisher and Chaboillez financed the dispatch to Lake Superior of two canoes fitted out by the latter. In the course of that year he went into partnership with other Montreal outfitters and merchants at Michilimackinac, one being Étienne-Charles Campion*, to form the General Company of Lake Superior and the South. The objective of this company, known also as the General Society, was to engage in the fur trade in the upper Mississippi region for a period of three years. During the winter of 1792–93 Chaboillez was in partnership with George Edme Young, and they engaged 42 men to go to Michilimackinac (by then located on Mackinac Island, Mich.) and the Mississippi. It is possible that the hiring of 29 men by Young in 1791–92 marked the beginning of this partnership.
Chaboillez's other concerns were divided between Montreal and Michilimackinac. He had acquired farms in the Montreal region, including one on the Côte de Liesse on Montreal Island and another in the seigneury of Châteauguay, both purchased in 1779. In 1788 he also owned three islands near the tip of Montreal Island; on one of these, Île à l'Aigle, there was a farm with animals and valuable farming equipment. In 1786, while at Michilimackinac, he signed a petition to Bishop Hubert* of Quebec requesting a missionary for the locality. The following year he was elected a churchwarden of the parish of Sainte-Anne-de-Michillimakinac. While he was in Montreal in 1790 he signed an address supporting Hubert in the conflict between him and his coadjutor, Charles-François Bailly* de Messein. At about the same time Chaboillez was appointed captain in Montreal's 2nd Militia Battalion and in 1799 he was promoted major. His name was not on the rolls after 1802.
By the time Chaboillez died in 1808 his fortune had vanished; his business seems to have been in serious difficulties from the 1790s. In June 1798, according to the inventory made of the assets of the joint estate after his wife's death, his debts amounted to £11,435, £10,635 being owed to McTavish, Frobisher and Company and £420 to Simon McTavish himself. Moneys owing to him amounted to £4,056, and the furnishings were sold for £658. As his wife owed only £453, the heirs renounced the joint estate and contented themselves with that of their mother. McTavish, who was his son-in-law, died in 1804; his will released Chaboillez from all debt and gave him an annuity of £150. No will or inventory of Chaboillez's property has been found, probably an indication that he left very little. On the basis of documents currently available, no explanation of this decline can be given. The most that can be said is that the turning-point probably came around 1790.
Chaboillez had held an important place in the fur trade. Writing to Benjamin Frobisher in 1778, John Askin Sr remarked that Chaboillez was firmly established: "I know no person so well off in the North Trade as he is." In April 1786 Chaboillez, together with McTavish, the Frobisher brothers, James and Andrew McGill, and the other merchants who were interested in the Michilimackinac trade, sent two memoirs to Sir John Johnson*, superintendent general of Indian affairs, asking him to help establish peace among the indigenous people in the upper Mississippi region.
Charles-Jean-Baptiste Chaboillez belonged to the fur-trading bourgeoisie. His brothers, who were fur merchants, were linked by marriage with the Chapoton, Nouchet, and Baby-Cheneville families. His mother was the daughter of the merchant Jean-Baptiste Chevalier*. Chaboillez was also a founding member of the Beaver Club in Montreal. His son Charles, for whom he has often been mistaken by historians, was the second of four Canadians who became partners in the North West Company. His daughters Marie-Marguerite and Rachel married, respectively, Simon McTavish and Roderick Mackenzie*, influential members of that company. A third daughter, Adélaïde, married Joseph Bouchette*, surveyor general of the Canadas.
A portrait of Charles-Jean-Baptiste Chaboillez held by the McCord Museum is reproduced in D. A. Armour and K. R. Widder, At the crossroads: Michilimackinac during the American revolution (Mackinac Island, Mich., 1978), 75.
ANQ-M, CE1-51, 27 oct. 1769; 30 avril 1775; 13 sept. 1786; 4 juill. 1797; 2 mai 1798; 15 juill., 27 sept. 1808; CN1-29, 20, 25–27 juin, 24 déc. 1798; CN1-74, 31 mars, 8 nov. 1788; 29 janv. 1790; 29 déc. 1791; 27 déc. 1792; 4 mai, 21 oct. 1793; 5 août 1794; 15 sept. 1799; CN1-121, 1er oct. 1793; CN1-290, 31 mai 1768, 13 janv. 1770; CN1-308, 1er sept. 1763, 25 oct. 1769; CN1-309, répertoire. ANQ-Q, CN1-230, 28 oct. 1805. PAC, MG 19, B3: 4 (transcripts); RG 4, B28, 115. Docs. relating to NWC (Wallace), 134–43, 432. John Askin papers (Quaife), 1: 52, 55, 91, 94–96, 98, 112, 115, 118, 123, 128–30, 133–34, 146–47, 150–51, 153–54, 156–57, 162; 2: 398, 534, 545, 553–54. J.-B. Perrault, Jean-Baptiste Perrault, marchand voyageur parti de Montréal le 28e de mai 1783, L.-P. Cormier, édit. ([Montréal], 1978), 55–56. "Requête des voyageurs de Michillimakinac en 1786," Henri Têtu, édit., BRH, 10 (1904): 66–68. John Tanner, A narrative of the captivity and adventures of John Tanner . . . , ed. Edwin James (Minneapolis, Minn., 1956), 19, 51. Wis., State Hist. Soc., Coll., 12 (1892): 76–82, 92; 18 (1908): 254–55, 486–88, 494, 500, 511; 19 (1910): 4, 6–7, 9, 11, 13, 17, 31, 34, 38, 154, 160–61, 239–40, 243–45. Quebec Gazette, 16 June, 3 Nov. 1785; 11 Oct. 1787; 7 Aug. 1788; 27 May 1790. J.-J. Lefebvre, "Répertoire des engagements pour l'Ouest . . . ," ANQ Rapport, 1946–47: 303–69. Massicotte, "Répertoire des engagements pour l'Ouest," ANQ Rapport, 1932–33: 245–304; 1942–43: 261–397. A.-G. Morice, Dictionnaire historique des Canadiens et des Métis français de l'Ouest (2e éd., Québec, 1912), 61–62. Quebec almanac, 1791: 50; 1800: 111; 1801: 110; 1805: 74–75. Wallace, Macmillan dict. M. W. Campbell, NWC (1957), 20, 76–77, 143. Davidson, NWC, 14, 16, 23–25. Innis, Fur trade in Canada (1956), 195–96. Miquelon, "Baby family," 182–95, app.A. L. J. Burpee, "The Beaver Club," CHA Report, 1924: 73–92. J. E. Igartua, "The merchants of Montreal at the conquest: socio-economic profile," SH, 8 (1975): 290. É.-Z. Massicotte, "Le Beaver Club," BRH, 36 (1930): 323–27; "Les Chaboillez," BRH, 28 (1922): 184–88, 207–9, 241–42, 274–76, 311–13, 325–32, 355–59.
© 1983–2023 University of Toronto/Université Laval
Image Gallery

Cite This Article
Gratien Allaire, "CHABOILLEZ, CHARLES-JEAN-BAPTISTE (Charles)," in Dictionary of Canadian Biography, vol. 5, University of Toronto/Université Laval, 2003–, accessed June 9, 2023, http://www.biographi.ca/en/bio/chaboillez_charles_jean_baptiste_5E.html.
The citation above shows the format for footnotes and endnotes according to the Chicago manual of style (16th edition). Information to be used in other citation formats:
| | |
| --- | --- |
| Permalink: | http://www.biographi.ca/en/bio/chaboillez_charles_jean_baptiste_5E.html |
| Author of Article: | Gratien Allaire |
| Title of Article: | CHABOILLEZ, CHARLES-JEAN-BAPTISTE (Charles) |
| Publication Name: | Dictionary of Canadian Biography, vol. 5 |
| Publisher: | University of Toronto/Université Laval |
| Year of publication: | 1983 |
| Year of revision: | 2018 |
| Access Date: | June 9, 2023 |