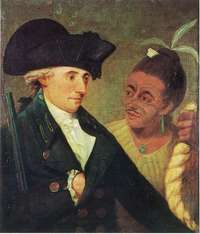 Source: Courtesy of Wikimedia Commons
CLERKE (Clarke, Clerk), CHARLES, naval officer and explorer; b. 1741 at Weathersfield Hall (near Braintree), England; d. 22 Aug. 1779 on board the Discovery, near Avacha (Tar'ya) Bay, Kamchatka peninsula (U.S.S.R.).
Charles Clerke, the son of a justice of the peace, entered the Royal Navy in 1755. After serving throughout the Seven Years' War, he became a midshipman on John Byron's expedition around the world in 1764–66. On his return Clerke wrote a sensationalized account of the notorious "Patagonian giants," which, despite its publication in the Philosophical Transactions of the Royal Society of London in 1768, was probably a hoax, for its author already had a reputation as a high-spirited young man. The turning point of Clerke's professional life came in 1768 when he joined the Endeavour, under James Cook, as master's mate on the first of the great explorer's Pacific voyages. Clerke's service began an association which lasted until Cook's death. After promotion to lieutenant in May 1771 during the first voyage, Clerke sailed on the second voyage as second lieutenant in the Resolution; in 1776, now a captain, he was given command of the Discovery and sailed with Cook to the north Pacific in search of a northwest passage.
For Clerke the seeds of personal tragedy had been sown before he left England in 1776, for a spell in the Fleet prison in London as the guarantor of another's debts had left him with tuberculosis. As Cook's vessels made their slow way towards the northwest coast of America Clerke seems to have considered resigning his command, in the hope of recovering in warmer climes, but was presumably held back by his strong sense of duty. The journal he kept in 1778, as the expedition worked its way northward along the coasts of what are now British Columbia and Alaska in a vain search for the northwest passage, contains more complete and precise natural history observations than those of most of his colleagues, as well as good descriptions of the Nootkas. But Clerke's strength was failing rapidly. In April 1778 he was able to accompany Cook on a visit to a Nootka village at Nootka Sound (B.C.), but when he assumed command of the expedition after the awful shock of Cook's death in February 1779 he referred to "my own unhappy state of Health which sometimes is so bad as hardly to suffer me to keep the Deck." Despite his poor health, he ordered the vessels back into the icy and fogbound waters of the north in another attempt to find a route through Bering Strait and east along the Arctic coastline of the American continent. The strait was reached on 5 July (ship time), but on the 7th the great ice-barrier which had blocked Cook's progress the previous year was sighted. After repeated attempts to penetrate the ice the expedition was forced back in latitude 70°33'N, five leagues short of their farthest point north in 1778. Clerke's last journal entry, dated 21 July 1779, concluded: "this Sea is now so Choak'd with Ice that a passage I fear is totally out of the question." The battered vessels put back to Avacha Bay, Kamchatka, for repairs, but before they reached port Clerke, long since "reduced to almost an absolute skeleton," as one of his officers wrote later, died at the age of 38. Of his last months Lieutenant James King wrote, "nor did he swerve in any instance from persevering on account of his health, preferring his duty to his Country, to even his own life."
[Charles Clerke's report on the "Patagonian giants" is printed as "An account of the very tall men, seen near the Streights of Magellan, in the year 1764, by the equipage of the Dolphin man of war, under the command of the Hon. Commodore Byron . . . ," Royal Soc. of London, Philosophical Trans., LVII (1768), pt.1, 75–79. His journals for 1776–79 are in the PRO, Adm. 51/4561/217 and Adm. 55/22, 55/23, 55/124, and extracts are printed in Journals of Captain James Cook (Beaglehole), III, 531–49, 569–82, 591–603, 632–50, 655–59, 678–97, 1301–40. The section relating most directly to Canada, which concerns the expedition's stay at Nootka Sound from March to April 1778, is printed on pp.1323–33. A collection of Clerke's letters to Sir Joseph Banks* is in the State Library of New South Wales, Mitchell Library (Sydney, Australia), Banks papers (Brabourne coll.), II. Those written on the last voyage are printed in Journals of Captain James Cook, III, 1508, 1509, 1518–19, 1542–44; Clerke's final report to the Admiralty, in PRO, Adm. 1/1612, pt.35, is found on pp.1535–40. For additional information, see: BL, Egerton mss 2591, f.275A; James Burney, A chronological history of north-eastern voyages of discovery; and of the early eastern navigations of the Russians (London, 1819), 233–34, 268; [John Byron], Byron's journal of his circumnavigation, 1764–1766, ed. R. E. Gallagher (Cambridge, Eng., 1964), 207n; The Banks letters; a calendar of the manuscript correspondence of Sir Joseph Banks . . . , ed. W. R. Dawson (London, 1958), 220–21; and DNB. g.w.]
© 1979–2023 University of Toronto/Université Laval
Image Gallery

Cite This Article
Glyndwr Williams, "CLERKE, CHARLES," in Dictionary of Canadian Biography, vol. 4, University of Toronto/Université Laval, 2003–, accessed September 25, 2023, http://www.biographi.ca/en/bio/clerke_charles_4E.html.
The citation above shows the format for footnotes and endnotes according to the Chicago manual of style (16th edition). Information to be used in other citation formats:
| | |
| --- | --- |
| Permalink: | http://www.biographi.ca/en/bio/clerke_charles_4E.html |
| Author of Article: | Glyndwr Williams |
| Title of Article: | CLERKE, CHARLES |
| Publication Name: | Dictionary of Canadian Biography, vol. 4 |
| Publisher: | University of Toronto/Université Laval |
| Year of publication: | 1979 |
| Year of revision: | 1979 |
| Access Date: | September 25, 2023 |