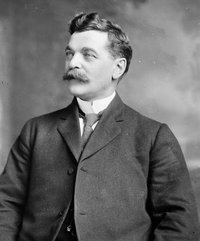 Source: Courtesy of Wikimedia Commons
CODERRE, LOUIS (baptized François-Louis-Alfred), lawyer, politician, and judge; b. 31 Oct. 1865 in Saint-Ours, Lower Canada, son of Alfred Coderre and Emma Fontaine; m. 9 July 1895 Marie-Anne Sainte-Marie in Saint-Henri (Montreal), and they had two daughters and two sons; d. 29 Jan. 1935 in Montreal and was buried 27 April in his home village.
Louis Coderre began his classical studies at the Séminaire de Saint-Hyacinthe in 1879 and completed them at the Petit Séminaire de Montréal in 1885. In 1888 he entered the Université Laval in Montreal to study law. He received his bachelor's degree in 1892 and was called to the bar of the province of Quebec that year. He went into partnership first with Eugène Primeau (a former university classmate) and then with his own brother Oscar. As a specialist in municipal law, Coderre served as head of litigation for Saint-Henri from 1896 to 1905 and counsel for Ville Emard (Montreal) from 1908 to 1910. He was also a syndic of the Montreal bar from 1904 to 1910.
Coderre took an interest in politics and was tempted to run for office, but he got off to a difficult start. In June 1908, when he was the Conservative candidate for the riding of Hochelaga in the provincial election, both he and his party were defeated. In October, as the Conservative running in Hochelaga in the federal general election, he was again trounced, after a closely fought campaign. He then turned to municipal politics, trying to win a seat on the City of Montreal's new board of commissioners [see Lawrence John Cannon*] in February 1910. Once more his attempt failed. It was not until the federal election of 21 Sept. 1911 that he won his first electoral victory, becoming an mp in Hochelaga representing the Conservative-Nationalists [see Frederick Debartzch Monk*]. This election marked the end of Sir Wilfrid Laurier*'s long reign and the rise to power of Robert Laird Borden's Conservatives.
When the thorny question of the navy [see Sir Robert Laird Borden; Sir Wilfrid Laurier] came definitively on the scene again in the fall of 1912, the Conservative-Nationalists were forced to take a stand. Coderre decided to support Borden's policies and thus was appointed to the cabinet on 29 Oct. 1912 as secretary of state, following the resignation of Monk, who was the minister of public works and the Conservative leader's French Canadian lieutenant. As was the custom at the time, in order to confirm his appointment, Coderre had to get himself re-elected. He won handily in a by-election on 19 Nov. 1912, even though the contest had occasioned heated debates at political meetings. On 10 Feb. 1913 he was given added responsibility as minister of mines. An unassuming and inexperienced politician, he had been elevated to ministerial rank because a French Canadian mp from the Montreal region was needed in cabinet, but he was not equal to the task of holding a senior position in the Borden government. He left politics on 5 Oct. 1915 and the following day was named puisne judge of the Superior Court of the province of Quebec for the district of Montreal.
Created in 1849 to relieve the Court of Queen's Bench, the Superior Court was the centre of the Quebec judicial system and its court of common law. Because of the experience Coderre gained over the years, his services were sought when a crisis occurred in 1924 in the administration of the City of Montreal and its police force. There was already widespread indignation at the apparent tolerance by the Montreal police of crimes involving vice (mainly prostitution and gambling) which, reportedly, were turning the metropolis into a veritable open city. In April 1924 thieves stole a large sum of money being transported by car for the Banque d'Hochelaga. They were arrested a few days later. The ensuing investigation and trials revealed that some police officers had been accomplices in the crime and even that a former police officer was the brains behind the operation. These revelations convinced the public, as well as some politicians, that an inquiry into the administration of the police force and the conduct of its members must be held. On 17 Sept. 1924, 82 individuals, Ovila Casavant heading the list, signed a request to this effect and submitted it to the Superior Court. As a result, a judicial inquiry opened on 6 October, presided over by Coderre. The testimony of the police officers shed light in particular on a widespread system of corruption, in which officers took bribes to protect gambling dens and brothels.
Coderre's report was made public on 13 March 1925. It was a damning indictment of the police department, which he judged to be inefficient, incompetently led, and badly managed, as well as of the City of Montreal's executive committee, whose interference with the administration of the police he regarded as deplorable. He also condemned the "exchange of favours" between police officers and members of the executive committee; the latter granted promotions and privileges to officers who had helped them get re-elected. Coderre's recommendations included the appointment of a duly qualified chief of police, who would be shielded from pressure or interference from the executive committee; an increase in the number of police officers; measures to heighten the awareness of the public so that they would cooperate more often with the police; closer screening of immigrants (for "a considerable proportion of the convicts who fill our penitentiaries and jails are foreigners," he noted); and strict enforcement of the law in crimes involving vice. On this point, he issued a call to municipal leaders to "get down to the task resolutely, for once, and spare no effort to ensure that the law is observed to the letter, in order to rid our city of the open sore of prostitution as a business."
At the end of 1925 the chief of police issued a positive assessment of the changes that had resulted from the inquiry. In the annual report of the police department for 1925, he declared that he had "obtained various improvements that contributed in no small way to increasing the efficiency of the service," including the hiring of four inspectors. But criminologist Jean-Paul Brodeur, in his subsequent analysis of the inquiry, reached different conclusions. In his view, the members of the City of Montreal's executive committee, the key to any reform of the municipal administration at the time, saw the report as a political attack on themselves. They turned a deaf ear to it, with the result that nothing, it would seem, changed in the administration of the Montreal police force until the end of the 1920s. "There are … few reports that have had less effect," Brodeur concluded.
From 1925 until his death in 1935, Louis Coderre presided over the civil-practice division of the Superior Court, an institution to which he devoted the last 20 years of his life. According to many testimonials after his death, he was remembered as an erudite and extremely generous man. He showed patience towards the accused appearing before him and bolstered the confidence of young lawyers starting out in their careers.
The fonds of the judicial inquiry into the administration of the Montreal police is held at the Ville de Montréal, Section des arch., P045. In addition to the report by judge Louis Coderre, the collection contains the witnesses' depositions and press clippings. The report was published in full in the 14 March 1925 editions of a number of dailies, including Le Devoir, La Patrie, and Le Canada (Montréal).
BANQ-CAM, CE601-S29, 9 juill. 1895; CE603-S6, 1er nov. 1865. FD, Saint-Ours, comté de Richelieu, Québec, 27 avril 1935. Le Devoir, 30 janv., 1er févr. 1935. BCF, 1925: 29. François Bélanger, Les cours de justice et la magistrature du Québec: Cour suprême, Cour d'appel, Cour supérieure, Cour fédérale, Cour canadienne de l'impôt (nouv. éd., [Québec], 1999). Réal Bélanger, L'impossible défi: Albert Sévigny et les conservateurs fédéraux (1902–1918) (Québec, 1983). J.‑P. Brodeur, La délinquance de l'ordre: recherches sur les commissions d'enquête (1v. paru, LaSalle [Montréal], 1984– ). Canadian directory of parl. (Johnson). CPG, 1912–35. "Feu le juge Louis Coderre," La Rev. du droit (Québec), 13 (1934–35): 376–77. C.‑V. Marsolais et al., Histoire des maires de Montréal (Montréal, 1993), 225–29. Prominent people of the province of Quebec, 1923–24 (Montreal, n.d.). P.‑G. Roy, Les juges de la prov. de Québec. Rumilly, Hist. de la prov. de Québec, vols.16–17, 28. Hist. de Montréal, vols.3–4.
© 2014–2015 University of Toronto/Université Laval
Image Gallery
Cite This Article
Gilles Lafontaine, "CODERRE, LOUIS (baptized François-Louis-Alfred)," in EN:UNDEF:public_citation_publication, vol. 16, University of Toronto/Université Laval, 2003–, accessed October 9, 2015, http://www.biographi.ca/en/bio/coderre_louis_16E.html.
The citation above shows the format for footnotes and endnotes according to the Chicago manual of style (16th edition). Information to be used in other citation formats:
Permalink: http://www.biographi.ca/en/bio/coderre_louis_16E.html
| | |
| --- | --- |
| Author of Article: | Gilles Lafontaine |
| Title of Article: | CODERRE, LOUIS (baptized François-Louis-Alfred) |
| Publication Name: | EN:UNDEF:public_citation_publication, vol. 16 |
| Publisher: | University of Toronto/Université Laval |
| Year of publication: | 2014 |
| Year of revision: | 2014 |
| Access Date: | October 9, 2015 |