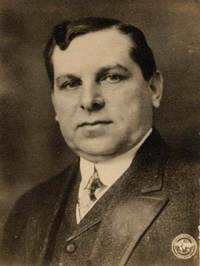 Source: Link
Cohen, Lyon (named at birth Yehuda Leib), businessman, newspaper publisher, and community leader; b. 11 May 1868 in Suwałki (Poland), son of Leizer Cohen and Fraida Garmaise; m. 17 Feb. 1891 Rachel Friedman in Montreal, and they had three sons and one daughter; grandfather of singer, songwriter, and author Leonard Cohen*; d. 15 Aug. 1937 in Old Orchard Beach, Maine.
Born in Russian Poland to parents of Lithuanian origin, Yehuda Leib Cohen immigrated to Canada with his mother about 1871 to join his father, who had settled in Maberly, Ont., two years earlier. After working in a general store, his father had entered the lumber business. Leizer and Fraida would become known as Lazarus and Fanny, and their son as Lyon. Young Lyon's education began under his father's tutelage. In 1883 the family moved to Montreal. Lyon studied at the McGill Model School and then at the Catholic Commercial Academy of Montreal [see Urgel-Eugène Archambeault*], where he was a medalist and valedictorian.
On moving to Montreal Lyon's father became a partner with Wales L. Lee in Lee and Cohen, dealers in coal, coke, wood, and foundry supplies. In 1888 Lyon joined the firm; it was renamed L. Cohen and Son about 1890. Five years later he became president of a brass foundry, W. R. Cuthbert and Company, and in 1900 he set up the General Improvement and Contracting Company Limited, a dredging firm. In 1906 he purchased the Freedman Company, which would be one of the largest manufacturers of men's clothing in Canada. An entrepreneur and president of the Montreal Clothing Manufacturers' Association from 1916 to 1920, he was known for his energetic fight against unionization, especially during the strikes of 1916 and 1917. In 1919 he founded and assumed the presidency of the Canadian Export Clothiers Limited. During the 1930s he served as a director of the Montreal Life Insurance Company.
A well-known and successful businessman, Cohen exerted great effort to improve the welfare of the Jewish community in Canada. On his arrival in Montreal, his father had joined the pre-eminent Jewish congregation in the city, Shaar Hashomayim, and he had two terms as its president, 1896–1901 and 1907–14. In 1902 Lyon became the youngest person to hold the position of treasurer. Like his father he was president for two terms, 1904–7 and 1914–32; after the second term he was named honorary president, a title he would retain until his death. His son Horace Rives would serve in 1946–47. On 10 Nov. 1921, as chairman of the building committee, Lyon laid the cornerstone of a new edifice for Shaar Hashomayim. His father had worked towards the erection of a larger place of worship, but had not lived to see the task completed.
In 1897, in response to growing fears of anti-Semitism and Jewish alienation in Canada, attitudes that were influenced by the trial of Alfred Dreyfus in France, Cohen, lawyer Samuel William Jacobs, and others founded the fortnightly Jewish Times (Montreal). It was published from 10 Dec. 1897 to 1 Jan. 1909, when it became the weekly Canadian Jewish Times. By 1901 a joint-stock company had been formed to take over the publication. Said Cohen of his newspaper some years later: "The continuous growth of the community in size and importance made the need for a periodical urgent. It was imperative that a medium be created whereby the community should be brought into closer contact with the rest of Jewry.… I feel that the paper achieved its purpose. It stimulated communal endeavour and brought our community to the fore as an important world Jewish centre."
Cohen was active in many other aspects of Jewish life. He served as secretary, trustee, member of the board of governors (in 1903), and president (from 1908 to 1912) of the Baron de Hirsch Institute and Hebrew Benevolent Society of Montreal, a major philanthropic umbrella organization. During his years at the institute, he was involved in an effort to increase its membership as well as in the establishment of the Hebrew Free Loan Association of Montreal to assist needy Jews; he also participated in the 1912 foundation of Mount Sinai Sanatorium at Sainte-Agathe-des-Monts. Other endeavours on behalf of the institute focused on the creation of an informal committee that successfully fought to permit Jews to conduct business on Sunday in spite of the Lord's Day Act of 1906. In 1913 the committee sent Montreal lawyers Jacobs, Louis Fitch, and Gui-Casimir Papineau-Couture to Quebec City to assist Louis Lazarovitz, who, with Benjamin Ortenberg, had launched a significant libel suit against notary Jacques-Édouard Plamondon*.
Cohen's commitment to the future of the Jewish community was manifested in his concern for education. He helped to run schools at the Baron de Hirsch Institute and at Shaar Hashomayim. In 1903, as secretary of the Jewish education rights committee, of which his colleague Maxwell Goldstein was chairman, he fought for equal treatment for Jewish children within Quebec's denominational-school structure [see Jacobs]. In 1917, with newspaper publisher Hirsch Wolofsky* and philanthropist Sir Mortimer Barnett Davis*, he had a role in merging six Jewish afternoon schools into the United Talmud Torahs of Montreal, where one of his uncles, Rabbi Hirsch Cohen, became principal. In June 1931 he laid the cornerstone for the Hebrew Educational Institute, the building constructed for the schools.
World War I had brought the need for organized national leadership to the Canadian Jewish community in order to provide aid and help facilitate the immigration of Jews affected by the conflict. Although the Federation of Zionist Societies of Canada [see Clarence Isaac De Sola*] initially questioned the necessity of yet another pan-Canadian organization, in 1919 it agreed to participate in its creation. Cohen was chosen to preside over 209 delegates who gathered in Montreal that March, and at the end of their deliberations he was unanimously voted first president of the permanent body that they had established, the Canadian Jewish Congress. It would strive to provide a united Jewish voice in Canada and to enhance Jewish rights at home and abroad, although it remained relatively inactive until the end of Cohen's presidency in 1934.
In addition to leading the work of integrating new immigrants carried out by the Baron de Hirsch Institute, Cohen had been active in the Canadian committee of the Paris-based Jewish Colonization Association, as treasurer in 1906 and president in the early 1920s. In these positions he played an important role in the absorption of Jewish immigrants into agricultural communities on the Canadian prairies, such as the one founded by Abraham Klenman* in the late 1880s. In 1915, in response to the devastation occurring overseas during World War I, the Canadian Jewish Committee for the Relief of War Sufferers was formed; Cohen was elected chairman and his younger brother, Abraham Zebulun, was secretary. He also joined other war-relief agencies and was honorary president of the Jewish Immigrant Aid Society of Canada, which was set up during his tenure as president of the Canadian Jewish Congress. The conflict in Europe also touched him personally: two of his three sons served overseas as officers in the Canadian Expeditionary Force.
In 1921 approximately 650 European Jews attempting to enter the United States were to be turned back because they had arrived just after stringent immigration quotas went into effect. Cohen led a committee that persuaded Prime Minister William Lyon Mackenzie King* to grant the refugees a one-year stay in Canada. American Jews, holding up the Canadian example, then successfully pleaded for an exemption that allowed the group to disembark at their original destination. Two years later the Jewish Colonization Association contacted Cohen about a problem of greater proportions. Five thousand Russian Jewish refugees who had found a temporary home in Romania were being threatened with deportation back to the Soviet Union. Along with Jacobs and Wolofsky, Cohen successfully lobbied the minister of immigration and colonization, James Alexander Robb*, to permit their entry into Canada and worked with Jewish communities across the country to welcome them. Ottawa resident Lillian Freiman [Bilsky] obtained similar results for other Jewish refugee groups.
Because of his prominence Cohen was nominated for other responsibilities, including the chairmanship of the 17th convention of the Federation of Zionist Societies of Canada in 1921, the honorary vice-presidency of the organization's successor, the Zionist Organization of Canada, and the honorary vice-presidency of the Zion Athletic Club. He also chaired the executive committee of the Montreal Jewish Community Council (Vaad Ha'ir) at its founding in 1922. At various times he held office as president of the Montefiore, Canadian, and Montreal Reform clubs; he served as a governor of the Montreal General, Jewish General, Homœopathic, and Notre-Dame hospitals as well as the Young Men's Hebrew Association; and he was a director of the Civic Improvement League and the Boys' Farm and Training School at Shawbridge (Prévost), Que. Chairman of the committee to unite his city's Jewish charities in 1915, he later became president and then honorary president of the Federation of Jewish Philanthropies of Montreal. Although a Liberal and an admirer of Prime Minister Sir Wilfrid Laurier*, whose "broad-minded and tolerant attitude on all questions of race and nationality" he particularly appreciated, he declined offers to run for election and showed no interest in political activities.
At age 69 Cohen, who had been ill for several years, died at Old Orchard Beach, Maine, where he had gone to recover his health. The Montreal Daily Star eulogized him, noting that his death was "an irreparable loss to the Jewish community of Montreal." His colleague Hannaniah Meir Caiserman* described him as "undoubtedly … a great Canadian, a great leader and a great Jew."
Lyon Cohen is the author "The birth of the Jewish Times," Canadian Jewish Times (Montreal), 13 Dec. 1912.
Alex Dworkin Canadian Jewish Arch. (Montreal), P0037. BANQ-CAM, CE601-S96, 17 Feb. 1891. Canadian Jewish Chronicle (Montreal), 15 March 1935. Gazette (Montreal), 16 Aug. 1937. Montreal Daily Star, 16 Aug 1937. W. H. Atherton, Montreal, 1534–1914 (3v., Montreal, 1914). H. M. Caiserman, Two Canadian personalities: Lyon Cohen, A. J. Freiman (Montreal, 1948). Canadian Jewish yearbook (Montreal), 1939/40. Canadian men and women of the time (Morgan; 1912). Bernard Figler, Rabbi Dr. Herman Abramowitz, Lazarus Cohen, Lyon Cohen (Gardenvale [Sainte-Anne-de-Bellevue], Que., 1968). The Jew in Canada: a complete record of Canadian Jewry from the days of the French régime to the present time, comp. A. D. Hart (Toronto and Montreal, 1926). Lewis Levendel, A century of the Canadian Jewish press: 1880s–1980s (Ottawa, 1989). Prominent people of the province of Quebec, 1923–24 (Montreal, n.d.). Wilfred Shuchat, The gate of heaven: the story of Congregation Shaar Hashomayim in Montreal, 1846–1996 (Montreal, [2000]). Standard dict. of Canadian biog. (Roberts and Tunnell). The storied province of Quebec: past and present, ed. W. [C. H.] Wood et al. (5v., Toronto, 1931–32). G. [J. J.] Tulchinsky, Branching out: the transformation of the Canadian Jewish community (Toronto, 1998); Taking root: the origins of the Canadian Jewish community (Toronto, 1992).
© 2021–2023 University of Toronto/Université Laval
Image Gallery

Cite This Article
Steven Lapidus, "COHEN, LYON (Yehuda Leib)," in Dictionary of Canadian Biography, vol. 16, University of Toronto/Université Laval, 2003–, accessed September 26, 2023, http://www.biographi.ca/en/bio/cohen_lyon_16E.html.
The citation above shows the format for footnotes and endnotes according to the Chicago manual of style (16th edition). Information to be used in other citation formats:
| | |
| --- | --- |
| Permalink: | http://www.biographi.ca/en/bio/cohen_lyon_16E.html |
| Author of Article: | Steven Lapidus |
| Title of Article: | COHEN, LYON (Yehuda Leib) |
| Publication Name: | Dictionary of Canadian Biography, vol. 16 |
| Publisher: | University of Toronto/Université Laval |
| Year of publication: | 2021 |
| Year of revision: | 2021 |
| Access Date: | September 26, 2023 |