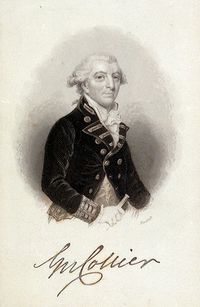 Source: Courtesy of Wikimedia Commons
COLLIER, Sir GEORGE, naval officer; b. 11 May 1738 in London, England, eldest son of George Collier; m. 3 Sept. 1763 Christiana Gwyn, and they had one son; m. secondly on 19 July 1781 at Exeter, England, Elizabeth Fryer, and they had two sons and four daughters; d. 6 April 1795 in London.
A man of obvious leadership qualities, George Collier made a successful career in the Royal Navy. He entered in 1751 and three years later was promoted lieutenant. In July 1762 he was made captain and in 1775 was knighted. The next year, following the outbreak of the American revolution, he was part of Commodore William Hotham's squadron convoying Hessian troops to New York City. There he participated in Lieutenant-General Sir William Howe's operations against the rebel army. It was with "inexpressible astonishment and concern" that he witnessed Howe's failure to destroy the retreating American forces after the battle of Long Island on 27 Aug. 1776.
The next month Collier was sent to organize the naval defence of Nova Scotia, and he discharged this command with great success until his departure in 1778. His squadron was particularly successful in taking American vessels. By the end of 1777 some 76 enemy ships had been captured or burnt, perhaps a third of them British vessels that had previously been seized by the Americans; in July 1777 the squadron took the "flag ship" of the New England privateering fleet, the Hancock (32 guns). As senior naval officer at Halifax Collier was also responsible for collecting the transports necessary for the evacuation to France of the population of Saint-Pierre and Miquelon, who were forced to leave their homes by a British squadron under Commodore John Evans in 1778 [see Charles-Gabriel-Sébastien de L'Espérance].
Collier was no less active in dealing with invasion threats to Nova Scotia. Soon after his arrival at Halifax he dispatched a squadron to relieve Fort Cumberland (near Sackville, N.B.), where the garrison under Joseph Goreham was being besieged by "an inconsiderable number of New England banditti" led by Jonathan Eddy*. The ships arrived after Eddy's attacks had been beaten off, but they landed troops who cooperated with the garrison to rout the rebels on 29 Nov. 1776. In June 1777 Collier heard that a group of rebels had concentrated at Machias (Maine) to secure an Indian alliance and to attack Nova Scotia. He promptly dispatched a force of six ships which landed troops under Brigade-Major Gilfred Studholme; following a skirmish, the American threat was nullified.
After the recall of Rear-Admiral James Gambier in the spring of 1779 Collier assumed command of the North American squadron. In May he convoyed an expeditionary force to Virginia and captured or burnt 137 enemy vessels there. On his return to New York he assisted in the capture of Fort Lafayette (near Verplanck, N.Y.). In August Collier went to the relief of Fort Majebigwaduce (Castine, Maine), whose garrison under Brigadier Francis McLean was being besieged by a large American force. His powerful squadron routed the Americans and destroyed their fleet of 19 armed and 24 provision and transport vessels. When George III was informed of his successes, he commented that "It is remarkable that Sir G. Collier, with so scanty a force, should have been during the five months able to effect more objects against the rebels than the admirals that commanded such large fleets."
Collier's remarkable achievements were curiously unrewarded. Upon his return to New York from Maine he was relieved of his command, which had in any case been only a temporary one, by Rear-Admiral Mariot Arbuthnot. He later served in the Channel fleet and was present at the relief of Gibraltar in 1781, but he never again held an independent command. His failure to be promoted to flag rank or to secure any other public acknowledgement of his services – he twice applied unsuccessfully for a baronetcy – led Collier to resign his command in the Channel fleet later in 1781. In 1784 he was elected to parliament from Honiton. He was finally promoted rear-admiral in 1793 and vice-admiral the following year; in 1795 he was appointed commander-in-chief at the Nore. Forced to resign because of ill health, Collier died in April of that year. He had made a small fortune from prize money, and the principal asset mentioned in his will was £16,667 in three per cent Consols.
[George Collier], "'To my inexpressible astonishment': Admiral Sir George Collier's observations on the battle of Long Island," ed. L. L. Tucker, N.Y. Hist. Soc., Quarterly (New York), XLVIII (1964), 292–305.
Clements Library, Sir Henry Clinton papers. National Maritime Museum, HIS/7 "A detail of some particular services performed in America during the years 1776, 1777, 1778 and 1779, by Commodore Sir George Collier . . . ," comp. G. J. Rainier; JOD/9 "A journal of the war in America by Sir George Collier." PRO, Adm. 1/1611–12; 6/19–21; PRO 30/8/124, ff.166–68; Prob. 11/1259, ff.115–17. Sheffield City Libraries (Sheffield, Eng.), Wentworth Woodhouse Muniments, R.111/32–40. Naval Chronicle (London), XXXII (1814), 265–96, 353–400. The private papers of John, Earl of Sandwich, first lord of the Admiralty, 1771–1782, ed. G. R. Barnes and J. H. Owen (4v., London, 1932–38), III, 135. DNB. Namier and Brooke, House of Commons, II, 239.
© 1979–2023 University of Toronto/Université Laval
Image Gallery

Cite This Article
Julian Gwyn, "COLLIER, Sir GEORGE," in Dictionary of Canadian Biography, vol. 4, University of Toronto/Université Laval, 2003–, accessed June 10, 2023, http://www.biographi.ca/en/bio/collier_george_4E.html.
The citation above shows the format for footnotes and endnotes according to the Chicago manual of style (16th edition). Information to be used in other citation formats:
| | |
| --- | --- |
| Permalink: | http://www.biographi.ca/en/bio/collier_george_4E.html |
| Author of Article: | Julian Gwyn |
| Title of Article: | COLLIER, Sir GEORGE |
| Publication Name: | Dictionary of Canadian Biography, vol. 4 |
| Publisher: | University of Toronto/Université Laval |
| Year of publication: | 1979 |
| Year of revision: | 1979 |
| Access Date: | June 10, 2023 |