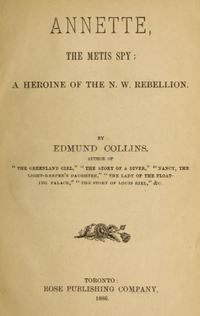 Source: Link
COLLINS, JOSEPH EDMUND, teacher, publisher, journalist, and author; b. 22 Oct. 1855 in Placentia, Nfld, son of William Joseph Collins and Eleanor O'Reiley; m. Gertrude Anna Murphy, and they had two children, who died in infancy; d. 23 Feb. 1892 in New York City.
While Joseph Edmund Collins liked to speculate on his family's distinguished lineage, his father was in fact a farmer and lighthouse keeper of modest means. Clearly intelligent and ambitious but without formal education, Edmund, as he preferred to be called, experimented with several occupations: at 18 he briefly served with the Constabulary Force of Newfoundland; at 19 he left the island to take up work in a law office in Fredericton, N.B.; and at 20 he turned to teaching school. It was not until Collins became attached to journalism, first as publisher of the Fredericton Star in 1878 and then as editor of the Chatham North Star two years later, that finally he was captured by the world of letters. As his mother reported, he found the power to "sway the multitude" irresistible.
Collins had a message to convey, namely, the promotion of an independent, even republican, Canada. In particular, he sought by fostering the literary culture of the nation to give the inert political body of confederation a heart and soul of its own; and it was on the educated youth of the country, those he believed free from the partisan and sectarian prejudices of the past, that he focused his efforts. In Chatham, Collins's enthusiasm and natural brilliance caught the imagination of his wife's second cousin, the young schoolteacher and fledgling poet Charles George Douglas Roberts*. Around campfire and sitting-room Collins pushed Roberts to greater effort as a poet and greater commitment as a nationalist, and he saw the publication of Roberts's Orion, and other poems in the autumn of 1880 as the breakthrough necessary to the creation of a Canadian literature.
When Collins moved to Toronto that winter to become an editor at the Globe, he carried both his message and Roberts's example. It was probably Collins who, in May 1881, provided the copy of Orion that so inspired another young poet, Trinity College student Archibald Lampman; it was certainly Collins who established a corresponding friendship between Lampman and Roberts. Furthermore, Collins used his influence with publisher Goldwin Smith*, to whom he had been drawn by mutual outlook, to have Roberts hired as editor of the Week and brought to Toronto in the autumn of 1883. In short, Collins stimulated, promoted, and drew together the two central members of the group which would subsequently be labelled the "confederation poets." Lampman called him the "literary father" of a generation of young poets, telling a friend that "with old Joseph Edmund to egg us on we shall surely do something." But in doing something Lampman and Roberts left their mentor behind.
Brilliant, enthusiastic, a lover of life and literature, Collins lacked the discipline to persevere with his writing, career, and family. Unwilling or unable to hold a job, he was described by Roberts as "always engaged busily in loose, random work." He dropped from the Globe within a year or two, and thereafter attempted to make a living from free-lance journalism. Writing on almost any subject for any magazine, journal, or newspaper that would pay him, Collins never had or made the leisure to realize the potential his friends were sure he had. Indeed, the only significant work to issue from his pen was the first biography of Sir John A. Macdonald, issued by Rose Publishing Company in 1883. Collins attributed his own ideals of pragmatic nationalism to Macdonald and strained to fit his subject into a liberal mould. Too partisan and too little researched to survive as a reference, the biography nevertheless has lasting importance because of the penultimate chapter on "Thought and literature" – one of the first significant attempts to draw attention to the country's new generation of authors, of whom Roberts was named exemplar. His praise of young authors was repeated the following year in a lesser work, Canada under the administration of Lord Lorne. Tiring of such political biographies, between 1884 and 1886 Collins published four forgettable novels, the imaginative Story of Louis Riel alone achieving notoriety – for its overt racism.
By 1886 Collins's career as a writer was stalled: his nationalist vision had been checked by a country too immature to sustain its men of letters. His friends recognized this reality and found other jobs, Lampman as a clerk with the Post Office Department in Ottawa and Roberts as a professor at King's College, Windsor, N.S. Collins would not or could not follow this path, and instead gravitated to the literary bustle of New York City. There he became an editor at the Epoch, a new weekly magazine of literature and opinion. But Collins did not forget his roots. When the first issue appeared on 11 Feb. 1887, it contained, among notices of works by various American authors, an announcement of Roberts's In divers tones (which was dedicated to Collins). Indeed, Roberts's name continued to appear upon the literary page until Collins left the magazine in 1889.
Unfortunately, the change of scene did not improve Collins's prospects. Whether as a cause or a consequence, he turned to drink, undermining both his health and his marriage. Thrown back on the precarious life of the free-lance writer, and now alone, he shifted from rented room to rented room, frequently living off the charity of friends. Among those who took him in was another of the confederation poets, William Bliss Carman*, who in 1890 had come to New York to seek his fortune as an editor with the Independent. Perhaps revived by the young Carman, that summer Collins visited the Roberts home in Windsor in an attempt to improve his health and recapture some of the inspirational camaraderie of the past. Though the holiday momentarily revived Collins's health, it ruptured a friendship. Apparently too dissipated to be a congenial companion, Collins made matters worse when he departed for New York in October leaving a trail of unpaid bills for Roberts to cover. As Roberts later wrote to Carman, "My profound distrust of him had absolutely killed my affection for him." It was a sad end to an important relationship. For his part, Carman provided a home almost until drink finally took the distracted Collins early in 1892.
Collins's enthusiasm for and love of literature was boundless. While he was never able to translate this energy into work of lasting significance, he did, for a brief and happy moment, stimulate and bring together two of the finest poets Canada was to produce in the 19th century. It was a role Lampman honoured at his mentor's death: "There are two or three – perhaps more – young writers . . . who remember Collins with an especial feeling of tenderness, gratitude and almost of reverence." It was the tragedy of Collins's life that he lacked the ability to keep up with those he inspired and the character to accept this reality. "It is the Collins of years ago," Roberts wrote to Carman, "that I shall try to remember."
[The author would like to acknowledge the research assistance he received from Al Randall of St John's.
J. E. Collins is the author of the following works, all published in Toronto: Life and times of the Right Honourable Sir John A. Macdonald . . . premier of the Dominion of Canada (1883); Canada under the administration of Lord Lorne (1884); The story of a Greenland girl (1885); The story of Louis Riel: the rebel chief (1885); Annette, the Métis spy: a heroine of the N.W. rebellion (1886); and The four Canadian highwaymen; or, the robbers of Markham swamp (1886). He was publisher of the Star (Fredericton), 1878–80, and editor of the North Star (Chatham, N.B.), 1880, and the Epoch (New York), 1887–89.
Only a few letters by or about Collins exist. Manuscript correspondence appears in the Bliss Carman papers at QUA (2070), box 12, Collins to Carman, July 1890; box 13, Lampman to Carman,10 June 1892; box 15, Jean Hunter Bliss to Carman, 1 Jan. 1892; box 22, Collins to Carman, three undated letters [summer 1890]; in the Archibald Lampman coll. at Simon Fraser Univ. Library, Special Coll. (Burnaby, B.C.), Collins to Lampman, August 1891; and in Smith College Library (Northampton, Mass.), Eleanor Collins to Bliss Carman, 18 April 1892 (a copy of this letter is in the Carman papers at QUA). Published correspondence appears in C. G. D. Roberts, The collected letters of Sir Charles G. D. Roberts, ed. Laurel Boone (Fredericton, forthcoming), and C. Y. Connor, Archibald Lampman: Canadian poet of nature (New York and Montreal, 1929; repr. Ottawa, 1977).
An autobiographical sketch can be found in Cyclopædia of Canadian biog. (Rose and Charlesworth), vol.1. Useful information appears in two obituaries: "At the Mermaid Inn," Globe, 19 March 1892: 9, and the Critic (New York), 27 Feb. 1892: 136. See also C. G. D. Roberts, "On the Bartibogue River," Forest and Stream (New York), 20 (February–July 1883), issue of 31 May, and Roberts's book In divers tones (Boston, 1886), 9.
The most important study of Collins is J. C. Adams, "Roberts, Lampman, and Edmund Collins," The Sir Charles G. D. Roberts symposium, ed. Glenn Clever (Ottawa, 1984), 5–13. Other useful secondary works include J. C. Adams, Sir Charles God Damn: the life of Sir Charles G. D. Roberts (Toronto, 1986); J. R. Harper, Historical directory of New Brunswick newpapers and periodicals (Fredericton, 1961); E. M. Pomeroy, Sir Charles G. D. Roberts: a biography (Toronto, 1943); The book of Newfoundland, ed. J. R. Smallwood et al. (6v., St John's, 1937–75), 5: 554; and the author's thesis, "The writing of English-Canadian history in the nineteenth century" (phd thesis, 2v., Univ. of Toronto, 1984), 2: 394–401. m.b.t.]
© 1990–2023 University of Toronto/Université Laval
Image Gallery

Cite This Article
M. Brook Taylor, "COLLINS, JOSEPH EDMUND," in Dictionary of Canadian Biography, vol. 12, University of Toronto/Université Laval, 2003–, accessed December 9, 2023, http://www.biographi.ca/en/bio/collins_joseph_edmund_12E.html.
The citation above shows the format for footnotes and endnotes according to the Chicago manual of style (16th edition). Information to be used in other citation formats:
| | |
| --- | --- |
| Permalink: | http://www.biographi.ca/en/bio/collins_joseph_edmund_12E.html |
| Author of Article: | M. Brook Taylor |
| Title of Article: | COLLINS, JOSEPH EDMUND |
| Publication Name: | Dictionary of Canadian Biography, vol. 12 |
| Publisher: | University of Toronto/Université Laval |
| Year of publication: | 1990 |
| Year of revision: | 1990 |
| Access Date: | December 9, 2023 |