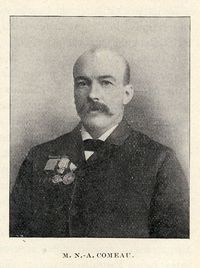 Source: Courtesy of Bibliothèque et Archives Nationales du Québec / 52327/1958336
COMEAU, NAPOLÉON-ALEXANDRE (baptized Alexandre-Napoléon), hunter, fishery warden, office holder, naturalist, and author; b. 11 May 1848 at the trading post of Îlets-Jérémie (Colombier), Lower Canada, son of Antoine-Alexandre Comeau, a Hudson's Bay Company agent, and Luce Hall, named Mary Bédard; m. 14 June 1871 Marie-Antoinette Labrie (d. in 1889), probably in Godbout, Que. (the marriage is recorded in the register in Betsiamites, Que.); m. secondly 23 Nov. 1889 Victoria Labrie in Saint-Patrice-de-la-Rivière-Pentecôte (Rivière-Pentecôte), Que., and they had nine boys and three girls; d. 17 Nov. 1923 in Godbout.
Raised in the various trading posts in Îlets-Jérémie, Mingan, and Sept-Îles, where his father was in charge, Napoléon-Alexandre Comeau soon became multilingual; as a child he learned to speak fluent French, English, Montagnais, Naskapi, and Inuktitut. In 1859–60 he attended G. W. Lawler's French and English academy in Trois-Rivières. After this sole year of schooling he returned to the north shore of the St Lawrence. There he became an accredited fishery warden on the Rivière Godbout, which was an excellent salmon river and a favourite fishing spot for Canadian and American businessmen and politicians. He worked in this capacity for more than 60 fishing seasons. In the winter of 1862, with the help of the Montagnais hunter Plutée Ashini, he also began to learn how to carry on trapping, the main economic activity of the region. The furs, which in some cases fetched high prices, were sold at the trading posts of the various companies operating in the Betsiamites reserve and the surrounding area. Comeau also acted as a middleman between the Montagnais hunters and the Hudson's Bay Company.
Towards the end of the 1870s Comeau gave up trapping for various administrative activities, which he would engage in for many years. He was simultaneously postmaster (from 1877), fisheries agent (around 1879), and telegraph agent (around 1884) for the settlements in his region (Manicouagan, Godbout, Baie-des-Cèdres, Pointe-des-Monts, Îlets Caribou, Îles de Mai, and Rivière-Pentecôte). In addition, thanks to a knowledge of anatomy acquired in the course of his work by experience and reading, and his generosity, as well as a rudimentary training given to him by two physicians from the Jeffery Hale's Hospital at Quebec, he provided basic medical care to dozens of aboriginal and pioneering European families. During his productive career as an acknowledged "male midwife," he assisted in some 200 deliveries.
In January 1886 Comeau attained fame by rescuing two relatives who had become lost on the St Lawrence River during a severe storm. After wandering about on the ice for a great many hours, he succeeded in guiding them to the south shore. This adventure caught the attention of the press and brought him a number of awards. The name and coat of arms of the town of Baie-Comeau, which was incorporated in 1937, would commemorate this exploit.
Inquisitive, self-taught, and thoroughly familiar with the mysteries of outdoor life in the Labrador region, Comeau proved a well-informed naturalist. His meetings and correspondence with Canadian and American scientists enabled him to make good use of his vast expertise and his knowledge of the fauna of the north shore region and in particular of its salmon. He collaborated with researchers from the Université Laval at Quebec and the Smithsonian Institution in Washington, especially through his inventory of the birds from around Pointe-des-Monts, which was published in 1882 in the Bulletin of the Nuttall Ornithological Club (Cambridge, Mass.)
Comeau's skills, his hunting and fishing exploits, and his knowledge of aboriginal culture formed the basis of the articles he published in the National Geographic Magazine (Washington) and in Forest and Stream (New York). In 1909 he brought out at Quebec an autobiography full of anecdotes and observations which also included his inventory of birds; entitled Life and sport on the north shore of the lower St. Lawrence and gulf, it would be reissued in 1923 and 1954. A French translation by Nazaire Le Vasseur was published at Quebec in 1945 and reprinted in 1983 under the title La vie et le sport sur la Côte Nord du bas Saint-Laurent et du golfe.
The federal government confirmed the importance of Comeau's experience by appointing him co-chair of an inquiry, held in 1914, into the fisheries of the Hudson Bay region. During the following years he played an active part in drafting the Canadian-American agreement on migratory birds. He was an active member and lecturer of the Provancher Society of Natural History of Canada, which he had helped found, and of the American Ornithologists' Union.
The Provancher Society erected a monument in Godbout to honour Napoléon-Alexandre Comeau soon after his death. A replica was installed in the Jardin Zoologique de Québec in 1933. A number of Quebec writers have taken an interest in him; Yves Thériault* wrote a biography entitled Roi de la Côte Nord, which was published at Montreal in 1960.
ANQ-CN, CE901-S9, 23 nov. 1889; S10, 30 juill. 1848. ANQ-Q, ZQ6-S315, 14 juin 1871. L'Événement, 19 nov. 1923. Pierre Frenette, Napoléon-Alexandre Comeau (Montréal, 1981). Pauline L[e Vallée] Boileau, La Côte-Nord contre vents et marées: biographie romancée de Napoléon-Alexandre Comeau (1848–1923) (Sillery, Qué., 1998). C. D. Melvill et al., Reports on fisheries investigations in Hudson and James bays and tributary waters in 1914 (Ottawa, 1915). Robert Parisé, Géants de la Côte-Nord (Québec, 1974).
© 2005–2023 University of Toronto/Université Laval
Cite This Article
Pierre Frenette, "COMEAU, NAPOLÉON-ALEXANDRE (baptized Alexandre-Napoléon)," in Dictionary of Canadian Biography, vol. 15, University of Toronto/Université Laval, 2003–, accessed December 9, 2023, http://www.biographi.ca/en/bio/comeau_napoleon_alexandre_15E.html.
The citation above shows the format for footnotes and endnotes according to the Chicago manual of style (16th edition). Information to be used in other citation formats:
| | |
| --- | --- |
| Permalink: | http://www.biographi.ca/en/bio/comeau_napoleon_alexandre_15E.html |
| Author of Article: | Pierre Frenette |
| Title of Article: | COMEAU, NAPOLÉON-ALEXANDRE (baptized Alexandre-Napoléon) |
| Publication Name: | Dictionary of Canadian Biography, vol. 15 |
| Publisher: | University of Toronto/Université Laval |
| Year of publication: | 2005 |
| Year of revision: | 2005 |
| Access Date: | December 9, 2023 |