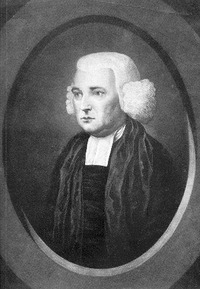 Source: Link
COUGHLAN, LAURENCE, Methodist preacher, Church of England clergyman, and local official; founder of Methodism in Newfoundland; probably b. at Drummersnave (Drumsna, Republic of Ireland); d. probably in 1784 in London, England.
Laurence Coughlan was reared a Roman Catholic, but converted to Methodism at Drummersnave in 1753. Although he had, according to John Wesley, "no learning at all," in 1755 he was recruited as an itinerant preacher and became known for his zeal and persistence. Two years later he was transferred to England, serving first at Whitehaven and later at Colchester, where he had conspicuous success. In 1760 he returned to Ireland for a period and worked in Waterford, a port through which great numbers of Irish travelled to Newfoundland. By 1763 Coughlan had become one of Wesley's most valued helpers, but in 1764, when Coughlan had himself ordained by Erasmus, a Greek Orthodox bishop now thought to have been an impostor, Wesley was angered because he did not think the uneducated Coughlan worthy of the honour. Wesley claimed in 1768 that Coughlan had brought another "blot" upon himself when he "married and ruined" an unnamed woman. The ruin alluded to was evidently financial. There may also have been theological differences between the two men. In any event, by 1765 Coughlan's usefulness to Wesley as a preacher was at an end.
Since there is confusion in many sources about the date of Coughlan's first arrival in Newfoundland and the circumstances of his formal ordination as a Church of England priest, it is important that the facts be clearly stated. On 22 Nov. 1765 the people of Harbour Grace, Mosquito, and Carbonear authorized George Davis, a London merchant who was probably about to leave Newfoundland for the winter, "to procure and agree with a Protestant Minister of the Gospel, to come and reside among them." The following April Davis informed the Earl of Dartmouth, president of the Board of Trade, that Coughlan seemed "a proper Person" to serve as minister "if he could obtain Holy Orders," and urged Dartmouth to "use your endeavours to get him ordained." Coughlan was made deacon on 25 April, "licensed to perform the ministerial office in the province of Newfoundland" the following day, and then ordained priest on the 27th. Since Dartmouth's letter of recommendation had indicated that a ship was waiting for Coughlan at Poole "& will sail as soon as he gets thither," the date of Coughlan's arrival in Newfoundland was therefore 1766, probably in June. On 19 December of the same year Coughlan himself appeared before the Society for the Propagation of the Gospel and presented a petition from the people of Harbour Grace and vicinity asking that he be appointed the society's missionary and given an annual stipend. By that date he had already resided "some Time" among the people as "their Minister." The petition was granted, and Coughlan returned to Harbour Grace in September 1767. He was the first Church of England priest to serve in Conception Bay and the third then resident in Newfoundland [see James Balfour* and Edward Langman]. Accompanying Coughlan during most of his stay on the island were his wife, who was also an ardent Methodist, and his daughter Betsey.
The record of Coughlan's ministry shows that he led a kind of double religious life. As a Church of England priest he administered the sacraments to a growing number of communicants, held regular services in Harbour Grace and, after 1768, in Carbonear, and on occasion preached in Irish to Irish fishermen to make them see "the Errors of Popery." In February 1768 he opened a school and despite difficulties kept it functioning during his ministry. By 1772 Coughlan could justly claim that he had served the SPG well. This appearance of success as Church of England clergyman, however, cloaked his real Methodist ambition, which was to be an instrument of evangelical conversion among the people. In this effort he met with no success for nearly three years, though he laboured "Night and Day," preaching "from house to house" in the manner favoured by Wesley. At length he grew discouraged and determined not to stay "in such a poor desolate Land," but his dogged efforts eventually bore fruit and a Methodist "awakening" began and spread "like fire. "
As the revival grew, Coughlan began to encounter opposition from his more orthodox parishioners. His Methodist theology now, it seems, began to appear more openly in sermons to his regular congregation, and he urged its members to attend the private meetings he was organizing throughout his parish. In 1770 Coughlan's promised stipend from his parishioners was not forthcoming, and in July Governor John Byron felt it necessary to order them to live up to their pledge; at the same time he appointed Coughlan a justice of the peace for Conception Bay. In November the stipend was still unpaid.
The following year certain incidents took place which brought Coughlan and some leading residents of Harbour Grace into open conflict. In February, Coughlan publicly denounced the merchant Hugh Roberts for adultery and advised his parishioners to avoid dealing with Roberts in future; five months later, he tried physically to prevent some of Roberts' labourers from working on a Sunday. As a result of these two episodes, Roberts and 12 other Harbour Grace merchants petitioned Byron that Coughlan be "silenc'd or remov'd" as a "very unfitt Person for a Justice of the Peace as well as a Missionary, being Ignorant of the Laws of his Country & a Person of no Education"; they also alleged that as a magistrate Coughlan was guilty of accepting bribes. Although, according to Coughlan's account of the subsequent inquiry, all his enemies "were found Liars," his commission as justice was revoked by Byron on 25 October because of his "many unwarrantable proceedings to the great obstruction & discouragement of the trade & fishery."
The antagonism which Coughlan aroused in the merchants contrasts strikingly with the affection and loyalty he inspired in the ordinary people who joined his movement. That movement continued to grow during his stay in Newfoundland, spreading northward from Carbonear to Blackhead, where a new church capable of holding 400 people had been built in the winter of 1768–69. The establishing of Methodist societies beyond Harbour Grace indicated Coughlan's desire to "travel up and down in this land" to spread his message. If he could have carried on in this fashion, he told Wesley in 1772, he would have stayed in Newfoundland, "but as I cannot, except by water, in small boats, I am not able to stand it." It was not only his "dreadful Apprehensions" of the sea, however, which drove him from the island. The enmity of the merchants had continued unabated, and in May 1772 a quarrel broke out between Coughlan and Nicholas Fiott, one of the 13 petitioners of the previous year. Coughlan flatly refused to allow Fiott to stand as godfather of two children, accusing the merchant of leading "an immoral life." A heated confrontation ensued during a Sunday church service, but Coughlan stood his ground and the children were not baptized. In October Fiott formally complained to Governor Molyneux Shuldham, who in turn asked the SPG to remove their missionary from Harbour Grace. The same month Coughlan himself asked the society for permission to return to England, and he left in October 1773. Two months later he appeared before the SPG in London and resigned his mission.
Coughlan's career from 1773 to his death is obscure. A letter to Wesley in 1772 seems to hint that he wished to return to the Methodist itinerancy in Britain, but these tentative overtures were not encouraged. In 1776 he was minister of Cumberland Street Chapel, London. On 25 Feb. 1785, Wesley wrote to John Stretton, one of Coughlan's followers in Newfoundland, that Coughlan had died some time previously, "utterly broken in pieces."
Laurence Coughlan had begun a movement that was to transform religious and social life in Conception Bay. To judge from reports by later missionaries, his own accounts of his success as a preacher cannot be doubted. After he left Newfoundland, devoted followers like Stretton, Thomas Pottle, and Arthur Thomey carried on his work, and the Methodist denomination which he established in the populous district of Conception Bay has flourished to this day. Though a fiery, fastidious, and perhaps irascible man, it is evident that Coughlan had great sympathy for the people he served and a good understanding of their character. His work, An account of the work of God in Newfoundland . . . , published in London in 1776, displays his charismatic and sympathetic personality.
Laurence Coughlan, An account of the work of God in Newfoundland, in series of letters (London, 1776), 8–11, 18–19, 50ff.
Lambeth Palace Library (London), Fulham papers. PANL, GN2/1, 4, 5; N. C. Crewe coll., dossier on Methodism in Newfoundland. USPG, A; B, 6, pp.168–69; C/CAN/Nfl., 1, pp.58–62; Journal of SPG, 17–21. Arminian Magazine (London), VIII (1785), 490–92. SPG [Annual report] (London), 1767–76. [John Wesley], The letters of the Rev. John Wesley, ed. John Telford (8v., London, 1931; repr. [1960]), IV, 56, 204, 289–90; V, 101–3, 109; VII, 260. C. H. Crookshank, History of Methodism in Ireland (3v., Belfast and London, 1885–88), I, 100–1, 107, 149. Jacob Parsons, "The origin and growth of Newfoundland Methodism, 1765–1855" (unpublished ma thesis, Memorial University of Nfld., St John's 1964), 17, 148–49. Warwick Smith, "Rev. Laurence Coughlan" (paper presented to the Nfld. Hist. Soc., St John's, 20 March 1942).
© 1979–2023 University of Toronto/Université Laval
Image Gallery

Cite This Article
Patrick O'Flaherty, "COUGHLAN, LAURENCE," in Dictionary of Canadian Biography, vol. 4, University of Toronto/Université Laval, 2003–, accessed September 27, 2023, http://www.biographi.ca/en/bio/coughlan_laurence_4E.html.
The citation above shows the format for footnotes and endnotes according to the Chicago manual of style (16th edition). Information to be used in other citation formats:
| | |
| --- | --- |
| Permalink: | http://www.biographi.ca/en/bio/coughlan_laurence_4E.html |
| Author of Article: | Patrick O'Flaherty |
| Title of Article: | COUGHLAN, LAURENCE |
| Publication Name: | Dictionary of Canadian Biography, vol. 4 |
| Publisher: | University of Toronto/Université Laval |
| Year of publication: | 1979 |
| Year of revision: | 1979 |
| Access Date: | September 27, 2023 |