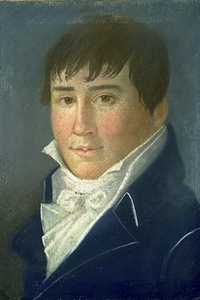 Source: Link
COUILLARD, ANTOINE-GASPARD, physician, surgeon, militia officer, seigneur, jp, politician, and office holder; b. 16 Feb. 1789 in Saint-Thomas-de-la Pointe-à-la-Caille (Montmagny), Que., son of Jean-Baptiste Couillard and Marie-Angélique Chaussegros de Léry; m. 6 Feb. 1816 Marie-Angélique-Flore Wilson, daughter of Thomas Wilson; d. 12 June 1847 in Montmagny.
On his father's side Antoine-Gaspard Couillard was a descendant of Guillaume Couillard* de Lespinay, who helped build New France in the time of Samuel de Champlain* and was ennobled by Louis XIV in 1654, and of Guillemette Hébert*, daughter of Louis Hébert*, the first farmer in the colony. His father was seigneur of Rivière-du-Sud, and his mother was the daughter of Gaspard-Joseph Chaussegros* de Léry, officer, military engineer, and the architect of many fortifications in New France, and Louise Martel de Brouague.
Couillard commenced classical studies at the Petit Séminaire de Québec, where he developed a liking for history and literature. In 1803, however, his father took him out of that institution to have him study law with Alexandre-André-Victor Chaussegros de Léry. The young man was not cut out for legal studies and did not complete his articling. Preferring to become a doctor, he began his training with Samuel Holmes and René-Joseph Kimber, and then completed it at the University of Pennsylvania in Philadelphia. He returned to Quebec in 1811 and on 12 June of that year, at 22 years of age, he was authorized by the deputy provincial secretary, Lewis Foy, to practise medicine, surgery, and pharmacy in Lower Canada.
Remaining active professionally for about 30 years, Couillard practised in both rural and urban settings, at Saint-Thomas-de-la-Pointe-à-la-Caille and Quebec. He served as a doctor to the civilian population, and also as surgeon to the 4th Select Embodied Militia Battalion of Lower Canada during the War of 1812. His professional competence was recognized when on 13 July 1831 he was elected to the medical Board of Examiners for the district of Quebec. Because of his devotion to the poor he became known as the "doctor to the needy and the poor," as an article in the Quebec Gazette published at the time of his death notes.
The seigneury of Rivière-du-Sud, which had been divided and subdivided several times, was of great interest to Couillard. Upon his father's death in 1808 he had come into possession of part of it, and through purchase of other parts in 1816 and 1841 he became the principal seigneur. Not lacking in ambition, he built, apparently at the time of his marriage to the daughter of a prosperous Quebec merchant, an imposing manor-house at Montmagny, to the west of the Rivière-du-Sud. It is still standing. Made of freestone, this magnificent two-storey residence overlooking the St Lawrence River has an enormous portico, crowned with a stately pediment, that is an attraction for passers-by. In its day the house was considered one of the finest in Lower Canada. Today it is used as a hotel. Unfortunately Couillard's ineptitude in financial matters made managing his seigneury a burden for him. He was owed money by censitaires, patients, and friends, and he himself was in debt. Furthermore, his manor-house cost far more than he had anticipated and later he had to resign himself to selling it for a mere £3,000. This was not the first piece of bad luck Couillard suffered, but it was certainly the hardest one to accept.
Couillard was a member of the Literary and Historical Society of Quebec and regularly attended its meetings. At the same time he gave some attention, perhaps reluctantly, to public administration and politics. Gradually his financial worries undermined his health, and in 1842 he had to give up almost all of his medical practice. He served as a justice of the peace, a member of the Legislative Council from 1832 to 1838, and commissioner for administering the oath of allegiance. Then in 1842 he managed, though not without some difficulty, to obtain the post of registrar for the district of Saint-Thomas. The appointment enabled him to provide decently for his numerous children, but not to meet the demands of his creditors. Nor could he prevent the sale of his estate and belongings to William Randall Patton, a wealthy Quebec merchant, shortly before his death.
Antoine-Gaspard Couillard passed away in Montmagny on 12 June 1847, at 58 years of age, and was buried there five days later. Philippe-Joseph Aubert* de Gaspé, who had maintained "a constant and untroubled" friendship with him for half a century, bade him a touching farewell in Les anciens Canadiens. Paying tribute to Couillard as the best and most virtuous of men, he recalled among other things that his friend, like himself, had drunk "the bitter cup of tribulations," and that he had seen his ancestors' domain pass into alien hands.
ANQ-Q, CE1-1, 6 févr. 1816; CE2-7, 16 févr. 1789, 17 juin 1847; CN1-230, 4 févr. 1816. PAC, RG 4, B28, 48: 297–300; RG 68, General index, 1651–1841; 1841–67. Le Journal de Québec, 17 juin 1847. Quebec Gazette, 20 June 1811, 8 Feb. 1816. F.-J. Audet, "Les législateurs du Bas-Canada." Desjardins, Guide parl. Officers of British forces in Canada (Irving). Turcotte, Le Conseil législatif, 19, 116. P. [-J.] Aubert de Gaspé, Les anciens Canadiens (16e éd., Québec, 1970), 304–9. Azarie Couillard-Després, Histoire des seigneurs de la Rivière du Sud et de leurs alliés canadiens et acadiens (Saint-Hyacinthe, Qué., 1912), 351–65. Raymonde [Landry] Gauthier, Les manoirs du Québec (Montréal, 1976), 172–73. P.-G. Roy, La famille Chaussegros de Léry (Lévis, Qué., 1934), 15–16; Vieux manoirs, vieilles maisons (Québec, 1927), 200–2. F.-J. Audet, "La seigneurie de la Rivière du Sud," BRH, 7 (1901): 117–19.
© 1988–2023 University of Toronto/Université Laval
Image Gallery

Cite This Article
Jacques Castonguay, "COUILLARD, ANTOINE-GASPARD," in Dictionary of Canadian Biography, vol. 7, University of Toronto/Université Laval, 2003–, accessed June 8, 2023, http://www.biographi.ca/en/bio/couillard_antoine_gaspard_7E.html.
The citation above shows the format for footnotes and endnotes according to the Chicago manual of style (16th edition). Information to be used in other citation formats:
| | |
| --- | --- |
| Permalink: | http://www.biographi.ca/en/bio/couillard_antoine_gaspard_7E.html |
| Author of Article: | Jacques Castonguay |
| Title of Article: | COUILLARD, ANTOINE-GASPARD |
| Publication Name: | Dictionary of Canadian Biography, vol. 7 |
| Publisher: | University of Toronto/Université Laval |
| Year of publication: | 1988 |
| Year of revision: | 1988 |
| Access Date: | June 8, 2023 |