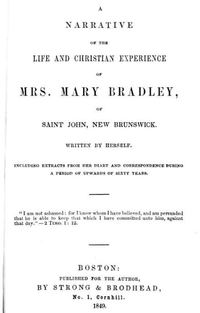 Source: Link
COY, MARY (Morris; Bradley), farmer's wife, shopkeeper, and author; b. 1 Sept. 1771 in Grimross (Gagetown, N.B.), eighth of 11 children of J. Edward Coy (McCoy) and Ama Titus; one of Mary's brothers, Amasa*, was a prominent Fredericton merchant; m. first 15 Feb. 1793 David Morris (d. 1 March 1817); m. secondly 30 June 1819 Leverit Bradley; there were no children from either marriage; d. a widow 12 March 1859 in Saint John, N.B.

Mary Coy, except for the fact that she did not bear children, is representative of most women of her time and place. Her only distinguishing characteristic was a strong lifelong interest in religion, particularly in the revivalist phenomenon that came to be known as the Great Awakening. That interest may not have been atypical, but it was unusually intense. Certainly her expression of it, in a memoir entitled A narrative of the life and Christian experience of Mrs. Mary Bradley, of Saint John (published in 1849), is remarkable given that she had had only a few months of formal schooling. Her aim, she announced in the preface, was "to promote the glory of God and the good of my fellow creatures," and she recommended the book to Wesleyan ministers for "gratuitous distribution."
Mary and her husband David Morris lived first in Maugerville Township, and then on 1 May 1800 took up a farm at Portland Point (Saint John). Five years later they moved to Saint John itself, where they kept a store in their home until 1816. David's ill health, which had prevented their remaining on the farm, was also responsible for the closing of the shop. Two years after his death in 1817 Mary remarried, and she remained in Saint John for the rest of her life. A witness of the fire of 14 Jan. 1837, which destroyed more than 100 buildings in Saint John, Mary Bradley recorded that she had believed "the kind hand of the Almighty would stop the progress of the flames, before they should reach us: I prayed earnestly that he would do so." She felt the combined efforts of "the praying members of the church" and of the many ministers of her Wesleyan faith who were in town caused the wind shift that saved the meeting hall and her home.
Throughout her life, Mary pursued her faith aggressively. In her youth, filled with spiritual fervour, she spoke out in church and was sharply reprimanded by the Congregational elders for her outburst. She was also refused permission to pray aloud at meetings because "the Scriptures forbid females praying in public." Nevertheless she persisted, attending church services and prayer meetings, and denouncing the occasional backslider. She constantly strove to find a church in which she was comfortable in her faith. Although born a Presbyterian, she associated with the Congregationalists and the New Light Baptists before joining the Wesleyan Methodists in January 1803. Her constant need to speak out and her self-assurance culminated in the publication of her memoir, by which she added to an evangelical literature that included the efforts of Henry Alline* and John Wesley.
In her Narrative, Mary Bradley describes a series of religious experiences, from attacks of hysteria to the more prosaic overcoming, through prayer, of a fear of bears when as a young woman she was required to fetch the family cows. "I was conscious of a two-fold strife; life and death were set before me, and . . . evil being the food my fallen nature craved . . . but when my mind centred in God and his word . . . I was enabled, after due consideration, to set up a firm and settled resolution, no longer to neglect my salvation."
Also recorded in the Narrative are the comings and goings of a host of ministers who worked in New Brunswick during Mary's lifetime. "Henry Allen," presumably Alline, visited her community in Maugerville Township when she was nine. In 1788 Lady Huntingdon, a prominent English religious philanthropist, sent bibles and tracts, as well as two ministers from her own connection, to the settlements in the area. One became the local preacher but was later removed from the ministry because of drunkenness. Other ministers followed, including the Reverend William Black*, a Wesleyan from Nova Scotia. For the years when she was living in the Saint John region, Mary Bradley mentions in her journal a number of visiting clergymen such as the Wesleyan missionary Joshua Marsden* and the Methodist ministers Enoch Wood* and Albert Des Brisay.
Above all else, Mary Bradley was a consumer of the religious revival known as the Great Awakening. In her will she placed the bulk of her approximately £1,800 estate in trust, with the interest to be used to hire an "Itinerant or Travelling Wesleyan Methodist Minister to teach the Gospel at Grand Lake and New Cannan," an area she described as her "native place." She also bequeathed £100 to assist in the construction of a Wesleyan chapel in Saint John. The rest of her substantial estate was to be divided among a number of her nephews and nieces. She died at 87 years of age, having borne, according to an obituary in the Saint John Morning News, "the infirmities of her great age with patience, and her last illness with resignation. Her end was eminently peaceful."
Mary [Coy] Bradley is the author of A narrative of the life and Christian experience of Mrs. Mary Bradley, of Saint John, New Brunswick, written by herself; including extracts from her diary and correspondence during a period of upwards of sixty years (Boston, 1849).
PANB, RG 7, RS69A, 1795–96, J. E. Coy; RS71, 1859, Mary Bradley; RS75, 1838, Amasa Coy. J. M. Bumsted, Henry Alline, 1748–1784 (Toronto, 1971), 52.
© 1985–2023 University of Toronto/Université Laval
Image Gallery

Cite This Article
Jo-Ann Carr Fellows, "COY, MARY," in Dictionary of Canadian Biography, vol. 8, University of Toronto/Université Laval, 2003–, accessed October 2, 2023, http://www.biographi.ca/en/bio/coy_mary_8E.html.
The citation above shows the format for footnotes and endnotes according to the Chicago manual of style (16th edition). Information to be used in other citation formats:
| | |
| --- | --- |
| Permalink: | http://www.biographi.ca/en/bio/coy_mary_8E.html |
| Author of Article: | Jo-Ann Carr Fellows |
| Title of Article: | COY, MARY |
| Publication Name: | Dictionary of Canadian Biography, vol. 8 |
| Publisher: | University of Toronto/Université Laval |
| Year of publication: | 1985 |
| Year of revision: | 1985 |
| Access Date: | October 2, 2023 |