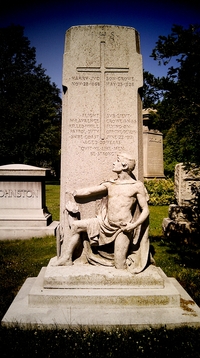 Source: Link
CROWE, HARRY JUDSON, businessman and philanthropist; b. 28 Nov. 1868 in Halifax, son of John F. Crowe and Mary Doyle; m. 10 July 1895 Helen Rose Quirk in Bridgetown, N.S., and they had two sons; d. 25 May 1928 in Toronto.
Harry J. Crowe was educated in public schools in Halifax, the preparatory school at Horton Academy in Wolfville, and the Halifax Business College and Writing Academy. After graduation he worked for a year with a Halifax grocery firm, taking responsibility for its banking affairs, and in 1884 or 1885 he joined his father's wholesale grocery firm. Crowe purchased his father's interest around 1890 and managed the company with one of his brothers. A joint venture with a Boston adventurer to develop mining properties in the western United States failed, and he was forced to sell the Halifax firm to cover his losses. After acquiring a half-share in a grocery store and lumbering business in Bridgetown, Crowe developed a strong interest in lumbering and established sawmills in different parts of the province.
He went to Newfoundland about 1902 to enter the timber trade there and became enthralled with the industrial potential of the island. Shortly afterwards he divested himself of his Nova Scotia operations. He befriended Robert Gillespie Reid* and his sons William Duff and Henry Duff, who owned Newfoundland's railway system and held extensive timber, land, and mineral assets. In 1903 he established the Newfoundland Timber Estates Company Limited with W. D. Reid, Henry Melville Whitney of Boston, and Benjamin Franklin Pearson* of Halifax. This firm conducted lumbering operations at Glenwood and Millertown, on properties purchased from Lewis H. Miller*, and at Gander Bay. Crowe realized that Newfoundland wood was better suited to papermaking than to lumbering and proceeded to purchase most of the available timber operations in central Newfoundland. Working with the Reids, he helped to bring the Harmsworth newspaper interests of England to Newfoundland; as the Anglo-Newfoundland Development Company Limited, this group purchased many of the holdings of Newfoundland Timber Estates and established a pulp and paper mill at Grand Falls, which commenced operations in 1909. Crowe also helped to persuade A. E. Reed and Company Limited, another English firm, to establish a pulp mill at nearby Bishop's Falls; it got underway in 1911.
Crowe's method of conducting business was to purchase existing timber grants instead of acquiring the rights directly from the crown. The properties were then grouped together under one or other of his holding companies. Before 1914 he conducted extensive logging operations in the Botwood and Point Leamington areas. By that time his various concerns were providing the Grand Falls and Bishop's Falls mills with over one hundred thousand cords of pulpwood annually. He seems to have continued his operations at Botwood, at least, throughout the war years.
In 1911 Crowe had met with William Ford Coaker*, the leader of the Fishermen's Protective Union, which included loggers within its ranks. Crowe agreed to improve conditions in his 12 camps by upgrading sleeping and eating accommodations, installing baths, and providing a medical doctor to look after the loggers' needs. He also undertook to employ union men and guaranteed a monthly wage for each logger. Botwood, Crowe's main centre of operations, was the site of further interventions by him. Since he deplored Newfoundland's denominational school system, which he told a public audience at Botwood in 1910 "caused the lack of development in the people, as well as the resources of this Island," he funded a non-denominational kindergarten there in 1915. Consisting of approximately 45 students, aged four to seven years, it was conducted by a teacher, Edna Alexander, he brought in for a year from Toronto, where he had taken up residence around 1910. He also arranged for domestic science classes to be taught in the community. In 1916 he secured the loan for a year of two teachers from the Toronto Board of Education to continue the kindergarten school in Botwood and establish another in Twillingate.
During 1915 Crowe was also active in the successful campaign to have Prohibition adopted in Newfoundland. He arranged for Dr Carolyn E. Geisel, an American surgeon and public health advocate, to tour Newfoundland communities giving lectures on the virtues of both Prohibition and public health. Crowe accompanied her on this tour. Her visit resulted in the formation of short-lived health clubs in a number of communities. On the recommendation of Dr John Harvey Kellogg, superintendent of the Battle Creek Sanitarium in Michigan, Crowe in November 1915 secured the services of an American dietitian and domestic science expert, public health nurse Margaret Craig, who came to Botwood and nearby communities to advise the health clubs.
From his first entry into Newfoundland's business life, Crowe had befriended most of the island's leaders and he remained on good terms with whatever government was in power. An avid confederate, he worked actively to promote Newfoundland's union with Canada and, in both 1909 and 1915–16, he served as an intermediary in failed discussions between Canadian and Newfoundland politicians and the Reid Newfoundland Company on the matter. His confederate views were part of his wider belief that all Anglo-Saxon countries should have close relations. Since 1902 he had advocated a union of the English-speaking countries, including the United States, through a commercial preference. In a 1910 interview in the Montreal Gazette, for example, he called for a reciprocity agreement between Canada, Newfoundland, Great Britain, and the United States. In 1915 Crowe first visited the British West Indies and he quickly became an advocate of their political union with Canada, and with Newfoundland, an idea that received the endorsement of the London Times. He promoted his views through frequent public speeches and contributions to the press. His ambitions were partially realized in 1921, when Canada ratified an agreement with the British West Indies that extended mutual trade preferences and provided for the subsidization of steamship service between the region and Canada.
In the last years of his life Crowe sold the timber properties in the White Bay area that he had acquired in 1923 to the International Paper Company, which was pursuing an aggressive policy of expansion and had been urged by Crowe to look at the Newfoundland market. He also sold to this American firm his properties in the Bay d'Espoir region on the south coast of the island. From 1912 he had unsuccessfully promoted the construction of a railway from Bishop's Falls to Bay d'Espoir to allow for the development there of a pulp and paper mill based on the substantial hydroelectric power in the region. In 1922 he had failed as well in his attempts with British and American interests to acquire the bankrupt Newfoundland Railway from the Reid Newfoundland Company.
The sale of his properties apparently made Crowe a much wealthier man, but his ability to enjoy his good fortune was hampered by long-standing ill health. In 1927 he suffered a paralytic stroke and sought help at the Battle Creek Sanitarium only to undergo a second attack there. He died the following year at his home in Toronto. The value of his estate's assets, after his debts were discharged, was $676,000, of which $168,000 represented his timber holdings in Newfoundland. In his will he left a fund to the Salvation Army to train men and women for service in India and another to be used to establish scholarships for graduate nurses in Canada and Newfoundland. Before his death Crowe had often provided financial assistance to Memorial University College in St John's to help support summer school at the college for schoolteachers. His widow established a scholarship in his honour at Memorial, with preference to be given to high school graduates from the White Bay area.
William Coaker wrote a warm tribute to Crowe in the Fishermen's Advocate (Port Union, Nfld), considering him to be "one of the few men in his time who worked sincerely and incessantly through good and ill repute, without faltering, for the benefit of Newfoundland." A spiritual man himself, Coaker noted that Crowe was "seriously inclined religiously and spent many hours in discussing the mysteries beyond the vale with the writer. He was steadfast in the belief that life here was the beginning of an existence that never ended." Another observer wrote that Crowe was "the interesting and unusual combination of capitalist, man of affairs and the dreamer. He could, in the twinkling of an eye, turn his attention from weighty business problems, having to do with material progress, to the most idealistic plans for the betterment of any class of people."
AO, RG 22-305, no.59468. Centre for Newfoundland Studies, Memorial Univ. of Nfld (St John's), Arch., coll-237 (Robert Bond papers), file 10.01.079, Crowe to Bond, 23 June 1922. PANL, GN 2/5, file 196A, Crowe to William Halfyard, 16 Nov. 1917; W. B. Grieve to Halfyard, 23 Nov. 1917. Daily News (St John's), 26 May 1928. Fishermen's Advocate (St John's), August 1911; (Port Union, Nfld), 1 June, 6 July 1928. Globe, 26 May 1928. Halifax Herald, 13 July 1895. Mail and Advocate (St John's), 11 Oct., 24, 30 Nov. 1915. Twillingate Sun (Twillingate, Nfld), 26 Nov. 1910; 3 Dec. 1910 (quoting the Montreal Gazette); 2 May 1911. J. [K.] Hiller, "The origins of the pulp and paper industry in Newfoundland," Acadiensis (Fredericton), 11 (1981–82), no.2: 42–68; "The politics of newsprint: the Newfoundland pulp and paper industry, 1915–1939," Acadiensis, 19 (1989–90), no.2: 3–39. Re Harry J. Crowe, deceased (1933), Newfoundland Law Reports (St John's), 13: 105–9. National encyclopedia of Canadian biography, ed. J. E. Middleton and W. S. Downs (2v., Toronto, 1935–37), 1: 118–20. Nfld, Royal commission on forestry, Report (St John's, 1955), 197–204. W. G. Reeves, "'Our Yankee cousins': modernization and the Newfoundland–American relationship, 1898–1910" (phd thesis, Univ. of Maine at Orono, 1987). Standard dict. of Canadian biog. (Roberts and Tunnell), vol.1. Who's who in Canada, 1927.
© 2005–2023 University of Toronto/Université Laval
Image Gallery

Cite This Article
Melvin Baker, "CROWE, HARRY JUDSON," in Dictionary of Canadian Biography, vol. 15, University of Toronto/Université Laval, 2003–, accessed June 4, 2023, http://www.biographi.ca/en/bio/crowe_harry_judson_15E.html.
The citation above shows the format for footnotes and endnotes according to the Chicago manual of style (16th edition). Information to be used in other citation formats:
| | |
| --- | --- |
| Permalink: | http://www.biographi.ca/en/bio/crowe_harry_judson_15E.html |
| Author of Article: | Melvin Baker |
| Title of Article: | CROWE, HARRY JUDSON |
| Publication Name: | Dictionary of Canadian Biography, vol. 15 |
| Publisher: | University of Toronto/Université Laval |
| Year of publication: | 2005 |
| Year of revision: | 2005 |
| Access Date: | June 4, 2023 |