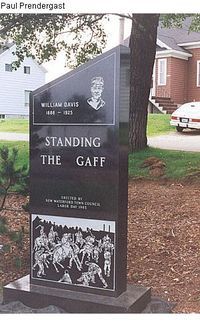 Source: Link
DAVIS, WILLIAM, coalminer; b. 3 June 1887 in Gloucestershire, England, son of Thomas Davis and Annises Dufly; m. 30 Oct. 1907 Myrtle MacPherson (d. 1955) at Dominion No.6 (Donkin), N.S., and they had five daughters and five sons; d. 11 June 1925 at Waterford Lake, N.S.
William Davis's father was a miner and a 14-year old brother had died in the Springhill explosion of 1891 [see Henry Swift*]. Davis himself worked at Nos.1, 6, 12, and 16 collieries of the Dominion Coal Company Limited in Cape Breton, beginning in 1905. He was a pumpman at No.12 colliery in New Waterford in November 1920 and a year later started as a roadmaker there. By 1925 he and his wife Myrtle, who was also from a mining family, were raising a family of nine. The intense conflict between Nova Scotia miners, organized as District 26 of the United Mine Workers of America, and the British Empire Steel Corporation (Besco), which had resulted in 58 strikes on the Sydney coalfield in 1920–25, culminated that year. The clash was the most costly, bitter, and determined one of the decade.
The miners' latest contract had expired on 15 Jan. 1925 and Besco, under its stubborn president, Roy Mitchell Wolvin*, was serious about breaking the union. On 2 March credit at company stores located in areas of strong union militancy was cut off. Four days later almost 12,000 miners went on strike. At this point Besco vice-president John Ernest McLurg summarily dismissed a reporter's analogy: "Poker game, nothing, we have all the cards. . . . Let them stay out two months or six months, it matters not; eventually they will have to come to us. . . . They can't stand the gaff." That attitude and the latter phrase steeled the workers' resolve, though thousands of Cape Bretoners were reported to be "on the verge of starvation" over the next three months. The company refused arbitration and on 4 June District 26 began 100 per cent picketing. The miners quickly expelled company men who had taken over a power and pumping station located at Waterford Lake. More than 30 union men were arrested during the next few days.
Besco gathered all its available police and late on the 10th this force escorted 30 company men to restart the plant and the mine pumps. The next morning the company police sent a provocative patrol through New Waterford, an action that led to a small clash with a group of miners. It was followed by an open-air meeting and a decision by the miners to approach the plant workers and ask them to quit. The crowd (estimates ranged from 700 to 3,000) arrived at the site around 11:00 a.m. Before the spokesman could state his request the company police charged. Or perhaps the horses bolted – neither the animals nor the police were trained. The police fired over 300 shots. A policeman bore down on the 5 foot 3 inch, 150-pound Davis; as he struggled to turn the horse away another policeman shot him in the heart. He was dead within five minutes. Within ten minutes the police were in full retreat, leaving behind many wounded.
Maybe Davis had been looking for a son who had skipped school, or getting water for his family or milk for his youngest child, as local sources mention, but it is just as likely that he was supporting his fellow unionists. Later reports suggest he was on picket duty. On Sunday, 14 June, an estimated 5,000 mourners attended his funeral; it was the largest ever seen in New Waterford. After his interment in the Union Grove Cemetery at Scotchtown they quietly dispersed. But their anger and frustration fuelled raids on company stores and other property throughout the month, in spite of the presence of a provincial police force and an estimated 2,000 Canadian troops. Only the North-West rebellion of 1885 had brought more military forces into an internal conflict.
A few weeks after William Davis Jr was born on 23 Sept. 1925, and two months after the strike was settled, Besco policeman Joseph MacLeod appeared at a preliminary hearing in Sydney on a charge of murder. There was a problem with positive identification, not surprisingly, given the brief and intense mêlée at Waterford Lake. Also, the crown prosecutor agreed with the defence that MacLeod should not be singled out of the many policemen who had "charged the mob." Davis's death was due to a stray shot; the case was closed.
Two District 26 conventions strongly supported the idea of a fund for the Davis family, and a second resolution endorsed 11 June as an "idle day." On Friday, 11 June 1926, many Cape Breton miners did not go to work; they assembled at the union hall in New Waterford and paraded to Calvin United Church. The practice of not working on Davis Day spread throughout District 26, although it did not become a day with pay for 43 years. Davis's widow would eventually receive a monthly sum from the miners and in time she managed to purchase a headstone. Robert, a son, was soon working underground and the family stayed together.
Davis Day was renamed District Memorial Day in 1938, and in 1970 the date was changed to the second Monday in June. Four years later the original name and date were restored. New Waterford, since 1985, has had Davis Square, and the Davis Wilderness Trail, started in 1996, follows the route taken by the miners to Waterford Lake in 1925. Davis Day continues.
Cape Breton Development Corporation, Dominion Coal Company (Glace Bay, N.S.), Human resources dept., employment records. NA, RG 31, C1, 1901, Springhill, N.S., dist.2: 14 (mfm. at NSARM). NSARM, Churches, All Saints' Anglican (Springhill), reg. of baptisms, 6 June 1894 (mfm.); RG 32, M, Cape Breton County, no.348/1907. Private arch., Don MacGillivray (Sydney, N.S.), David Frank, interview with Robert Davis, 24 July 1975. Sydney Post, 10 March, 4–10, 12–13, 19 June 1925. Sydney Record, 11 June, 9 Oct. 1925. Edith [Davis] Pelley, "Edith Pelley, William Davis's daughter; an interview, with photographs, by Norman MacKinnon," Cape Breton's Magazine (Wreck Cove, N.S.), no.60 ([1992]): 45–54. C. M. Lamey, "Davis Day through the years: a Cape Breton coalmining tradition," N.S. Hist. Rev. (Halifax), 16 (1996), no.2: 23–33. M. W. Littler, "Mary Willa Littler and 'The Strangers' Grave,'" Cape Breton's Magazine, no.71 ([1997]): 33. Don MacGillivray, "Military aid to the civil power: the Cape Breton experience in the 1920's," Acadiensis (Fredericton), 3 (1973–74), no.2: 45–64.
© 2005–2023 University of Toronto/Université Laval
Cite This Article
Don MacGillivray, "DAVIS, WILLIAM," in Dictionary of Canadian Biography, vol. 15, University of Toronto/Université Laval, 2003–, accessed June 10, 2023, http://www.biographi.ca/en/bio/davis_william_15E.html.
The citation above shows the format for footnotes and endnotes according to the Chicago manual of style (16th edition). Information to be used in other citation formats:
| | |
| --- | --- |
| Permalink: | http://www.biographi.ca/en/bio/davis_william_15E.html |
| Author of Article: | Don MacGillivray |
| Title of Article: | DAVIS, WILLIAM |
| Publication Name: | Dictionary of Canadian Biography, vol. 15 |
| Publisher: | University of Toronto/Université Laval |
| Year of publication: | 2005 |
| Year of revision: | 2005 |
| Access Date: | June 10, 2023 |