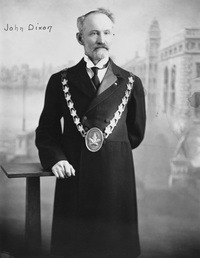 Source: Link
DIXON, JOHN, businessman and rancher; b. 4 May 1850 in Smith Township, Upper Canada, son of Joseph Dixon and Margaret Brown; m. 20 June 1877 Agnes Christie (Addie) Dawson in South Monaghan Township, Ont., and they had two daughters and two sons; d. 3 Jan. 1922 in Maple Creek, Sask.
Few men of the early west can rival John Dixon in vision and accomplishment. Descended from one of the oldest families in Peterborough County, Upper Canada, his grandparents having arrived from Alston, Cumberland, England, in 1818, Dixon received his education there and later at the School of Military Instruction in Kingston. He then entered into a general mercantile business with his younger brother Isaac Chester in Oshawa.
In 1882 John, who was interested in business opportunities in the west, made an exploratory trip as far as Brandon, Man. Favourably impressed, the brothers decided to relocate. The following year they sold their property, saw to the temporary welfare of their wives (who were sisters and both pregnant at the time), secured a train car for their merchandise, and headed west with Calgary as their intended destination. By April 1883 they had reached the end of the rails at Maple Creek and, aware that the Canadian Pacific Railway would not get to Calgary until the fall, they set up business in a tent amidst the bustling community. Recognizing the potential of the area, the Dixons decided to remain and secured temporary quarters from the CPR until their new frame store was completed in 1884.
From this small store Dixon Brothers expanded over the next two decades to become one of the largest and most reputable firms between Moose Jaw (Sask.) and Calgary. The partnership operated smoothly with John managing its various enterprises and Chester concerning himself with day-to-day operations. During the store's formative years John Dixon was particularly astute in establishing business relationships with the CPR, the North-Western Coal and Navigation Company Limited of Lethbridge (Alta) [see Elliott Torrance Galt], the local "76" ranches of the Canadian Agricultural, Coal and Colonization Company, and A Division headquarters of the North-West Mounted Police at Maple Creek.
John Dixon was quick to capitalize upon other business opportunities that arose with the opening of the frontier. In 1884 he secured the government contract for the post office and located it in the company's store. The firm also offered banking services to the community until a branch of the Merchants' Bank of Canada was inaugurated in 1901. From 1888 to 1894 Dixon Brothers engaged in the buffalo bone trade as well, shipping carloads of bones to dealers and fertilizer firms in Minnesota and Illinois. The trade was so successful in 1890 that, in addition to the 31 cars already sent, John Dixon petitioned the CPR for others to accommodate the inundation of bones they had stockpiled at various railway sidings.
Shortly after their arrival in 1883, the Dixons had established one of the largest ranches in the northwest. They ran hundreds and at times thousands of cattle, horses, and sheep on the vast open-range grasslands north of Maple Creek. Following the devastating winter of 1906–7 and the succeeding influx of homesteaders, they were forced to consolidate their operations. However, at the time of John Dixon's death, the DB Ranch, as it was known, still had over 24,000 acres of deeded and leased lands.
The success of the Dixons' various enterprises was the result of shrewd management, efficient operations, and a compatible business relationship. Although John was the predominant partner and manager, Chester brought invaluable skills that complemented his brother's. Also of significance was their close personal relationship, strengthened by their ties through marriage. Their wives and young children had joined them in Maple Creek in the fall of 1883 and the two families shared a commodious home on the west side of the town site, a congenial arrangement that continued for over 30 years.
The more entrepreneurial of the two brothers, John was also opportunistic and he managed to secure a number of important government appointments that were advantageous to both the firm and his own ambitions. Not only was he chosen as the second postmaster for Maple Creek in 1884, but he became a notary public in 1889 and a licence commissioner and justice of the peace in 1892. He was also the more civic-minded. During the North-West rebellion [see Louis Riel*] he was a member of the Home Guard and allowed the store to be used as a small armoury, from which weapons were distributed to the settlers. He was the principal influence behind the development of Maple Creek, which fast became one of the major shipping points for western beef. Instrumental in forming almost all of its early institutions and organizations, he at one time or another held executive positions with most. Among his numerous offices, he was president of the first board of trade in 1889, first mayor of Maple Creek in 1903–4, and first president of the Saskatchewan Range Growers' Association in 1906. He was active in the masonic order, as a charter member of Maple Leaf Lodge No.56 in Maple Creek (1893) and as district deputy grand master of the Grand Lodge of Manitoba (1903–4) and the Grand Lodge of Saskatchewan (1907–8). He also held executive positions with the local branches of the Ancient Order United Workmen and the Independent Order of Foresters.
A devoted Methodist, Dixon had been active in securing the services of an itinerant minister in 1884 and in establishing a church two years later. His interest in church and education led to his support of the founding of Alberta College in Edmonton in 1903 and his appointment to its first board of governors, a position he held until 1912.
Dixon, a staunch Liberal and confidant of Thomas Walter Scott*, the Liberal leader in Assiniboia West who would become first premier of Saskatchewan, was not without political aspirations of his own. During the discussions leading to provincial autonomy in 1905, and on other occasions over the ensuing years, he lobbied for a seat in the Canadian Senate. Although he had the support of Scott, who told him in 1905 that he knew no one in the North-West Territories "better fitted generally to occupy a seat in the Senate with credit to himself and advantage to the country," the appointment did not materialize. Following consultation with Scott, Dixon resigned from his government positions that year and ran as the Liberal candidate for Maple Creek in the first provincial election. In a surprising but well-contested race he lost to the Provincial Rights candidate, David James Wylie, a prominent rancher who nevertheless did not have Dixon's public profile. Although Dixon never again ran for office, he continued to advise the government, especially in matters related to southwest Saskatchewan. In 1906 he was reappointed a notary public. He was also named to the board of governors of the new University of Saskatchewan in 1908 and of Regina College in 1912; he held both positions until 1921.
Dixon had continued to explore business opportunities, invest in real estate, and purchase shares in numerous companies throughout the prairies, for both the firm and on occasion himself. In 1909 he became a major shareholder in the Alberta Clay Products Company Limited of Medicine Hat, Alta; he was its vice-president from 1911 to 1920 and president in 1921. Dixon also sat on the board of directors for the Saskatchewan Loan and Investment Company Limited of Moose Jaw (1912–21) and was vice-president of the Canadian Hunt Manufacturing Company Limited of Maple Creek (1920–21).
The death of Chester Dixon in 1918 was a blow to John and to the firm. Fortunately, Chester's sons Alfred Lyman and Dawson Chester were able to fill the void and operations continued. Although John had relied heavily on Chester, he also consulted frequently with his elder brother Jonathan B., a lawyer in Reno, Nev. Dixon's astute business sense, awareness of stock market trends, and shrewd leadership are evident in his correspondence with Jonathan, especially in regard to his role with Alberta Clay Products, one of Medicine Hat's leading industries. Their correspondence in late 1920 reveals that the federal government had considered Dixon as successor to Sir Richard Stuart Lake, the lieutenant governor of Saskatchewan. In one letter Dixon cites a number of personal reasons for not accepting the position; however, he intimates that he is still desirous of a seat in the Senate. Had he won the election of 1905, and had his friend Premier Scott not been forced by ill health to resign in 1916, he might eventually have realized his dream.
John Dixon died suddenly on 3 Jan. 1922 at his home in Maple Creek. His death was a shock to his family, his community, and his province, all of which he had helped shape. He had come west with a vision, spent a lifetime pursuing it, and left an indelible impression. John and Chester's two original investments, the store and ranch, continued to operate under John's nephews; the ranch would be sold in the mid 1940s and the store in December 1958.
AO, RG 80-5-0-74, no.7372. GA, M 1462. Medicine Hat Museum and Art Gallery Arch. (Medicine Hat, Alta.), M94.1 (Maple Creek vital statistics), files 1–92; M2002.1 (John Bennett coll.), files 2390–98; Library, Biog. community information, clippings and biog. files, Dixon, John. Saskatchewan Arch. Board (Regina), R-31 (Dixon Brothers coll.), letter-books and files. Southwestern Saskatchewan Old Timers' Museum (Maple Creek, Sask.), Dixon Brothers coll. Maple Creek News (Maple Creek), 1922. Medicine Hat News (Medicine Hat), 1922. Peterborough Examiner (Peterborough, Ont.), 28 June 1877. Alberta College, Calendar (Edmonton), 1907–8, 1910–12; Yearbook, 1904 (copies at City of Edmonton Arch., ms 254). Lawrence Binkley et al., Maple Leaf Lodge #9 A.F. & A.M.–G.R.S., 1893–1993 (Maple Creek, 1993), 2. N. F. Black, History of Saskatchewan and the North-West Territories (2v., Regina, 1913), 1. Canadian encyclopedia, 3: 1663. Eileen and Glen French, Dawson: Dawson family history, 1653–1997, from Yorkshire, England, to Ontario, Canada (n.p., 1998). Maple Creek & area: where past is present (2v., Maple Creek, 2000), 1. A. L. O'Farrell, "Maple Creek's first bank," Canadian Cattlemen (Calgary), 13 (1950), no.2: 35. Our pioneers, [comp. Gwen Pollock] ([Maple Creek, 1979?]). Univ. of Regina, [Calendar], 1912–21 (copies at Univ. of Regina Arch. and Special Coll.). Univ. of Sask., Calendar (Saskatoon), 1908–21 (copies at Univ. of Sask. Arch.). Ruth Dixon Yuill, From England to Canada ([Medicine Hat, 1980?]; copy in Medicine Hat Museum and Art Gallery Arch., M2002.1, file 2397).
© 2005–2023 University of Toronto/Université Laval
Image Gallery

Cite This Article
Donny White, "DIXON, JOHN," in Dictionary of Canadian Biography, vol. 15, University of Toronto/Université Laval, 2003–, accessed September 22, 2023, http://www.biographi.ca/en/bio/dixon_john_15E.html.
The citation above shows the format for footnotes and endnotes according to the Chicago manual of style (16th edition). Information to be used in other citation formats:
| | |
| --- | --- |
| Permalink: | http://www.biographi.ca/en/bio/dixon_john_15E.html |
| Author of Article: | Donny White |
| Title of Article: | DIXON, JOHN |
| Publication Name: | Dictionary of Canadian Biography, vol. 15 |
| Publisher: | University of Toronto/Université Laval |
| Year of publication: | 2005 |
| Year of revision: | 2005 |
| Access Date: | September 22, 2023 |