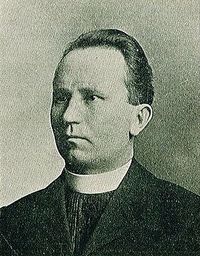 Source: Courtesy of Wikimedia Commons
DMYTRIW, NESTOR, Greek (Eastern-rite) Catholic priest, interpreter, and author; b. 1863 in Utishkiv (Ukraine); d. 27 May 1925 in Elizabeth, N.J.
Nestor Dmytriw was born into a peasant family in Galicia (Ukraine). While a theology student at the Greek Catholic Theological Seminary in Lemberg (Lviv, Ukraine), he belonged to a group of students who emphasized the importance of community service. In the early 1890s, with the beginning of massive emigration to North America from the Ukrainian regions of the Austro-Hungarian empire (Galicia, Bukovyna, and, to a lesser extent, Transcarpathia), the need for spiritual leaders of the Greek Catholic and Orthodox churches in the New World moved Dmytriw and his friends to urge young priests to follow the immigrants.
In 1895, after his ordination, Dmytriw himself arrived in the United States, where he combined missionary work among the Ukrainian industrial labourers of Pennsylvania with journalism. He became associated with the first Ukrainian-language newspaper in North America, Svoboda [Liberty], which originated in Jersey City, N.J. The paper, which featured stories about the immigrant experience in the United States and Canada, was widely read in Galicia and thus became the first major link between North America and Austrian Ukraine.
After Svoboda received letters from early Ukrainian settlers in the Canadian west desperately requesting the services of a priest, the newly formed Ruthenian National Association (renamed in 1914 the Ukrainian National Association), a mutual aid society in the United States, sent Dmytriw to Canada. With assistance from Jósef Olesków*, later known as the father of Ukrainian immigration to Canada, Dmytriw, who spoke Ukrainian, German, and English, was appointed an interpreter for the Canadian immigration branch. There he joined the first Ukrainian immigration officer, Cyril Genyk. His position enabled him to become a keen observer of the settlement process.
Although Dmytriw was in Canada for only a short time, April 1897 to August 1898, he left a lasting legacy. As the first Ukrainian priest in Canada, he organized the earliest Ukrainian parishes: at Terebowla (Valley River) and Stuartburn in Manitoba and at Edna (Star) in Alberta. He provided spiritual care when the settlers needed it the most. His advocacy of a separate Greek Catholic church in Canada was initially strongly opposed by the Roman Catholic hierarchy [see Adélard Langevin*], but it would finally be realized in 1912 with the appointment of Nykyta Budka* as apostolic exarch for Ukrainian Catholics in Canada. Catholics formed the vast majority of the nearly 150,000 Ukrainians who had immigrated to Canada by that date.
Dmytriw's most important contribution to Canadian history lies in his writings. His best known and probably his most influential work initially appeared as articles in Svoboda in 1897 and was published that year as a booklet entitled Kanadiis'ka Rus': podorozhni spomyny [Canadian Ruthenia: travel reminiscences]. Other notable articles in Svoboda based on his experiences and astute observations included "Z Halifaksu do Winnipegu" [From Halifax to Winnipeg], "Vona vyishala za menonita" [She married a Mennonite], "Obrazky z Kanady" [Images of Canada], "Tymko Hawryliuk," "Assimilation," and "Rus'ka paskha a frantsuz'kyi ks'ondz," [Ruthenian Easter and the French priest]. These writings, often sprinkled with satire and sarcasm, emphasized the shock of cultural and physical adjustment to Canada. A devoted and trusted pastor, Dmytriw saw himself as guardian of and teacher to the disoriented Ukrainian pioneers. Most of his vivid stories dwell on their difficulties and failures, which he attributed largely to their unpreparedness. Ignorant of Canada and unable to speak English, they received little guidance from immigration authorities; in fact, many fell victim to unscrupulous land speculators. Dmytriw agreed with Olesków that Canada was not for everyone. Since successful homesteading required capital and intelligence in addition to hard work, only those peasants with means and literacy should contemplate it. Furthermore, he recognized the psychological difficulties of adjustment on the harsh and remote Canadian prairies. Still, to those determined to come, he offered much practical advice.
From his travels across Canada, Dmytriw realized that Ukrainians were held in contempt by earlier settlers. Instances of drunkenness and boorish behaviour, which he blamed on the legacy of serfdom, caused them to be viewed as undesirable. He severely criticized the Ukrainian intelligentsia and clergy for failing to educate the peasantry. He held up as role models those Ukrainian immigrants who strove to learn English, Canadian farming methods, and the perceived higher culture of their new homeland. Despite his seeming pessimism, he believed that the children of the immigrants would succeed in Canada.
Physical exhaustion and financial difficulties obliged Dmytriw to return to the United States in 1899 for a well deserved rest. There he continued to contribute to Svoboda, writing on social and church topics. The popularity of his Canadian stories prompted him to publish his observations of Ukrainian life in Pennsylvania. On occasion, he even encouraged unemployed miners and industrial workers to take up farming in western Canada. He served several Ukrainian Catholic parishes in Pennsylvania and New Jersey. A liberal thinker and a social activist, he was often at odds with the conservative elements in the Ukrainian church. Little is known about his final years.
Nestor Dmytriw is the author of Canadian Ruthenia (Jersey City, N.J., 1897; repr. Winnipeg, 1972) [text in Ukrainian].
Encyclopedia of Ukraine, ed. Volodymyr Kubijovyc (5v. in 6, Toronto, 1984–93). Jubilee book of the Ukrainian National Association: in commemoration of the fortieth anniversary of its existence, ed. Luka Myshuha (Jersey City, 1936) [text in Ukrainian]. V. J. Kaye, Early Ukrainian settlements in Canada, 1895–1900; Dr. Josef Oleskow's role in the settlement of the Canadian northwest (Toronto, 1964). M. H. Marunchak, Biographical dictionary to the history of Ukrainian Canadians (Winnipeg, 1986) [text in Ukrainian]. Jaroslav Petryshyn, Peasants in the promised land: Canada and the Ukrainians, 1891–1914 (Toronto, 1985). Julian Stechishin, History of Ukrainian settlements in Canada (Edmonton, 1975) [text in Ukrainian], translated by Isidore Goresky as A history of Ukrainian settlement in Canada, ed. David Lupul (Saskatoon, 1992)
© 2005–2023 University of Toronto/Université Laval
Image Gallery

Cite This Article
Oleh W. Gerus, "DMYTRIW, NESTOR," in Dictionary of Canadian Biography, vol. 15, University of Toronto/Université Laval, 2003–, accessed June 10, 2023, http://www.biographi.ca/en/bio/dmytriw_nestor_15E.html.
The citation above shows the format for footnotes and endnotes according to the Chicago manual of style (16th edition). Information to be used in other citation formats:
| | |
| --- | --- |
| Permalink: | http://www.biographi.ca/en/bio/dmytriw_nestor_15E.html |
| Author of Article: | Oleh W. Gerus |
| Title of Article: | DMYTRIW, NESTOR |
| Publication Name: | Dictionary of Canadian Biography, vol. 15 |
| Publisher: | University of Toronto/Université Laval |
| Year of publication: | 2005 |
| Year of revision: | 2005 |
| Access Date: | June 10, 2023 |