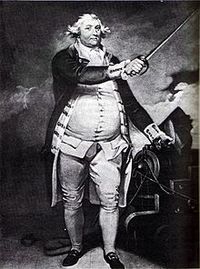 Source: Courtesy of Wikimedia Commons
DOUGLAS, Sir CHARLES, naval officer; m. Lydia Schimmelpinck, and they had two sons and one daughter; m. secondly Sarah Wood, and they had one son and one daughter; m. thirdly Jane Baillie; d. 16 March 1789 at Edinburgh, Scotland.
Little is known of Charles Douglas' early life except that he served as a midshipman at the siege of Louisbourg, Île Royale (Cape Breton Island), in 1745. After some delay he was promoted lieutenant in 1753. During the Seven Years' War he came to the attention of the Admiralty and was promoted commander in February 1759; that year, in command of the armed ship Boscawen, he performed useful service for Vice-Admiral Charles Saunders' fleet during the Quebec campaign. Having been promoted post-captain in March 1761, the following year he commanded the sixth-rate Siren (24 guns) on the Newfoundland station. When a French force under Charles-Henri-Louis d'Arsac de Ternay attacked the island that summer, Douglas helped to contain the invasion with his marines and was the first to inform Commodore Lord Colvill* of the situation. He also commanded the naval force covering Lieutenant-Colonel William Amherst's landing at Torbay on 13 September, and in recognition of his services he was given the honour of carrying Colvill's dispatches to London in October. He remained on the same station the following year in command of the frigate Tweed (32 guns) and ensured, by ingenious delays, that James Cook could finish the survey of Saint-Pierre and Miquelon before the islands were turned over to their new French governor François-Gabriel d'Angeac.
In 1764 and 1765, apparently through influence at the British court, Douglas served as a flag officer in the Russian navy. He commanded various ships during the next ten years. In 1776, in the Isis (50 guns), he again played a vital role when on 6 May he brought relief to Quebec, then under siege by Benedict Arnold*. The early arrival had been achieved by forcing the Isis through thick pack ice in the Gulf of St Lawrence, a remarkable feat of seamanship which Douglas described in extravagant terms to the Admiralty. Douglas remained in Canada during the campaigning season of 1776, and by clever improvisations involving difficult transport from the St Lawrence as well as innovations in methods of naval construction he and his subordinates created a fleet of small ships on Lake Champlain which defeated Arnold's flotilla in the battle of Valcour Island (11–13 October). This feat required no embroidery, and it bespoke great personal expertise, whether or not the measure was entirely necessary.
In recognition of his services in helping to repulse the American invader, Douglas was created a baronet in January 1777. He subsequently commanded the Stirling Castle (70 guns) from 1777 to 1778 and the Duke (90 guns) from 1778 to 1781, and he served as captain of the fleet to admirals Sir George Brydges Rodney and Hugh Pigot in the West Indies from 1781 to 1783. Douglas is chiefly remembered for his innovations in naval gunnery, especially when he commanded the Duke and was captain of the fleet to Rodney. It is also generally accepted that he persuaded Rodney to steer through the French line at the battle of the Saintes on 12 April 1782.
Appointed "to the Naval Command in Nova Scotia and Seas adjacent" following the American revolution, Douglas arrived at Halifax on 30 May 1784. He played a large part in adjusting the region to the postwar situation by interpreting and applying treaty obligations with the United States and making transports available to Governor John Parr for provisioning loyalist settlements. In November he demanded his recall, however, when the Admiralty refused to stand behind the measures he thought were necessary to reform the Halifax dockyard, whose commissioner, Henry Duncan*, was responsible not to him but to the Navy Board. Douglas was promoted rear-admiral of the blue in September 1787. Two years later he was again appointed to the command at Halifax, but he died before taking it up. His youngest son Howard* became a governor of New Brunswick.
An engraving of Henry Singleton's portrait of Sir Charles Douglas hangs in the National Maritime Museum in London.
National Maritime Museum, SAN/1–5, SAN/T/1–8. PAC, MG 18, L4, pkt.20. PRO, Adm. 1/482, ff.413, 429–35, 441; 1/487; 1/491; 1/1704; 1/1706; 1/1709; Prob 11/1176, ff.143–44. Burke's peerage (1953). Charnock, Biographia navalis, VI, 427ff. DNB. G.B., Adm., Commissioned sea officers. William Playfair, British family antiquity; illustrative of the origin and progress of the rank, honours and personal merit of the nobility of the United Kingdom . . . (9v., London, 1809–11), VII, pt.1, app., lxxxix. W. L. Clowes, The Royal Navy; a history from the earliest times to the present (7v., London, 1897–1903), III. John Creswell, British admirals of the eighteenth century; tactics in battle (London, 1972). Howard Douglas, Naval evolutions . . . (London, 1832). S. W. Fullom, The life of General Sir Howard Douglas . . . (London, 1863). A. T. Mahan, The influence of sea power upon history, 1660–1783 (Boston, 1890). [W. C.] B. Tunstall, Flights of naval genius (London, 1930).
[S. W. Fullom referred to private Douglas papers that can no longer be located. It seems likely that Playfair relied on such papers. Unfortunately, the elevation of Douglas to a baronetcy seems to have caused a discreet curtain to be drawn upon the period of his early life, and more attention than necessary has been paid to his lineal descent from James, 4th Earl of Morton. This concealment is a pity, because knowledge of his early years might shed light on his innovative abilities. w.a.b.d.]
© 1979–2023 University of Toronto/Université Laval
Image Gallery

Cite This Article
W. A. B. Douglas, "DOUGLAS, Sir CHARLES," in Dictionary of Canadian Biography, vol. 4, University of Toronto/Université Laval, 2003–, accessed June 5, 2023, http://www.biographi.ca/en/bio/douglas_charles_4E.html.
The citation above shows the format for footnotes and endnotes according to the Chicago manual of style (16th edition). Information to be used in other citation formats:
| | |
| --- | --- |
| Permalink: | http://www.biographi.ca/en/bio/douglas_charles_4E.html |
| Author of Article: | W. A. B. Douglas |
| Title of Article: | DOUGLAS, Sir CHARLES |
| Publication Name: | Dictionary of Canadian Biography, vol. 4 |
| Publisher: | University of Toronto/Université Laval |
| Year of publication: | 1979 |
| Year of revision: | 1979 |
| Access Date: | June 5, 2023 |