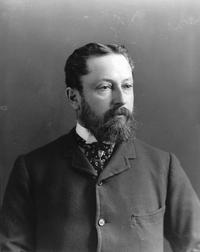 Source: Courtesy of Wikimedia Commons
DUNLOP, ALEXANDER FRANCIS, architect; b. 4 Aug. 1842 in Montreal, son of Charles John Dunlop, a merchant, and Sophie Fellow; m. there 9 June 1868 Catherine Austin Ekers, and they adopted a daughter; d. there 30 April 1923.
After studying in Montreal in Philips School and Montreal Collegiate School (where Charles Nichols was the principal), Alexander Francis Dunlop got his start in architecture by becoming an apprentice in a firm of practising architects, as was then the custom. He worked in the offices of George Browne* and John James Browne*, but also in that of Joseph Rielle, a surveyor. He noted that this latter experience would prove beneficial to him. He ended his training by spending some time in Detroit, an unusual step for a man of his generation. In 1874 he opened his own practice in Montreal. Except for a short period (1893–95) when he was in partnership with John Charles Allison Heriot, he managed his firm by himself until he retired around 1913.
Although his work was confined mainly to Montreal and the surrounding region, Dunlop headed one of the largest Canadian operations at this period in the history of architecture, which was in a state of flux as a result of the huge changes brought about by an industrial society. Within this context architects had to redefine their status from a professional standpoint in order to maintain the creative character of their work while accepting the constraints of productivity and economy. The most appropriate way for debating these questions and defending their interests appeared to them at the time to be through associations, and in this regard Dunlop was especially active. In 1883 he was made an associate member of the Royal Canadian Academy of Arts [see John George Edward Henry Douglas Sutherland Campbell*; John William Hurrell Watts*]. He became a fellow in 1890, a councillor in 1892, and vice-president from 1907 to 1913. From 1881 to 1912 he participated regularly in the exhibitions it organized. In 1890 he was also a founding member of the Province of Quebec Association of Architects, one of whose aims was to regulate the right to practise, and he served on its council until 1893. In 1908 the Architectural Institute of Canada was officially created to promote the profession of architect throughout the country. Dunlop became its first president and held this office until 1910.
In an environment that was becoming increasingly protectionist and nationalist, the two professional associations enabled Canadian architects to stand up to an establishment that had long favoured architects from the United States for prestigious commissions. While he acknowledged the need to get his compatriots' abilities recognized, Dunlop nonetheless asserted that good relations must be maintained with the Americans. He also had to overcome his colleagues' fears that the jurisdictions of the two bodies might overlap.
Anxious to improve the quality of Canadian architecture, Dunlop was particularly sensitive to the question of training. Emphasizing the inadequacy of libraries and the lack of a school of architecture, he argued for the introduction of professional training at McGill University and the Université Laval in Montreal. With Edward Maxwell, he conducted the courses in design offered by the Province of Quebec Association of Architects, and he welcomed into his studio many architects who would be among the best of their generation: Edward Maxwell, David Robertson Brown, John Melville Miller, Robert Findlay, Kenneth Guscotte Rea, Théodore Daoust, and Georges-Alphonse Monette.
Dunlop's production – of which Stephen Robinson has catalogued some 55 examples – followed closely the evolution of architecture in his day. Having begun between 1880 and 1900 with the Victorian splendours of the 19th century, Dunlop's work became gradually more subdued with the rise of academicism, which explains the eclectic nature of his output with respect to construction, materials, colours, styles, and the use to which it was put. In 1890, for instance, he defended the neo-Roman style, claiming that it was appropriate to the climate and the type of stone found locally, and that it could be treated in such a way as to present sculpted decorations. Also according to Dunlop, stone should be preferred to wood or brick. This stylistic vision was manifest in the building he designed with Heriot for Ekers' Brewery (1893–94, now the Musée Juste pour Rire), which was run by his brother-in-law Henry Archer Ekers (who would be elected mayor of Montreal in 1906). With the Temple Building (1889–90) and the Queen's Hotel (1891–93), large commercial buildings now demolished that illustrate the eclectic treatment typical of the late 19th century, Dunlop became one of the first Montreal architects to use steel structures. They also show his interest in new construction methods developed in the United States. In 1909 he erected the Sarah Maxwell Memorial School on the site of Hochelaga School, which had been destroyed in 1907 in a tragic fire that took the lives of a number of the young pupils. From then on, Dunlop had an obligation to revise the fireproofing criteria and safety standards. He would build a number of schools for the Protestant Board of School Commissioners of the City of Montreal.
Two of Dunlop's other creations are even more distinctive and they would be recognized as his most outstanding. The first was St James Methodist Church (1887–89) on Rue Sainte-Catherine, notable for its superior neo-Gothic treatment. In the relationship between its interior and exterior, it is an example of trompe l'œil, a device often favoured during the Victorian period. The apsidal end gives the impression that it is a traditional church, built in the form of a Latin cross, where the light coming through the stained-glass windows is meant to flood the whole interior. It is nothing of the sort. Following the dictates of Methodist liturgy, the building is divided in two: the front part corresponds to the church itself and is treated in the form of a theatre, while the rear part includes, among other things, the Sunday school. At the opposite extreme from this exercise, which cheerfully mocks the conventions of openness in art, Dunlop designed with Heriot a building obeying the classical rules to the letter: the home of businessman Hugh Graham* on Rue Sherbrooke, which was later known as Atholstan House because of the title of baron conferred on him in 1917. The severe and elegant treatment of the façades contrasts with the frivolous excesses of the Queen-Anne style that was so widespread at that time. The interior was planned with the same sensitivity. The building was preserved in 1980 by Alcan Aluminium Limited, which set up its management offices there. Built in 1894–95, the house anticipated by several years the fashion of classical renewal and beaux-arts academicism.
More than any other project, Atholstan House illustrates the attraction that fashions coming from the south held for Dunlop. A skilled architect and wise adviser, able to surround himself with the best apprentices, he nevertheless avoided excesses of imagination. Moderation and a sense of balance were the hallmarks of the work of this architect who was deeply involved in the advancement of his profession.
ANQ-M, CE601-S51, 3 sept. 1842; S63, 9 juin 1868. LAC, MG 28, I 126; I 239. Royal Architectural Institute of Canada (Ottawa), Alcide Chaussé, "History of the inception of the RAIC" (Ottawa, 1939). Gazette (Montreal), 1 May 1923. Commission des biens culturels du Québec, Les chemins de la mémoire (3v., Montréal, 1990–99), vol.2 (Monuments et sites historiques du Québec, 1991). "Organization of the Province of Quebec Association of Architects," Canadian Architect and Builder (Toronto), 3 (1890): 112–16. Guy Pinard, Montréal: son histoire, son architecture (6v. parus, Montréal, 1986–?), 1. Stephen Robinson, "An architect discovered: the work of A. F. Dunlop" (ma thesis, Concordia Univ., Montreal, 1992).
© 2005–2023 University of Toronto/Université Laval
Image Gallery

Cite This Article
Jacques Lachapelle, "DUNLOP, ALEXANDER FRANCIS," in Dictionary of Canadian Biography, vol. 15, University of Toronto/Université Laval, 2003–, accessed September 22, 2023, http://www.biographi.ca/en/bio/dunlop_alexander_francis_15E.html.
The citation above shows the format for footnotes and endnotes according to the Chicago manual of style (16th edition). Information to be used in other citation formats:
| | |
| --- | --- |
| Permalink: | http://www.biographi.ca/en/bio/dunlop_alexander_francis_15E.html |
| Author of Article: | Jacques Lachapelle |
| Title of Article: | DUNLOP, ALEXANDER FRANCIS |
| Publication Name: | Dictionary of Canadian Biography, vol. 15 |
| Publisher: | University of Toronto/Université Laval |
| Year of publication: | 2005 |
| Year of revision: | 2005 |
| Access Date: | September 22, 2023 |