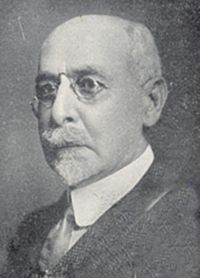 Source: Link
ENGLEHART, JACOB LEWIS, businessman, civil servant, and philanthropist; b. 2 Nov. 1847 in Cleveland, Ohio, son of John Joel Englehart, a merchant, and Hannah Rigaret; m. first 11 June 1868 Katy White in New York City; m. secondly 29 Dec. 1891 Charlotte Eleanor (Minnie) Thompson (d. 31 Dec. 1908) in Petrolia, Ont.; he had no children; d. 6 April 1921 in Toronto.
The Englehart family was Jewish and appears to have come to the United States from Germany. Educated in Cleveland, Jacob L. Englehart began his mercantile career in his teens in New York City, where his father had gone into business and his sister Sophie had married a prominent attorney. Between 1866 and about 1883 he was based there as a brewer, a rectifier, and then a merchant specializing in petroleum products. His attention was drawn in the late 1860s to southwest Ontario and the oil resources beneath the farmlands of Lambton and Kent counties between Chatham and Sarnia [see James Miller Williams*]. At the centre of the oil boom was the village of Petrolia. In January 1870 Englehart entered the refining business in London, Ont., with partners from that city as well as New York and Mannheim (Germany); six years later, with Isaac Guggenheim, he formed J. L. Englehart and Company and moved his refining operation to Petrolia, where he settled. He modelled his approach on that of men such as John Davison Rockefeller in the oilfields of Pennsylvania; not only did he operate his own field and contract with local farmers for their oil, but he recognized the value of combination. In September 1880 he initiated a merger with other refiners, including his one-time partners Herman and Isaac Waterman (natives of Bavaria), to form the Imperial Oil Company Limited in London. Englehart's role of vice-president and general manager, together with his 20 per cent of the shares, made him the central executive.
After Imperial's works were destroyed by fire in 1883, the firm expanded its refinery in Petrolia and the following year moved its headquarters there. Englehart built a grandiose house. As well, he converted to Anglicanism in the 1880s and became a freemason, and, at some point, a British subject. Photographs portray him as a bald gentleman wearing European-style formal attire, pince-nez, and a Vandyke beard. His marriage in 1891 to the 28-year-old Minnie Thompson, the Petrolia Advertiser and Canadian Oil Journal reported, was a grand social event.
Because of the size of its refinery, Imperial held a near-monopoly over the processing of petroleum for sale to the burgeoning market of Canadian railways. To compete with the cheap imports of Standard Oil from the United States, Englehart supported Canada's defensive tariff. When it became clear that the federal government of Wilfrid Laurier* elected in 1896 would not continue this protection, Englehart and the board of Imperial decided in 1898 to sell a majority of its shares to Standard and move its head office and refinery to Sarnia. Englehart sat on the board of the new subsidiary, still called Imperial Oil; he nevertheless remained in Petrolia, in part to run J. L. Englehart and Company, which in 1899 had 233 wells driven by a single power plant over an area of 400 acres. Eventually his wealth spread into other investments. He served as president of the Crown Savings and Loan Company in Petrolia and vice-president of the London and Western Trusts Company. In addition, his influence had begun to take a political turn.
Englehart became a leading financial sponsor of the Conservative party in southwest Ontario. His brother-in-law George Moncrieff was the mp for Lambton East from 1887 to 1896. Provincially, in 1902 he supported the candidacy in Lambton West of his friend William John Hanna*, Imperial's counsel and a member of its board. After Hanna was appointed provincial secretary in the government of James Pliny Whitney* in February 1905, he recommended Englehart as a member of the Temiskaming and Northern Ontario Railway Commission and then in 1906 as its chairman. It had been launched in 1902 by the Liberal government of George William Ross* to build a line from North Bay to Lake Timiskaming and thereby facilitate settlement in northeast Ontario [see August Kruger*]. Traffic, which began in January 1905, was intensified by mining booms at Cobalt, Porcupine, and Kirkland Lake [see Benjamin Hollinger*]. For 13 years Englehart would chair the commission and manage the railway, reporting directly to the provincial secretary. He was seen as a slightly eccentric but conscientious public official who was rumoured to give most of his salary to charity.
Although his temperament was too remote and formal for him to become a political figure of any prominence, he took seriously the part he could play as a philanthropist, political backer, and public servant. In 1909, following his wife's death from tuberculosis, he donated X-ray equipment to St Michael's Hospital in Toronto and a year later he honoured her testamentary wish that Glenview, their house in Petrolia, be turned into a hospital. He enjoyed the recognition that came from his contributions to the Conservatives. Though his written English reflected his secondary level of education, he had willingly accepted Whitney's invitation to sit for a term (1906–8) on the board of governors of the University of Toronto.
Englehart's essential place, historically, must rest on his management of the T&NO. In 1905–6 the commission was given responsibility for establishing much-needed town sites at Temagami, Latchford, Cobalt, and Englehart. He presided over the railway's extension in 1908 to Cochrane, where it would meet the National Transcontinental Railway, and in 1911 to the Porcupine gold mines. He negotiated contracts for the running of transcontinental trains to Toronto over the T&NO's tracks. As well, he promoted the railway in terms of community service, especially at times of destructive fires, including those of 1911 at Porcupine and Cochrane and 1916 at Matheson. Within business circles in Toronto, where he became a director of the Bank of Toronto in 1912, he was an effective spokesman for the development of northern Ontario. Sentiment in the north toward Englehart contained a note of resentment at his never having lived in the region. (After leaving Petrolia, he had taken up residence in the Queen's Hotel in Toronto.) There is no question, however, that his direction of the railway, which he travelled over regularly, gave him a clear public image at a time when the T&NO fulfilled a great need in the opening of "New Ontario."
Englehart's health failed in 1919 and he resigned his chairmanship on 28 October, just days after the election of the United Farmers government. At the time he upheld three priorities of the previous Conservative government: building a branch to Kirkland Lake, electrifying the railway, and extending it to James Bay. Following his death at Wellesley Hospital from a brain haemorrhage, he was buried in Hillsdale Cemetery near Petrolia. His $2-million estate was distributed mostly to relatives and friends.
Jacob Lewis Englehart's career with the Temiskaming and Northern Ontario Railway Commission is examined in the author's Steam into wilderness: Ontario Northland Railway, 1902–1962 (Toronto, 1978).
AO, RG 8-5, boxes 12–13; RG 22-273, nos.4133, 6563; RG 22-305, nos.46014, 46221; RG 55-17-33, nos.111, 185, 403; RG 80-5-0-196, no.5652; RG 80-8-0-343, no.5598; RG 80-8-0-801, no.2946. Globe, 7, 11 April 1921. Petrolia Advertiser and Canadian Oil Journal (Petrolia, Ont.), 1 Jan. 1892, 6 Jan. 1909. Michael Barnes, Jake Englehart (Cobalt, Ont., 1974). Canadian annual rev., 1905–17. Canadian men and women of the time (Morgan; 1912). Cyclopædia of Canadian biog. (Rose and Charlesworth), vol.3. J. S. Ewing, "The history of Imperial Oil Limited" (ms, Harvard Business Hist. Foundation, Boston, 1951; copy in Imperial Oil Arch., Toronto). Industrial Canada (Toronto), 22 (1921–22), no.1: 124, 126. National cyclopædia of American biography . . . (63v., New York, [etc.], 1892–1984), 14: 362; 36: 147–48. Newspaper reference book. Ont., Legislature, Sessional papers, 1900, no.5: 107. Trow's New York City directory . . . (New York), 1864/65–82/83. Who's who and why, 1919/20: 1143.
© 2005–2023 University of Toronto/Université Laval
Image Gallery

Cite This Article
Albert Tucker, "ENGLEHART, JACOB LEWIS," in Dictionary of Canadian Biography, vol. 15, University of Toronto/Université Laval, 2003–, accessed October 2, 2023, http://www.biographi.ca/en/bio/englehart_jacob_lewis_15E.html.
The citation above shows the format for footnotes and endnotes according to the Chicago manual of style (16th edition). Information to be used in other citation formats:
| | |
| --- | --- |
| Permalink: | http://www.biographi.ca/en/bio/englehart_jacob_lewis_15E.html |
| Author of Article: | Albert Tucker |
| Title of Article: | ENGLEHART, JACOB LEWIS |
| Publication Name: | Dictionary of Canadian Biography, vol. 15 |
| Publisher: | University of Toronto/Université Laval |
| Year of publication: | 2005 |
| Year of revision: | 2005 |
| Access Date: | October 2, 2023 |