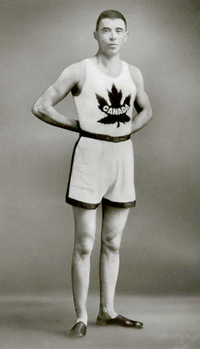 Source: Link
FABRE, ÉDOUARD (baptized François-Charles-Édouard), long-distance runner and civil servant; b. 21 Aug. 1888 in Montreal, son of Léon Fabre, a hatter, and Alphonsine Daoust; m. 19 Dec. 1915 Blanche Dufour in the parish of Saint-Joseph, Montreal, and they had six children, of whom two daughters and one son reached adulthood; d. 1 July 1939 in Montreal and was buried there 4 July in Notre-Dame-des-Neiges cemetery.
Édouard Fabre's youth remains shrouded in mystery. According to one of his daughters, he was ill-treated by his stepmother (his mother had died in 1891), and for this reason a family of Iroquois origin, the Montours, who lived opposite the Fabre house, took him under its wing. At the time, aboriginals were recognized as skilled runners and snowshoe racers, and it would likely have been through contact with them that Édouard developed his long-distance running abilities. It appears that he won his first snowshoe race on 4 March 1904, at the age of 15, with the club he belonged to in the Cité de Saint-Henri (Montreal). As a member of the Association Athlétique d'Amateurs Nationale, the most important French Canadian amateur sport organization of the day, he was the winner of a nine-mile race in Montreal on 19 Sept. 1908.
Fabre subsequently participated in several running and snowshoeing competitions arranged by the big Montreal dailies (the Montreal Daily Herald, La Presse, the Montreal Daily Star, and La Patrie) and various sporting clubs and associations. He won one race after another and built a reputation as an excellent long-distance runner. On 14 Jan. 1911, for example, he set a record in a snowshoe obstacle race sponsored by La Presse, covering the six and a half miles in 42 minutes and 49.6 seconds. His successes prompted the Association Athlétique d'Amateurs Nationale to train him for the most important road race in North America, the Boston marathon. Fabre first took part in this premier event on 19 April 1911 and finished third of 127. In May 1912 in Hamilton, Ont., he and James Duffy* qualified at the Hamilton Spectator Marathon for the Stockholm Olympic Games, which took place that year. Likely handicapped by an injury, he placed eleventh. His participation in a wrestling match, however, compromised his amateur status in 1914, shortly before his fourth start in the Boston marathon on 20 April; he came second, a few seconds behind Duffy. Finally suspended for a year from the amateur ranks, Fabre, owing to pressure exerted by his friends and admirers, was reinstated by the Amateur Athletic Union of Canada after six months.
In 1915 Fabre reached a peak. On 19 April he became the first French Canadian to take the honours at the Boston marathon, which was run that year in particularly difficult weather conditions. On 28 August he won another prestigious marathon, in San Francisco. Upon his return his fellow countrymen gave him a reception worthy of his accomplishment with a parade, fireworks, and speeches. The day after the celebration, the new hero got a job in a post office.
Almost five months later, as war ravaged Europe, Fabre enlisted in the army. He was attached to No.6 Canadian General Hospital of the Université Laval [see Gustave Archambault]. Perhaps because of the state of his health, he never went to France. After winning a few races in 1916–17, in mid October 1918 he came down with the Spanish flu, which confined him to bed at Meurling Municipal Refuge in Montreal. After a brush with death he returned home weak, having lost weight. At the beginning of April 1919 he had two operations at the Royal Victoria Hospital.
Settled in Akron, Ohio, during the spring of 1920, Fabre made a convincing comeback to competition in 1921. In April he came third at the Detroit marathon, his first since San Francisco. Two weeks later he placed sixth in Boston. He would compete in this classic race for the tenth and last time on 19 April 1928, and finish twentieth. The victor of two races in Ohio on 30 May 1921 – one in Cleveland, the other in Akron – he managed in July in Charleroi, Penn., to get ahead of the Finn Hannes Kolehmainen, the joint winner of the Antwerp Olympic marathon in Belgium the previous year. As a result, some Boston newspapers considered Fabre the greatest marathon runner of the time. Back in Montreal, probably towards the end of the year, he took part in a number of snowshoe races.
With the introduction of numerous endurance trials at the end of the 1920s, Fabre's career gained new momentum. During the first six days of February 1930 he participated in the event that received more media coverage than any other in his career: a Quebec–Montreal snowshoe race in six stages. For the first time he raced as a professional. Despite his 41 years, painful rheumatism, the cold, and the drifting snow, he won all stages. On 6 February nearly 75,000 people applauded him along the route. When Fabre entered the Montreal Forum, 6,000 spectators welcomed him with a tremendous ovation. The next day he was presented with $1,900, of which $1,000 was from the winner's purse, a large sum in that period of economic crisis. A fund was established to assist the hero of the day, who, with his family, lived quite modestly. Between 20 and 27 July he teamed up with the Finn Olli Vänttinen in the Peter Dawson Marathon, a 500-mile relay in the province of Quebec with a $10,000 prize. They placed third. Despite failing health, Fabre hung on. On 9 and 10 August he took part with Joie Ray at the Delorimier Downs Stadium in a 26-hour race that pitted them against horses; they were second among the runners. Then, on 1 Feb. 1931, he again took part in the Quebec–Montreal snowshoe race. Burning with fever, he had to drop out on 3 February in Sainte-Anne-de-la-Pérade. Incapable of giving up, he participated in the same event the following February. Thanks to his indomitable determination, he finished eleventh. On 2 March 1933 he teamed up with Eugène Clouette for a six-day running competition at the Delorimier Downs Stadium. They withdrew two days later because they thought that it was not lucrative enough. With this event, Fabre, after 315 races, bid farewell to competition.
All of Édouard Fabre's achievements, his records, and his very many victories, had perhaps brought him glory, but they had not made him rich, especially since he had spent most of his career as an amateur. In 1937, paralyzed, weakened by heart problems, and his financial resources exhausted, he was living in extreme poverty. To come to his assistance, a new fund was set up and a minister in the government of Maurice Le Noblet Duplessis* offered him a job as a custodian on Île Sainte-Hélène. Two years later, on 1 July 1939, Fabre died at home. With his passing one of Canada's greatest long-distance runners was gone. To honour his memory, Fabre was inducted into the country's Sports Hall of Fame in 1964.
The authors wish to thank Marcelle Fabre, daughter of Édouard Fabre, for the interview that she gave on 27 November 2008.
This biography is largely based on information taken from newspapers, particularly Le Devoir, 1910–39, La Patrie, 1908–39, and La Presse, 1908–39. Other newspapers consulted are: L'Autorité nouvelle (Montréal), 24, 26 avril, 7 juin, 12 juill., 9 août 1914; Le Canada (Montréal), 19–21 avril 1911; 30 août, 2 sept. 1915; 7 févr., 19, 21, 30 mai 1930; Le Miroir (Montréal), 8 juin, 3 août, 7, 14, 21, 28 sept., 19, 26 oct., 2, 9 nov. 1930; 1er févr., 9, 19 août 1931; Montreal Daily Star, 15 April 1921; Montreal Herald, 3 July 1939; Montreal Star, 3 July 1939; Le Petit Journal (Montréal), 3 oct. 1937, 2 juill. 1939; and Le Réveil (Montréal), 13 janv. 1916.
Arch. de l'univ. du Québec à Montréal, 1P, 160/4. BANQ-CAM, CE601-S29, 22 août 1888; CE601-S51, 5 nov. 1891, 25 janv. 1893. Instit. généal. Drouin, "Fonds Drouin numérisé," Notre-Dame (Montréal), 18 févr. 1911, 4 juill. 1939; Saint-Joseph (Montréal), 19 déc. 1915: www.imagesdrouinpepin.com (consulted 28 July 2010). LAC, R3102-0-4. David Blaikie, Boston: the Canadian story (Ottawa, 1984). Tom Derderian, Boston marathon: the history of the world's premier running event (Champaign, Ill., 1994). Directory, Quebec, 1885–1939. S. F. Wise and Douglas Fisher, Canada's sporting heroes (Don Mills [Toronto], 1974).
© 2017–2023 University of Toronto/Université Laval
Image Gallery

Cite This Article
Gilles Janson and Serge Gaudreau, "FABRE, ÉDOUARD (baptized François-Charles-Édouard)," in Dictionary of Canadian Biography, vol. 16, University of Toronto/Université Laval, 2003–, accessed September 23, 2023, http://www.biographi.ca/en/bio/fabre_edouard_16E.html.
The citation above shows the format for footnotes and endnotes according to the Chicago manual of style (16th edition). Information to be used in other citation formats:
| | |
| --- | --- |
| Permalink: | http://www.biographi.ca/en/bio/fabre_edouard_16E.html |
| Author of Article: | Gilles Janson and Serge Gaudreau |
| Title of Article: | FABRE, ÉDOUARD (baptized François-Charles-Édouard) |
| Publication Name: | Dictionary of Canadian Biography, vol. 16 |
| Publisher: | University of Toronto/Université Laval |
| Year of publication: | 2017 |
| Year of revision: | 2017 |
| Access Date: | September 23, 2023 |