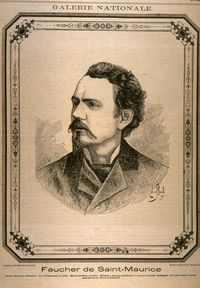 Source: Courtesy of Bibliothèque et Archives Nationales du Québec / 52327/2074182
FAUCHER DE SAINT-MAURICE, NARCISSE-HENRI-ÉDOUARD, author, army officer, office holder, politician, and journalist; b. 18 April 1844 at Quebec, son of Narcisse-Constantin Faucher, a lawyer, and Catherine-Henriette Mercier; m. there 25 May 1868 Joséphine Berthelot, niece of Sir Louis-Hippolyte La Fontaine*; d. 1 April 1897 at Quebec.
Narcisse-Henri-Édouard Faucher spent his childhood at Quebec. He did his classical studies at the Petit Séminaire de Québec (1853–59) and at Sainte-Anne-de-la-Pocatière (La Pocatière) (1860). An undisciplined student, he became a clerk in the law firm of Henri Taschereau and Ulric-Joseph Tessier, but he was more interested in a military career and at the age of 18 published a pamphlet entitled Organisation militaire des Canadas: L'ennemi! l'ennemi! under the pseudonym "Un carabinier." In fact this piece served as a springboard to a career as a man of letters. He took up the appellation of his ancestor Léonard Faucher, dit Saint-Maurice, using it for the first time when signing the brochure's dedication "Faucher de Saint-Maurice." The name lent him a veneer of distinction and an air of nobility.
His passion for military glory unabated, Faucher published Cours de tactique in 1863, just before he enlisted in the French expeditionary corps that was dispatched to Mexico to fight against Benito Pablo Juárez. There was something quixotic about his adventure, for, unwittingly, Faucher was supporting an unjust cause. Coincidentally, while he was in Mexico the young officer met Honoré Beaugrand*, a compatriot who later became mayor of Montreal. Faucher received the medal of Mexico and the cross of the Imperial Order of Guadalupe personally from Emperor Maximilian before leaving Veracruz for good in June 1865.
Having returned to Quebec, in 1867 Faucher was appointed clerk of private bills to the newly formed Legislative Council. The minor duties of the office, which he held for 14 years, left him free to devote himself to journalism and literature. Like his colleague Joseph-Étienne-Eugène Marmette and many another office holder-cum-author of the period – Benjamin Sulte*, Napoléon Legendre*, Alfred Duclos* De Celles, Alphonse Lusignan, and James MacPherson Le Moine*, to name but a few – Faucher took advantage of his situation to begin writing, at first for periodicals. He published short stories, essays, and accounts of his travels in the Revue canadienne (1866–70), La Minerve (1868–70), and L'Opinion publique (1871–72). In an address to the Literary and Historical Society of Quebec in 1866 entitled "De la mission de l'homme de lettres dans la société moderne," the young writer deplored the evil effects of "bad" literature – especially of novels – and formulated the guiding principles of his literary creed: "to impress on our nascent literature the seal of purity . . . to ward off from this beloved child whatever might later sully or stain it." This censorious attitude was not surprising in that period, when literature, dominated by conservative elements, was expected to defend moral principles and serve the established order.
Faucher's literary career began in earnest in 1874. He put together his various writings in a set of four volumes with 1,000 pages of text: À la brunante . . . , a collection of short stories, legends, and tales drawn from popular tradition; De Québec à Mexico . . . , two volumes of military memoirs; and Choses et autres . . . , a series of addresses and literary criticism devoted to Canadian works. This editorial tour de force was made possible by Faucher's resourcefulness and by the financial support of more than 500 subscribers. Critics have found fault with his extreme verbosity, his unsystematic mind, and his penchant for flaunting his bibliographical knowledge, but they have all recognized his talent as a storyteller, even though a pronounced bias towards "morally proper reading" led him to make righteousness triumph at any cost, and thus to break the thread of his narrative.
Encouraged by his success with the reading public, Faucher in 1877 published De tribord à bâbord . . . , an account of three cruises on a steamer in the Gulf of St Lawrence in 1874. This work, and his collection of short stories, renamed À la veillée . . . , went through several editions during his lifetime and became genuine bestsellers. To the surprise of his acquaintances, in December 1881 he left his sinecure in the public service and, as his father had done before him, entered provincial politics. A Conservative, he was elected that month for Bellechasse and sat in the Legislative Assembly until 1890. In the year of his election he represented Canada and the province of Quebec at the third International Geographical Congress, held in Venice. In 1888 he travelled to France and from there to Algeria and Tunisia. He then published a journal of his wanderings, Loin du pays, souvenirs d'Europe, d'Afrique et d'Amérique, in 1889. An indefatigable traveller, in 1888 he had brought out En route; sept jours dans les provinces Maritimes, the account of a brief trip he made with fellow journalists.
Meanwhile, in 1881 Faucher had been named a knight of the Legion of Honour in recognition of his services to France. That year the governor general, the Marquess of Lorne [Campbell*], asked him to assist in founding an academy to be called the Royal Society of Canada [see Sir John William Dawson]. Highly regarded by his intellectual peers, Faucher oversaw the choice of some 20 eminent French Canadian members of the society. He delivered the inaugural address to the French section of the humanities division at the opening session on 25 May 1882. Despite his many activities, he did not give up work as a journalist. He was an editor with Le Journal de Québec from 1883 to 1885, before moving in 1885–86 to Le Canadien, which was under the editorship of Joseph-Israël Tarte*. He also wrote occasional articles for La Presse (1884, 1885, 1889) and L'Événement, while still fulfilling his obligations to his constituents in Bellechasse.
A member of several literary societies, including the Société des Gens de Lettres de France, of which he was the official representative in North America, Faucher was often called on to act as a cultural ambassador for foreign visitors to Quebec. By way of exchange, during his travels in Europe he endeavoured to make Canadian writings known there. It was partly because of these attempts at cultural rapprochement that the Académie Française awarded prizes to Henri-Raymond Casgrain* for his historical studies and to Louis-Honoré Fréchette* for his collections of poetry.
After his defeat in the provincial election of May 1890, Faucher was appointed clerk of minutes in the Legislative Council, a position he held until his death. He continued to work as a journalist, doing columns for Le Monde illustré (1891–92) and feature articles for La Revue nationale (1895–96). His last publications, in particular La question du jour: resterons-nous français? (1890), focused on the French language.
With his complete works filling nearly 5,000 pages, Faucher de Saint-Maurice was one of the most prolific French Canadian men of letters of the 19th century. Literary historians usually relegate him, none the less, to the rank of minor authors because he left no truly substantial writings. Probably because of his spontaneous and somewhat disorganized nature, his essays, memoirs, and travelogues give the impression of having been written in haste. Laurent-Olivier David*, a former colleague at L'Opinion publique, describes Faucher as he was seen in his own day: "This intelligent man had an obsession, an obsession with glory, a passion for honours, for decorations, and an insatiable desire to make himself conspicuous, which led him to waste part of his life trying to hoodwink his contemporaries."
Faucher de Saint-Maurice's speech inaugurating the French section of the Royal Soc. of Canada was published in RSC Trans., 1st ser., 1 (1882–83), sect.i: 13–19. Raoul Renault, Faucher de Saint-Maurice: son œuvre (Québec, 1897) and DOLQ, vol.1, provide information on Faucher's publications.
ANQ-Q, CE1-1, 19 avril 1844, 25 mai 1868, 5 avril 1897. J.-B. Bérard, "Étude littéraire: M. Faucher de St. Maurice," Rev. canadienne, 11 (1874): 914–26. Paul de Cazes, "Pour Faucher de Saint-Maurice," La Rev. des deux Frances (Paris), 1 (octobre 1897): 22–24. Cyclopædia of Canadian biog. (Rose and Charlesworth), 1: 277. J. Desjardins, Guide parl., 185. Le Jeune, Dictionnaire, 1: 619. RPQ. Wallace, Macmillan dict. L.-O. David, Souvenirs et biographies, 1870–1910 (Montréal, 1911), 127–34. Alfred Duclos De Celles, "Souvenirs," Almanach du peuple, 1905: 268–76. Edmond Lareau, Histoire de la littérature canadienne (Montréal, 1874), 320–22. Serge Provencher, "Présentation," N.-H.-É. Faucher de Saint-Maurice, Contes et récits (Montréal, [1977]), 5–19. L.-H. Taché, "Faucher de St-Maurice," Men of the day: a Canadian portrait gallery, ed. L.-H. Taché (32 ser. in 16 vols., 1890–[94], ser.1). "La famille Berthelot d'Artigny," BRH, 41 (1935): 15. Gérard Parizeau, "Faucher de Saint-Maurice: écrivain, journaliste, député, président de la section française de la Société royale du Canada," RSC Trans., 4th ser., 7 (1969), sect.i: 207–30. Charles Robillard, "Réminiscences d'un vieux journaliste; galerie nationale; Faucher de Saint-Maurice," La Patrie, 20 déc. 1942: 17–18. P.-G. Roy, "Le lieu de naissance de Faucher de Saint-Maurice," BRH, 29 (1923): 33–35.
© 1990–2023 University of Toronto/Université Laval
Cite This Article
Kenneth Landry, "FAUCHER DE SAINT-MAURICE, NARCISSE-HENRI-ÉDOUARD," in Dictionary of Canadian Biography, vol. 12, University of Toronto/Université Laval, 2003–, accessed December 7, 2023, http://www.biographi.ca/en/bio/faucher_de_saint_maurice_narcisse_henri_edouard_12E.html.
The citation above shows the format for footnotes and endnotes according to the Chicago manual of style (16th edition). Information to be used in other citation formats:
| | |
| --- | --- |
| Permalink: | http://www.biographi.ca/en/bio/faucher_de_saint_maurice_narcisse_henri_edouard_12E.html |
| Author of Article: | Kenneth Landry |
| Title of Article: | FAUCHER DE SAINT-MAURICE, NARCISSE-HENRI-ÉDOUARD |
| Publication Name: | Dictionary of Canadian Biography, vol. 12 |
| Publisher: | University of Toronto/Université Laval |
| Year of publication: | 1990 |
| Year of revision: | 1990 |
| Access Date: | December 7, 2023 |