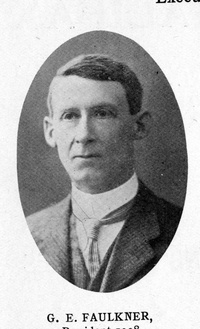 Source: Link
FAULKNER, GEORGE EVERETT, businessman, accountant, and politician; b. 31 Jan. 1855 in Folly Village (Glenholme), N.S., son of Thomas Faulkner and Arabella Morrison; m. 25 Oct. 1883 Laura Guille Denison (d. 16 June 1942) in Halifax, and they had seven children, of whom only two daughters survived to adulthood; d. 2 May 1931 in Halifax.
George Everett Faulkner was a direct descendant of the New Hampshire Scottish-Irish Planters who were among the founders of townships such as Londonderry in Nova Scotia during the 1760s [see Alexander McNutt*]. To the end of his life he would remain an atavistic Ulster Protestant opposed to Home Rule for Ireland; indeed, it seems probable that he was a remote cousin of Arthur Brian Deane Faulkner, who would be the last prime minister of Northern Ireland (1971–72) before direct rule was introduced by the British parliament. A farmer's son who was what 19th-century Scots described as a "lad o' pairts," he was educated in Colchester County and then attended but did not graduate from Pictou Academy. He completed his training at a Halifax business school, probably Eaton and Frazee's Commercial College. Faulkner's younger brother, Ebenezer Ross (named for a Presbyterian minister in their hometown), would study medicine and have a distinguished career as surgical director of the Manhattan Eye, Ear, and Throat Hospital in New York City from 1923 until his death in 1939.
By 1876 Faulkner was working for the Halifax branch of Dun, Wiman and Company, the Canadian division of the commercial credit-rating agency R. G. Dun and Company, which had been made prosperous by Erastus Wiman*; Faulkner was office manager by 1887. About the middle of the next decade he acquired the insurance firm of the late George Milton Greer and renamed it Faulkner and Company. In time he would become a financial adviser, a dealer in investment securities, and an authorized bankruptcy trustee. An astute businessman, he accumulated several directorships. For a time he took on the presidency of the Maritime Trust Corporation, and by the end of his career he was vice-president of the Maritime Telegraph and Telephone Company Limited and the Eastern Canada Savings and Loan Company. In 1900 he helped found the Institute of Chartered Accountants of Nova Scotia, and in 1908–9 he did a term as president of the Halifax Board of Trade. He was also a pillar of the Maritime section of the Commercial Travellers' Association of Canada and acted as its secretary for more than four decades.
Faulkner took a back seat to no one when it came to community service. There were few good causes or social-welfare organizations with which he was not connected. At the time of his death, he was serving as chair of the executive of the Victoria General Hospital. For 30 years he was a member of the boards that managed the Halifax Institution for the Deaf and Dumb and the Halifax Ladies' College. In 1895 the provincial government appointed him to the Halifax Board of School Commissioners, which he would chair three years later. In 1896 he entered politics himself as an alderman, a post he held until 1901. Five years later he was elected to the House of Assembly as a Liberal, and he would retain his seat in 1911 and 1916. In 1910 he was named speaker after Edward Matthew Farrell went to the Senate, and the following year he replaced the defeated Benjamin Franklin Pearson* as minister without portfolio in George Henry Murray*'s government.
Faulkner's political career came to an ignominious end in the run-up to the general election of July 1920 when he failed to be renominated in Halifax County. It was almost unheard of for a cabinet minister, and the senior representative of a riding, not to be endorsed, but Faulkner placed seventh on a slate of eight candidates and was eliminated from the ballot. Had he been nominated and defeated, Murray, whose government was returned to power, would probably have appointed him to the Legislative Council. As it was, his position in cabinet was taken by James Cranswick Tory. The reason for his deselection remains unclear; it may have had something to do with his support of Sir Robert Laird Borden's Union government. Alexander Kenneth Maclean* had gone to Ottawa in 1917 to support the Union government, but the Liberals in Nova Scotia were badly divided, and by 1920 the Unionists had become a noxious embarrassment to the party.
An alternative explanation is that Faulkner was persona non grata because of his opposition to Irish Home Rule, which was generally favoured as a progressive measure typical of the Gladstonian Liberalism on which dominion Liberal party leaders had been weaned. Faulkner had recently been president of the Charitable Irish Society of Halifax. Unlike the Orange order and the Ancient Order of Hibernians, it was strictly bisectarian and took no partisan stance on controversial political and religious issues affecting Ireland. The society's members were nominally in favour of Home Rule, by which they meant an all-Ireland parliament in Dublin, full civil rights for all Irishmen, and a role similar to that of Canada in the British empire. Faulkner's group certainly did not favour an Irish republic or the partition of the country. Fanning the flames of pro–Home Rule sentiment in the summer of 1920 was the Self-Determination for Ireland League of Canada and Newfoundland, which had begun to organize provincially and locally during the Maritime tour of its founder, Katherine Angelina Hughes*.
Though Faulkner was in declining health because of heart disease, his death in harness in the spring of 1931 was unexpected. On the morning of 2 May he transacted business at the office of Eastern Canada Savings and Loan but felt unwell and went home, where he died of cardiac arrest. His daughter Georgene Lillian Lemesurier Faulkner, who like her elder sister Dora Guille had graduated ma from Dalhousie University, would become head of Faulkner and Company and manage it until her death in 1955, just over 60 years after her father had started it.
George Everett Faulkner died intestate, and neither his personal papers nor the records of his company are known to be extant.
Halifax County Court of Probate (Halifax), Estate papers, no.12556. NSA, "Nova Scotia hist. vital statistics," George Everett Faulkner, birth certificate, 1855; death certificate, 1931; Laura Guille D. Faulkner, death certificate, 1942: www.novascotiagenealogy.com (consulted 1 March 2016). Acadian Recorder (Halifax), 1895–1930. Halifax Chronicle, 1895–1931. Halifax Herald, 1895–1931. Canadian annual rev., 1920. Canadian men and women of the time (Morgan; 1912). CPG, 1906–19. Cyclopædia of Canadian biog. (Rose and Charlesworth), vol.3. Directory, Halifax, 1892–93, 1893–94, 1894–95, 1895–96. A directory of the members of the Legislative Assembly of Nova Scotia, 1758–1958 (Halifax, 1958). Robert McLaughlin, Irish Canadian conflict and the struggle for Irish independence, 1912–1925 (Toronto, 2013). Prominent people of the Maritime provinces (Montreal, 1922).
© 2018–2023 University of Toronto/Université Laval
Image Gallery

Cite This Article
Barry Cahill, "FAULKNER, GEORGE EVERETT," in Dictionary of Canadian Biography, vol. 16, University of Toronto/Université Laval, 2003–, accessed September 29, 2023, http://www.biographi.ca/en/bio/faulkner_george_everett_16E.html.
The citation above shows the format for footnotes and endnotes according to the Chicago manual of style (16th edition). Information to be used in other citation formats:
| | |
| --- | --- |
| Permalink: | http://www.biographi.ca/en/bio/faulkner_george_everett_16E.html |
| Author of Article: | Barry Cahill |
| Title of Article: | FAULKNER, GEORGE EVERETT |
| Publication Name: | Dictionary of Canadian Biography, vol. 16 |
| Publisher: | University of Toronto/Université Laval |
| Year of publication: | 2018 |
| Year of revision: | 2018 |
| Access Date: | September 29, 2023 |