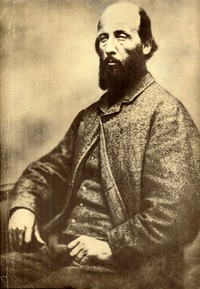 Source: Courtesy of Wikimedia Commons
FENERTY, CHARLES, inventor, poet, farmer, and office holder; b. January 1821 at Springfield Lake, N.S., son of James Fenerty and Elizabeth Lawson; m. Ann Hamilton, of Falmouth Village (Upper Falmouth), N.S.; they had no children; d. 10 June 1892 in Sackville, N.S.
Charles Fenerty grew up on his family's large farm and woodlots on the Windsor road near Sackville. The family ran three old-fashioned sawmills, and the youth was fascinated by the mechanical aspects of the operations. It was presumably while visiting the Holland paper-mill near Bedford Basin [see Anthony Henry Holland*] that he learned of the difficulty local mills experienced in obtaining a regular supply of rags, used at that time to produce paper. Observant and curious by temperament, he took up the challenge of finding a means of producing paper from wood. It was a practical and timely attempt, inasmuch as the increasing demand for paper from printing-shops and newspaper offices in Europe and North America was outstripping the availability of rags.
There are several theories concerning the inspiration for Fenerty's concept of making paper from wood. The naturalist Titus Smith*, a friend of the family, had written of the potential usefulness of spruce trees. Possibly Fenerty experimented with wood because it, like the cotton and linen in the rags, was a vegetable fibre, and he settled upon the soft spruce as the most suitable wood for conversion into "pulp paper," as he would term it. It has also been suggested that his observation of wasp nests, which resembled paper, led to his discovery of the process. The nests may simply have prompted the observation that various vegetable fibres could produce a paper-like material. The most likely theory is that the idea had come to young Fenerty during his long hours at the mills, as he watched the movement of the heavy wooden frames in which the saws were fixed as they lifted and fell within a wooden slide. The constant friction of wood on wood during the rising and falling motion produced a small quantity of fuzzy material, and Fenerty may have realized that this fibre could be utilized to make paper if it were flattened and shaped. According to tradition Fenerty showed a small sample of his "pulp paper," presumably produced by a process that he would later describe as "chafing" the wood, to his wife's brother-in-law Charles Hamilton in 1838 or 1839, when he was 17 or 18. His discovery would thus predate that of German weaver Friedrich Gottlob Keller, the inventor of the groundwood process of papermaking in the 1840s [see Alexander Buntin]. Unfortunately for Fenerty's subsequent fame, he did not make his findings public until 26 Oct. 1844, when a letter from him was published in the Acadian Recorder. Fenerty wrote that the sample he had enclosed, "which is as firm in its texture, as white, and to all appearances as durable as the common wrapping paper, made from hemp, cotton, or the ordinary materials of manufacture, is actually composed of spruce wood reduced to pulp, and subjected to the same treatment as paper."
No commercial advantage was taken in Nova Scotia of Fenerty's discovery. The inventor subsequently directed his creativity to the writing of verse. Among his productions was "Betula nigra," a poem celebrating a giant black birch on the family farm. It took first prize in poetry at the Nova Scotia industrial exhibition of 1854 and was published in Halifax the following year. In his song "Terra nova" (apparently never published) he expressed his views on confederation, and his Essay on progress, published in Halifax in 1866, praised in verse the Polish and Italian struggles for liberation and the spread of the British people and their language, laws, and industry around the world. The poem "Passing away," written years earlier about Prince's Lodge, the decaying estate in Rockingham where Prince Edward* Augustus had lived while in Nova Scotia, appeared in the Rockingham Sentinel in 1888.
In the 1850s Fenerty moved to Australia, where he remained for several years, perhaps working in the gold-fields. Following his return to Nova Scotia and his marriage to Ann Hamilton, he farmed in the Sackville area. He also served several years as health warden for his district and as measurer of wood in 1869, overseer of the poor on several occasions between 1870 and 1881, and district collector of county taxes from 1883 to 1890. He was active in St John's Church (Anglican), Sackville, as a lay reader, and he was a staunch Conservative. A supporter of the temperance cause, he was also a vocal opponent of the smoking of tobacco.
In character Charles Fenerty was a benign and reflective man, but somewhat eccentric in his habits. Several anecdotes have been passed down concerning his forgetfulness. He had the practice of walking home from an errand leaving his wagon hitched at a post where he had been. Once he was so engrossed in his thoughts that he could not recall at which of several locations he had become a pedestrian. In spite of his individuality, he was well regarded by his neighbours, and he is remembered today as probably Sackville's most famous son.
DUA, MS 2-158 (Charles Fenerty, "Hid Treasure; or, the Labours of a Deacon – and other poems" (c. 1900?)). PANS, MG 1, 1854, F/3, 6, 10, 21, 26. Acadian Recorder, 26 Oct. 1844, 19 June 1847. Halifax Herald, 13 June 1892. Canadian encyclopedia. C. B. Fergusson, Charles Fenerty; the life and achievement of a native of Sackville, Halifax County, N.S. (Halifax, 1955). A. E. Marble, Nova Scotians at home and abroad, including biographical sketches of over six hundred native born Nova Scotians (Windsor, N.S., 1977), 158–59. T. M. Punch, "Charles Fenerty (1821–1892), the Sackville papermaker," in his Some sons of Erin in Nova Scotia (Halifax, 1980), 83–89. Shemas Hall, "Who invented mechanical wood pulp?" World's Paper Trade Rev. (London), 62 (1914): 1017–19. Gordon Minnes, "Progress with paper," Atlantic Advocate (Fredericton), 57 (1966–67), no. 4: 16–23. N.S., Provincial Museum and Science Library, Report (Halifax), 1927: 27.
© 1990–2023 University of Toronto/Université Laval
Image Gallery

Cite This Article
Terrence M. Punch, "FENERTY, CHARLES," in Dictionary of Canadian Biography, vol. 12, University of Toronto/Université Laval, 2003–, accessed September 25, 2023, http://www.biographi.ca/en/bio/fenerty_charles_12E.html.
The citation above shows the format for footnotes and endnotes according to the Chicago manual of style (16th edition). Information to be used in other citation formats:
| | |
| --- | --- |
| Permalink: | http://www.biographi.ca/en/bio/fenerty_charles_12E.html |
| Author of Article: | Terrence M. Punch |
| Title of Article: | FENERTY, CHARLES |
| Publication Name: | Dictionary of Canadian Biography, vol. 12 |
| Publisher: | University of Toronto/Université Laval |
| Year of publication: | 1990 |
| Year of revision: | 1990 |
| Access Date: | September 25, 2023 |