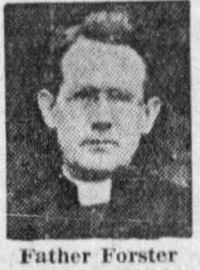 Source: Link
FORSTER, ROBERT FRANCIS, Roman Catholic priest, Basilian, educator, and superior general; b. 16 May 1873 near Simcoe, Ont., son of John Forster, a farmer, and Rosanna Harvey; d. 11 Nov. 1929 in Montreal.
Francis Forster attended local schools before transferring in 1890 to the Basilian-run Assumption College in Sandwich (Windsor). "A boy who seemed always enjoying life to the full," he completed his classical studies there in brilliant fashion, winning nearly every prize at graduation. Although small for his age, Forster had a strong personality and fearless self-assurance. He was a natural leader and an accomplished and relentless debater. His determination to win over opponents was a characteristic that would mark his priestly career.
After graduation Forster stayed at Assumption for two more years of philosophy, and then an extra year, studying theology and teaching the junior classes. In 1897 he entered the Basilian novitiate in Toronto and he was ordained a priest on 30 June 1901. He taught belles-lettres at St Michael's College in Toronto from 1901 to 1903, after which he was made superior of St Basil's College in Waco, Tex. In 1907 he returned to Assumption as superior and he remained there until 1919.
Forster was a thoroughly modern college administrator for whom change was inevitable and healthy. In curriculum, he lifted Assumption out of the 19th century. He immediately added a fourth year to the high school program, which gave the students an opportunity to achieve junior matriculation in conformity to provincial regulations [see John Seath*]. He also welcomed the prospect of affiliating Assumption's college division, or arts department, with the Western University of London, Ontario, and would have achieved this result as early as 1909 if the diocese of London had not been vacant. Instead, he had to let the initiative pass to the new bishop, Michael Francis Fallon*, who for a variety of reasons did not sign articles of affiliation until 1919 and only then on a misunderstanding about the future location of the arts department. Fallon wanted it transferred to Western, where the Ursuline college for women in Chatham would also be moved. Forster was just as adamant that it would stay in Sandwich. Without it, the high school might fail and all the efforts the Basilians had made to build up the Sandwich campus would be in ruins. In spite of the dispute, affiliation was a tremendous leap forward. It offered Assumption graduates proper university degrees for the first time.
At the college itself, Forster was a whirlwind of activity. He eliminated the debt from the chapel, built by his predecessor; he replaced gas lighting with electricity; he refurbished the 1875 and 1884 buildings erected by superior Denis O'Connor*; and he financed the construction of a much-needed gymnasium, dormitory, and central heating plant, in the face of constant interference from Victorin Marijon, who became superior general of the Basilians in 1910. Forster increased the student rolls to capacity and would have expanded them even further had it not been for World War I, the influenza pandemic of 1918, and Bishop Fallon's decision to remove his diocesans from the college. Forster knew each boy by name and home town and monitored his progress. He was especially anxious about those fighting overseas, taking the time to respond to their letters. Also noteworthy is his introduction to the college's front office of a typewriter and the practice of making carbon copies. Typing all his own correspondence, he left a rich archive that reveals a logical mind in control of every detail connected with his religious community and his boarding school.
Forster had entered the Basilians at a time of high tension between the French-speaking members from France and the English-speaking members from Canada and the United States. The French believed, in the words of Father Thomas James Hanrahan, that "religious life consisted precisely in the voluntary and life-long acceptance of obedience to the authority of the Superior." The North Americans looked instead to the community's rules and traditions; in their minds, the superior was but the first among equals in running the community in a democratic fashion. At the general chapter of 1910 a compromise of sorts was reached. The Basilian community divided itself into two provinces, one for France and one for America, each to be governed by a provincial, and the whole to be governed by a superior general. However, this new arrangement simply exacerbated tensions.
In 1911 Forster was made a member of the provincial council for America. He was elected provincial five years later (he continued as superior at Assumption, undoubtedly feeling that the college needed his guidance during the war years) and was re-elected in 1919, when he moved to Toronto. No sooner had he taken his seat on the council than he let it be known that the only solution to "the tyrannical, absolute and unconstitutional administration of Fr. Marijon" was his resignation as superior general and the establishment of an independent government for each province. Rome rebuked him for his harsh opinions, but he was to win the day. In 1914 Rome requested and received Marijon's resignation, and in 1922, in response to a petition from the French province, it issued a decree establishing the Congregation of Priests of St Basil of the Diocese of Viviers, in France, and the Congregation of Priests of St Basil of Toronto. That same year Forster was elected the Toronto congregation's first superior general, and he was re-elected in 1928.
During the years immediately preceding his first election Forster's prime objective was to rewrite the constitutions for the Toronto congregation so that they conformed to the regulations governing every other religious community in the church. His study of the 1917 Code of Canon Law had convinced him in particular that Rome would continue to reject the constitutions, and consequently the Basilians' desire to be a true religious congregation and not just a pious sodality of priests, if they did not include a simple vow of poverty held in common by all members.
Working single-handedly, Forster completed the constitutions by August 1922, when the general chapter met, and he later oversaw the amendments to them. Although Rome gave its approval on 7 May 1923, he had to spend a year contacting each member of the community about the vow of poverty and the desirability of abandoning a largely unregulated community life in favour of unambiguous written rules and an exact observance of them. In the end, most quietly took the new vow. Rome suggested modifications to the constitutions in 1928 and gave final approval ten years later. For the first time since their inception in France in 1822 the Basilians were fully recognized as a religious community.
Forster had continued to accomplish a great deal of good in education. He managed to keep the arts department in Sandwich by winning a decisive Roman judgement against Fallon in 1925; he purchased a building on St Mary Street in Toronto for Basilian scholastics in 1926; he sent Basilians to teach at the Aquinas Institute in Rochester, N.Y., in 1927; he opened the Catholic Central High School in Detroit in 1928; and he supported the changes at St Michael's College that issued in the founding in 1929 of the Institute of Mediaeval Studies under Father Henry Carr*.
Forster died by drowning in Montreal in November 1929. He had been waiting for a ship to dock, lost his footing in the dark, and slipped into the water unnoticed. His body was not recovered until the spring, when he was buried in Mount Hope Cemetery in Toronto. His devotion to Catholic education inspired a generation of Basilian leaders, and his role in transforming the Basilians into a religious community guaranteed their growth and prosperity for many decades and led to his being honoured as the "second founder" of the congregation.
General Arch. of the Basilian Fathers (Toronto), c. 314 1929.3 (R. F. Forster file), including a typescript copy of an undated item in the Bay City Daily Times (Bay City, Mich.) and a manuscript genealogical chart. Evening Record (Windsor, Ont.), 22 June 1893. Henry Carr, A sketch of the late Very Reverend Father Francis Forster, c.s.b. (address delivered at Father Forster's funeral mass at St Basil's Church, Toronto, 12 May 1930; privately printed; copy in General Arch. of the Basilian Fathers). A documentary history of Assumption College . . . , ed. and intro. Michael Power (4v., [Windsor], 1984-89), vol.3 (Assumption College: the making of a modern school, 1890-1919, 1986). T. J. Hanrahan, The Basilian Fathers (1822-1972): a documentary study of one hundred and fifty years of the history of the Congregation of Priests of St. Basil (Toronto, 1973). W. E. Kelly, "Father Forster: a sketch of the president of Assumption College," Canadian Magazine, 48 (November 1916-April 1917): 289-92. K. J. Kirley, The Congregation of Priests of St. Basil of Viviers, France, 1922-1955 (Toronto, 1981); 1922: before and after ([Toronto], 1992). Michael Power, "Fallon versus Forster: the struggle over Assumption College, 1919-1925," CCHA, Hist. studies, 56 (1989): 49-66. R. J. Scollard, Dictionary of Basilian biography: lives of members of the Congregation of Priests of Saint Basil from its beginnings in 1822 to 1968 (Toronto, 1969), 59. "Very Reverend Francis Forster, c.s.b. (1873-1929)," Basilian Newsletter (Toronto), no.15 (November 1979): 2.
© 2005–2023 University of Toronto/Université Laval
Image Gallery

Cite This Article
Michael Power, "FORSTER, ROBERT FRANCIS," in Dictionary of Canadian Biography, vol. 15, University of Toronto/Université Laval, 2003–, accessed December 10, 2023, http://www.biographi.ca/en/bio/forster_robert_francis_15E.html.
The citation above shows the format for footnotes and endnotes according to the Chicago manual of style (16th edition). Information to be used in other citation formats:
| | |
| --- | --- |
| Permalink: | http://www.biographi.ca/en/bio/forster_robert_francis_15E.html |
| Author of Article: | Michael Power |
| Title of Article: | FORSTER, ROBERT FRANCIS |
| Publication Name: | Dictionary of Canadian Biography, vol. 15 |
| Publisher: | University of Toronto/Université Laval |
| Year of publication: | 2005 |
| Year of revision: | 2005 |
| Access Date: | December 10, 2023 |