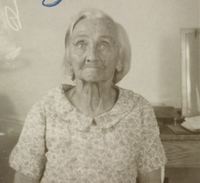 Source: Link
G., Alice (her initials were A. G.; her real name cannot be made public for legal reasons), housekeeper and asylum inmate labourer; b. 1854 in Murray Township, Upper Canada; d. unmarried 24 May 1938 in Toronto.
Alice G. toiled for decades in the laundry of a psychiatric institution at a time when patients' labour constituted an essential part of the economy of the provincial asylum system. Those admitted were generally assigned the kind of work they had done to make a living before their confinement; however, in the asylums they were not paid for their labour.
Alice was originally from a rural district near where the Trent River meets the Bay of Quinte, but very little is otherwise known about her early life. In 1893 she was sent to Toronto's Asylum for the Insane, headed by Daniel Clark*. It was noted in her file that she was a "spinster" with no children, who was employed as a "housekeep[er]." An Anglican, she had a "good English common school" education and refrained from drinking spirits. Her madness was said to have been brought on by "disappointment in love affairs," a doctor in the community of Wooler, near where she lived, having been the focus of her feelings. She claimed that he had made her pregnant and she would give birth to two babies, one gold, one silver, and that she was a prophetess who would live forever and perform miracles through prayer. Henry W. Day, one of the doctors who completed her admission papers, described her speech as both "sharp and shrill" and "very low and subdued," while his colleague George Acheson wrote that she "laughs immoderately without due cause." She was considered suicidal since she had told a neighbour "that it was a good thing there were rivers about so that she could put an end to herself." After the papers were filled out Alice was committed to the asylum, where she would spend the remaining 45 years of her life.
For the first 16 years, nothing about Alice was recorded. Then, beginning in 1909, during the superintendency of Charles Kirk Clarke*, who emphasized regular clinical note taking, sporadic entries would be made in her file, providing brief glimpses of her time behind institutional walls. While she was there the overcrowded asylum would hold between 900 and 1,150 patients (it had been designed to accommodate about 700 as of 1870), with roughly equal numbers of men and women. The locked public wards where Alice and other non-paying residents lived were cold in the winter, infested with rats, and devoid of such basic comforts as cushions or carpets. In 1909 she was moved out of the main building and into one of the so-called cottages, large three-storey residences that had been constructed on the grounds to relieve congestion. Each housed about 50 patients. Those who lived in these units were considered unlikely to escape; there is no record that Alice ever tried to do so. Except for a brief return to a main ward in 1910, she would stay in one of the two cottages for women patients until just a few weeks before her death.
The most consistently reported aspect of Alice's life at the asylum is her labour in the laundry where she worked daily for at least 28 years. The first mention of her service is found in a 1909 entry, which describes her as "a good worker"; several similar remarks would be added to her file over the decades that followed. In 1921, at the age of 67, she is described as "an ironer" who is at the laundry "every day." Proponents claimed that moral therapy, which was supposed to comprise work, recreation, religious services, good diet, and exercise, was beneficial for patients. But it exploited those patients who were most disadvantaged. Paying residents were, in the majority of cases, exempt from doing chores, which meant that the poorest patients were expected to do the most work although they had not asked to be confined and were under no obligation to perform unpaid tasks. Advocates of moral therapy, such as Clark, believed that the work needed to be light if it was to have a positive effect, but ironing involved heavy lifting in a hot, steamy environment. Alice, described in 1923 as a "little old lady" (her weight during the last five years of her life would hover around 100 pounds), did her tasks "willingly," according to one report. How she felt about her duties is impossible to know since she, like most asylum inmates, left no first-person accounts. In 1935 she was said to be a "fairly good worker" who was at her job daily, but two years later Alice "suddenly refused to go any longer" and would "give no explanation" for her decision. The recording doctor wrote that "she is probably too old to do much work now." She was then 83 years old. Moral therapy in the form of decades of unpaid labour is the only type of treatment she seems to have received.
Glimpses of Alice's personality and suffering come through in the reports, where she is characterized as "un-cooperative" because she resisted bathing, for which behaviour she received a black eye from the staff; at other times she is praised for keeping herself clean. She is described on one occasion as "very affable," and on another as "very peculiar" because she "talks and smiles away to herself." Doctors observed that she was "always on the move" around the building, heard "strange voices," and sometimes got into fights with fellow patients. During her last years she wore "old rags and soiled clothes pinned to her dress," items that she might have taken from the laundry.
A photograph of her from 1937 shows a gaunt woman with short, white, tidy hair and sunken lips; her large, round eyes stare ahead. Two months before Alice G. died of heart failure in May 1938, her weight had declined to 81 pounds. Though she was not known to have ever had visitors, Alice was buried in St James' Cemetery, a service paid for with funds left by her niece. This sole evidence of outside remembrance over 45 years underscores the isolation of her asylum life. Alice's words, recorded in 1927, are thus especially poignant: "She claims she is here 'by mistake.'"
AO, RG 10-270, patient file no.4038 (file no. anonymized in accordance with provincial privacy laws). Erin Anderssen, "The lonely madness of Alice G.," Globe and Mail, 20 June 2008: A8. Geoffrey Reaume, Remembrance of patients past: patient life at the Toronto Hospital for the Insane, 1870–1940 (Don Mills [Toronto], 2000).
© 2016–2023 University of Toronto/Université Laval
Cite This Article
Geoffrey Reaume, "G., ALICE," in Dictionary of Canadian Biography, vol. 16, University of Toronto/Université Laval, 2003–, accessed September 30, 2023, http://www.biographi.ca/en/bio/g_alice_16E.html.
The citation above shows the format for footnotes and endnotes according to the Chicago manual of style (16th edition). Information to be used in other citation formats:
| | |
| --- | --- |
| Permalink: | http://www.biographi.ca/en/bio/g_alice_16E.html |
| Author of Article: | Geoffrey Reaume |
| Title of Article: | G., ALICE |
| Publication Name: | Dictionary of Canadian Biography, vol. 16 |
| Publisher: | University of Toronto/Université Laval |
| Year of publication: | 2016 |
| Year of revision: | 2016 |
| Access Date: | September 30, 2023 |