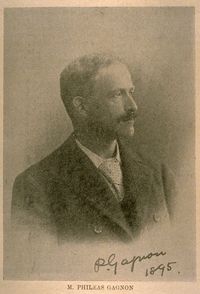 Source: Courtesy of Bibliothèque et Archives Nationales du Québec / 52327/2075345
GAGNON, PHILÉAS (baptized Jean-Philéas), tailor, book collector, politician, author, and office holder; b. 6 May 1854 at Quebec, son of Charles Gagnon, a joiner and later a shopkeeper, and Hortense Caron, niece of René-Édouard Caron*; m. there 29 Jan. 1883 Annie Smith in the church of Saint-Roch, and they had ten children; d. there 25 March 1915 and was buried 29 March in Notre-Dame de Belmont cemetery at Sainte-Foy, Que.
Philéas Gagnon studied with Charles Dion and then with Honoré Rousseau at Quebec before entering the Académie Commerciale Saint-Jean-Baptiste, run by Charles-Joseph-Lévesque Lafrance. At 15 he was apprenticed to a tailor and five years later he opened his own business on the northeast corner of Rue Sainte-Marguerite and Rue Anne (Rue de la Chapelle). About the same time he received his first serious initiation into a rather exclusive and aristocratic circle of book collectors such as Louis-Édouard Bois*, Henri-Raymond Casgrain*, Pierre-Joseph-Olivier Chauveau*, and Narcisse-Henri-Édouard Faucher* de Saint-Maurice.
Gagnon's schooling was relatively limited and his income as a tailor was modest. But by shrewd purchases at the many local auctions, advertising inserts in specialty magazines (even foreign ones), and his own published sales catalogues which listed his surplus holdings, he succeeded in building up a collection that his contemporaries – historians, researchers, and writers better educated and more affluent than he – would come to recognize as the best and most complete in Canada. In 1895 Gagnon published privately a systematic catalogue of his library entitled Essai de bibliographie canadienne, laying out the results of his 20-year passion for book collecting. The catalogue would reveal publicly the riches of this collection, which at the time was known only to the Quebec tailor's closest friends. As diverse as it was large, it contained manuscripts, books, pamphlets, newspapers, periodicals, prints, engravings, and portraits. All were published in the province of Quebec or related to it and they covered the period from the beginning of colonization to the late 19th century. The reputation of its author as a scholar, meticulous researcher, and conscientious historian was enhanced by the catalogue's publication. It led to his appointment on 18 Feb. 1898 as curator of the judicial archives of the Quebec district and on 25 Feb. 1909 as assistant protonotary of the district's Superior Court.
Municipal politics also attracted Gagnon's interest. He was involved principally as a councillor for Jacques-Cartier ward from 1888 to 1892 and as alderman from 1892 to 1896. In addition, he was a fairly regular contributor to a number of historical magazines, especially after the appearance of his Essai. In particular he wrote for Le Bulletin des recherches historiques, and even when not contributing articles himself, he was constantly being cited as a source or reference. From 1888 to about 1890 he served on the editorial staff of the Quebec weekly L'Union libérale, for which he wrote a historical column under the pseudonym Biblo. He belonged to several associations, including the Literary and Historical Society of Quebec, in which he held the position of museum curator from 1907. The following year he became an active member of the Geographical Society of Quebec, and he was on its board of directors in 1910.
The magnitude of his work as a book collector, and the question of what might become of it, was a frequent source of worry to Gagnon. As early as 1885 he had begun to consider divesting himself of his collection. He obviously had this prospect in mind when he sent his sale catalogues to the great American libraries and invited them to borrow and examine his handwritten catalogue. Five years later he approached the province's legislative library, but it chose to take the library of Pierre-Joseph-Olivier Chauveau instead. As the years passed, the idea of selling his collection became increasingly urgent. In the summer of 1905 Gagnon made an unsuccessful offer to the federal government. Finally in 1910, through the good offices of Abbé Nazaire Dubois, the principal of the École Normale Jacques-Cartier, the city of Montreal purchased his library.
Gagnon would not have the satisfaction of seeing his collection contribute to the cultural enrichment of Montrealers. It was kept in storage until 1917, when a building was erected for the Civic Library. However, in 1913 municipal librarian Frédéric-Edmond Villeneuve, using Gagnon's bibliographical cards, brought out the second volume of the Essai. Thereby Villeneuve assisted in completing a work of bibliography particularly noteworthy as an individual undertaking that would help to preserve a significant part of Quebec's bibliographical heritage. Philéas Gagnon marks a turning-point in Canadian book collecting and bibliography. An adventure such as his would, in time, become less and less likely to be repeated as institutions gradually took over from private collectors.
Philéas Gagnon is the author of Essai de bibliographie canadienne; inventaire d'une bibliothèque comprenant imprimés, manuscrits, estampes, etc., relatifs à l'histoire du Canada et des pays adjacents . . . (2v., Québec et Montréal, 1895–1913; réimpr. Dubuque, Iowa, [1962]); the second volume, containing items ajoutés à la collection Gagnon, depuis 1895 à 1909 inclusivement, d'après les notes bibliographiques et le catalogue de l'auteur, was published under the direction of F. [-E.] Villeneuve.
AC, Québec, État civil, Catholiques, Saint-Jean-Baptiste (Québec), 29 mars 1915. ANQ-M, P-31. ANQ-Q, CE1-22, 7 mai 1854, 29 janv. 1883; P-89. ASQ, Fonds Verreau–Gagnon, 30; Polygraphie, XXXV–XXXVII, XLII. NA, MG 26, G: 100415–16; MG 29, D10. Private arch., Mme Monique Gagné (Québec), Philéas Gagnon, "Notes de famille," a 255-page manuscript, a photocopy of which is at the Salle Gagnon, Bibliothèque de la Ville de Montréal. Marie Baboyant, "Philéas Gagnon et la 'Collection Gagnon' de la Bibliothèque de la ville de Montréal," in Livre, bibliothèque et culture québécoise: mélanges offerts à Edmond Desrochers, s.j., sous la direction de G.-A. Chartrand (2v., Montréal, 1977), 311–36. Claude Duchesne, Bio-bibliographie de M. Philéas Gagnon (Montréal, 1947). Daniel Olivier, "Philéas Gagnon, bibliophile" (thèse de m.bibl., univ. de Montréal, 1978).
© 1998–2023 University of Toronto/Université Laval
Cite This Article
Daniel Olivier, "GAGNON, PHILÉAS," in Dictionary of Canadian Biography, vol. 14, University of Toronto/Université Laval, 2003–, accessed December 5, 2023, http://www.biographi.ca/en/bio/gagnon_phileas_14E.html.
The citation above shows the format for footnotes and endnotes according to the Chicago manual of style (16th edition). Information to be used in other citation formats:
| | |
| --- | --- |
| Permalink: | http://www.biographi.ca/en/bio/gagnon_phileas_14E.html |
| Author of Article: | Daniel Olivier |
| Title of Article: | GAGNON, PHILÉAS |
| Publication Name: | Dictionary of Canadian Biography, vol. 14 |
| Publisher: | University of Toronto/Université Laval |
| Year of publication: | 1998 |
| Year of revision: | 1998 |
| Access Date: | December 5, 2023 |