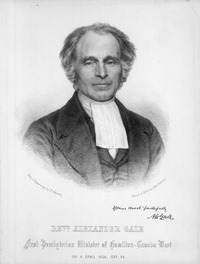 Source: Courtesy of Toronto Public Library/ DC-OHQ-PICTURES-S-R-922
GALE, ALEXANDER, Presbyterian minister and educator; baptized 18 Dec. 1800 in Logie Coldstone, Scotland, son of John Gale and Jean Esson; m. 9 Aug. 1836 Margaret Scarth of Kirkwall, Scotland, and they had at least two daughters and one son; d. 6 April 1854 in Albion Mills (Hamilton), Upper Canada.
Eldest child of a middle-class farming couple, Alexander Gale was born and raised in the rural parish of Logie Coldstone, deep in southern Aberdeenshire. After attending the local parish school he went on scholarship in 1815 to Marischal College (University of Aberdeen), graduating with an ma in 1819. He then began theological training in Aberdeen and was licensed to preach by the Church of Scotland's Presbytery of Kincardine O'Neil. But without influence it was difficult to find ministerial posts in Scotland and in the spring of 1827 he sailed for Montreal to join his uncle the Reverend Henry Esson, who had been serving there since 1817.
During his first year in the colony he assisted Esson and coordinated a survey by the home church's colonial committee of the Scottish Presbyterian community in the Canadas. In the fall of 1828 he moved to Amherstburg, Upper Canada, where he formed a school and a congregation and was, it seems, ordained. But plagued by what contemporaries described as malarial fever, he decided to try a change of environment. In July 1831, no doubt with his uncle's assistance, he was assigned to the Lachine Free School by the Royal Institution for the Advancement of Learning. The Presbytery of Quebec simultaneously appointed him missionary to the area, replacing both Esson and Edward Black*, and by the following year he had succeeded in organizing a congregation there. He resigned both posts in 1833 to accept a call from Hamilton, Upper Canada, where he was to remain for the next 13 years.
Although Gale helped found the Presbytery of Hamilton in 1836, was elected moderator of synod the following year, and created the home missions committee in 1841, he rarely played a dominant role in church affairs. Mild, urbane, he was a voice of moderation, counselling conciliation and tolerance both within and without the church. He urged, for example, ongoing negotiations for union with other Presbyterian bodies and the distribution of state support to a wider range of Protestant groups. It was his compromise motion that held the Canadian synod together in 1843 when the established church in Scotland was experiencing widespread defections, but moderation could not succeed in the Canadas the next year and Gale reluctantly sided with the breakaway evangelical Synod of the Presbyterian Church of Canada, commonly called the Free Church. Recognizing the pressing needs of the new church, he became more active, assuming, among other duties, the editorship of the Ecclesiastical and Missionary Record from 1844 to 1846 and again briefly in 1853.
Gale was not particularly at home in the pulpit. Unassuming and infinitely patient, he made teaching his first love. He warmly advocated the training of ministerial candidates in the Canadas and with the synod's approval oversaw their instruction at Hamilton from 1837 until Queen's College, Kingston, opened in 1842. When the Free Church synod in 1846 offered him the dual appointment of professor of classics at its college in Toronto (after 1858 Knox College) and principal of Toronto Academy, the proposed boarding- and day-school intended to raise prospective students of the college to seminary level, he accepted with alacrity. With the creation of the University of Toronto in 1849 it was no longer necessary for the college to offer his courses so it abolished Gale's professorship, allowing him to devote his full energies to the academy. Converted into a private institution, it flourished under his astute management. In 1853 his synod elected him moderator in acknowledgement of his services, but poor health forced him to retire that year to Logie, his farm at Albion Mills, where he advertised the opening of a select boarding-school. A year later, in April 1854, he died, survived by his wife and two children.
[Primary sources relating to Gale's life are fragmentary. Records of the relevant sessions, presbyteries, and synods outline his career; further details appear in PAC, MG 9, D7, 27 and MG 24, D16; QUA, William Morris papers; the Lee papers in the National Library of Scotland (Edinburgh), mss 3436/270, 3437/68; McGill Univ. Arch. (Montreal), Royal Institution for the Advancement of Learning, letter-books and salary returns; and in the Gale files in the UCA and PCA. The Ecclesiastical and Missionary Record for the Presbyterian Church of Canada (Toronto) carries advertisements for and commentary on the Toronto Academy. See also E. A. [Kerr] McDougall, "The Presbyterian Church in western Lower Canada, 1815–1842" (phd thesis, McGill Univ., 1969), and The Presbytery of Hamilton: 1836–1967, comp. T. M. Bailey et al. (Hamilton, Ont., 1967).
Two works bearing Gale's name, Address of the commission of the Synod of the Presbyterian Church in Canada, in connection with the Church of Scotland, to the members of that church (Toronto, 1838) and Address of the commission of Synod . . . to the people under their charge (Toronto, 1838), are official statements of the church published over his signature as moderator and, as such, should not be considered his publications. In his official capacity as moderator he also addressed a protest on behalf of the church to Lieutenant Governor Sir George Arthur; it was published as a broadsheet under the title Protest by the moderator of the Synod of Upper Canada, against the rectories established by Sir John Colborne (Hamilton, 1838); a copy is available at UCA. h.j.b.]
GRO (Edinburgh), Logie-Coldstone, reg. of births and baptisms, 18 Dec. 1800; reg. of marriages, 23 Feb. 1800. SRO, CH1/2/150, 27 Oct. 1827. UCA, James Croil papers, diary, 1866–67: 56, 199. Croil, Hist. and statistical report (1868), 13, 56–57. Ecclesiastical and Missionary Record for the Presbyterian Church of Canada, 4 (1847–48): 32; 5 (1848–49): 163–64, 184; 6 (1849–50): 25, 168, 183, 190; 9 (1852–53): 25, 113–14, 160; 10 (1853–54): 102–3. "Rev. Alex. Gale, M.A.," Knox College Monthly (Toronto), 2 (1883–84): 65–70. George Sheed et al., "Memorial on the state of religion in certain districts of Upper Canada," Glasgow Soc. (in Connection with the Established Church of Scotland), for Promoting the Religious Interests of the Scottish Settlers in British North America, Annual report (Glasgow), 1831: 28–32. Daily Spectator, and Journal of Commerce, 10 April 1854. Fasti Academiae Mariscallanae Aberdonensis: selections from the records of the Marischal College and University, [1593–1860], ed. P. J. Anderson and J. F. K. Johnstone (3v., Aberdeen, Scot., 1889–98), 2: 423. Handbook of the Presbyterian Church in Canada, 1883, ed. A. F. Kemp et al. (Ottawa, 1883). Scott et al., Fasti ecclesiœ scoticanœ, 7. William Campbell, A history of Knox Presbyterian Church, Hamilton, Ontario ([Hamilton], 1967), 2–3. Gregg, Hist. of Presbyterian Church.
© 1985–2023 University of Toronto/Université Laval
Image Gallery

Cite This Article
H. J. Bridgman, "GALE, ALEXANDER," in Dictionary of Canadian Biography, vol. 8, University of Toronto/Université Laval, 2003–, accessed June 10, 2023, http://www.biographi.ca/en/bio/gale_alexander_8E.html.
The citation above shows the format for footnotes and endnotes according to the Chicago manual of style (16th edition). Information to be used in other citation formats:
| | |
| --- | --- |
| Permalink: | http://www.biographi.ca/en/bio/gale_alexander_8E.html |
| Author of Article: | H. J. Bridgman |
| Title of Article: | GALE, ALEXANDER |
| Publication Name: | Dictionary of Canadian Biography, vol. 8 |
| Publisher: | University of Toronto/Université Laval |
| Year of publication: | 1985 |
| Year of revision: | 1985 |
| Access Date: | June 10, 2023 |