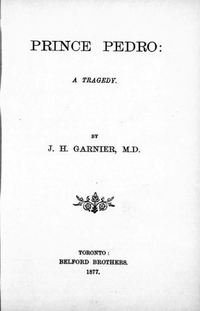 Source: Link
GARNIER, JOHN HUTCHISON, physician, naturalist, and author; b. 1823 in Scotland, son of a French Roman Catholic mother and a Huguenot father; d. 1 Feb. 1898 in Lucknow, Ont.
John Hutchison Garnier's father fled France because of religious persecution and settled in Scotland, where he was commissioned a colonel. The family was apparently well-to-do, for, though no details have been discovered, Garnier was said to have later received substantial sums from Scotland periodically.
Garnier studied medicine in Dublin and Paris in the early 1850s. While in Ireland he became an ardent Orangeman and an acquaintance and admirer of Daniel O'Connell. After graduation he travelled widely, visiting, among other locations, Cape Colony (Republic of South Africa), India, and Australia, and in 1856, for reasons unknown, he settled and began a medical practice in Hagersville, Upper Canada. Dr Alexander John Mackenzie, who in his youth had known Garnier, suggested that Garnier had a brother living in Upper Canada at this time. Four years later he moved to Lucknow, a recently established town still identified as being in the Queen's Bush. There he would spend the remaining 38 years of his life.
Although well educated and well trained, Dr Garnier was a rough-and-ready practitioner who lacked, perhaps deliberately, a soothing bedside manner. Despite his gruffness, his practice flourished; Sunday afternoon visiting hours found the street in front of his office thronged with patients and their families. He became widely known as an accoucheur, being among the first in Ontario to use obstetrical forceps. He was also a skilled operator for cataract, on which he used an instrument he himself had devised.
According to numerous eyewitness accounts of his behaviour, Garnier was an idiosyncratic and eccentric man with a reputation for violent language. He had a vigorous and rough sense of humour which he exhibited to patients, acquaintances, and strangers alike. On one occasion he is supposed to have given a young woman a ride in his buggy; as they proceeded, he warned her that he was subject to fits but that she should not be concerned. In the middle of a wide stream he suddenly contrived a "fit" of gargantuan proportions, whereupon she fled, wet and screaming. Dr Mackenzie remembered him as an awesome figure, whom the townspeople "mixed up with the fays and wraiths of the Highland legends." Mackenzie describes a boyhood incident in which a companion, captured by the doctor while stealing apples, was brought into Garnier's home "shivering in dread of strange tortures"; instead, he was shown the treasures of snakes and frogs and was released, having been recruited to add to the collection.
Garnier had one of the finest flower gardens in Lucknow and was among the first importers of foreign bulbs. He was both an ardent hunter and a dedicated naturalist. His gun went with him on house calls, on casual strolls, and, seemingly, on all other occasions. His legendary skill as a marksman further enhanced the aura of eccentricity that enveloped him. Edward S. Caswell, a resident of Lucknow, remembered seeing an elderly Garnier display undiminished skill in bringing down some small birds for his collection. He had preserved and categorized the animals, birds, and reptiles he killed, and sought constantly to fill gaps in his collections, finally becoming an acknowledged expert on the birds and reptiles of Ontario. Thomas McIlwraith*, in The birds of Ontario, credits him with many helpful observations. In 1891 Garnier donated substantial collections to the University of Toronto which now constitute a valued component of the appropriate departments in the Royal Ontario Museum. According to a biographer, W. Victor Johnston, his total contribution to Toronto museums included 600 birds, 160 mounted birds, 120 mammals, 125 mammalian skulls, 170 salamanders, 385 frogs and toads, about 400 non-venomous and 140 venomous snakes, and 360 turtles, lizards, horned toads, alligators, and other similar creatures.
Garnier seems to have made little original contribution to scientific medical literature, although a few of his articles on clinical experiences were published, including one on obstetrical difficulty resulting from an excess of amniotic fluid. He was also the author of at least one theoretical paper on snake venoms; after he accidentally came into contact with cobra poison by handling some dead snakes from India, he was obliged to put theory to the test, and he believed that his recovery was a direct result of this application. Fluent in several languages, during the latter decades of the 19th century Garnier translated foreign articles for various Canadian medical journals. He was active in the Canadian Institute, where in February 1883 he delivered a paper on "The poisonous snakes of North America." Elected a member in March 1889, he felt isolated there, lacking colleagues with interests similar to his own.
Garnier displayed talent in yet another direction. He was the author of at least three plays: "Dandolo; a tragedy in five acts"; "Moron, the Jew of Syracuse"; and Prince Pedro, which is said to have been performed in two London theatres as well as privately for Queen Victoria. At the time of his death, in February 1898, he had nearly completed a book on reptilia and a work of biblical criticism, "The mistakes of Moses."
It remains a mystery why Garnier, a man of considerable ability and wide interests, chose to settle in the hamlet of Lucknow. His personal life is also obscure. Rumours circulated that an unknown and unidentified young man visited him once, and that after he left Garnier discovered the stranger was his own son.
[Details concerning John Hutchison Garnier's collection of specimens were communicated to the author by Ross MacCulloch of the Royal Ontario Museum (Toronto). c.g.r.]
Garnier is the author of a number of reports on medical and scientific topics, including "Over-distention of the uterus from excess of liquor amnii," Canada Lancet (Toronto), 3 (1870–71): 262–66; "List of reptilia of Ontario," Canadian Sportsman and Naturalist (Montreal), 1 (1881): 37–39; and "The poisonous snakes of North America" (paper read at the Canadian Institute, Toronto, 23 Feb. 1883), a copy of which is preserved in the James Little Baillie coll. in the UTFL (see below). His abstract of a paper on "Snake poisons," presented before the institute in November 1887, appears in its Proc. (Toronto), 3rd ser., 5 (1888): 255–61.
Garnier's writings also include one published play, Prince Pedro: a tragedy (Toronto, 1877). The titles "Dandolo; a tragedy in five acts" and "Moron, the Jew of Syracuse" are recorded as having been submitted in 1893 for copyright in the United States, but they do not appear to have been published.
UTFL, ms coll. 127 (J. L. Baillie coll.), box 27. Thomas McIlwraith, The birds of Ontario . . . (Hamilton, Ont., 1886; 2nd ed., Toronto, 1894). Dramatic compositions copyrighted in the United States, 1870 to 1916 (2v., Washington, 1918), 1: 464, 1556. P. B. [A.] O'Neill, "A checklist of Canadian dramatic writings to 1967, part i – A to K," Canadian Drama (Guelph, Ont.), 8 (1982): 262. E. S. Caswell, "An eccentric physician," Canadian Journal of Medicine and Surgery (Toronto), 79 (1936): 135–38. W. V. Johnston, "John Hutchison Garnier, a Canadian naturalist and physician," Canadian Medical Assoc., Journal (Toronto), 29 (1933): 314–16; "Article of 25 years ago told of Dr. Garnier's genius and eccentricities," Lucknow Sentinel (Lucknow, Ont.), 30 July 1958. A. J. Mackenzie, "A Canadian naturalist; John Hutchison Garnier of Lucknow," Canadian Medical Assoc., Journal, 17 (1927): 355–56.
© 1990–2023 University of Toronto/Université Laval
Image Gallery
Cite This Article
Charles G. Roland, "GARNIER, JOHN HUTCHISON," in Dictionary of Canadian Biography, vol. 12, University of Toronto/Université Laval, 2003–, accessed September 28, 2023, http://www.biographi.ca/en/bio/garnier_john_hutchison_12E.html.
The citation above shows the format for footnotes and endnotes according to the Chicago manual of style (16th edition). Information to be used in other citation formats:
| | |
| --- | --- |
| Permalink: | http://www.biographi.ca/en/bio/garnier_john_hutchison_12E.html |
| Author of Article: | Charles G. Roland |
| Title of Article: | GARNIER, JOHN HUTCHISON |
| Publication Name: | Dictionary of Canadian Biography, vol. 12 |
| Publisher: | University of Toronto/Université Laval |
| Year of publication: | 1990 |
| Year of revision: | 1990 |
| Access Date: | September 28, 2023 |