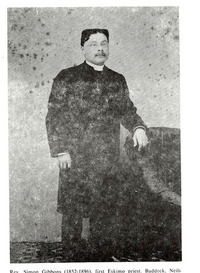 Source: Link
GIBBONS, SIMON THOMAS, teacher and Church of England clergyman; b. probably 21 June 1851 in Forteau, Labrador, son of Thomas Gibbons, a fisherman, and an Inuit woman, who died in childbirth; m. 26 March 1878 Frances Eliza DuVernet in Clarenceville, Que.; they had no children; d. 14 Dec. 1896 in Parrsboro, N.S.
Simon Thomas Gibbons's early life is lost in a plethora of legends, some of which he may have created and promoted himself. A folk tale has persisted in the parishes where he ministered that he was discovered on an ice-floe off the coast of Labrador. The first official record of him appears in the third annual report of the Church of England Widows and Orphans Asylum in St John's. He was admitted to the orphanage on 5 Nov. 1857 at the age of six. Included in the report are the following remarks, "This boy is half Esquimaux, and with three brothers and a sister-in-law (pure Esquimaux) was left by his father's death entirely destitute. Mr. [Algernon] Gifford, Missionary of Forteau, on the Labrador, sent him to St. John's with an earnest request that he might be received into the Asylum."
A subsequent orphanage report describes Simon as "having evinced intellect of no ordinary degree," and because of his "diligence and progress" he was placed as a day-scholar in the Church of England academy under the Reverend George Poulett Harris in 1860. Two years later his name was taken off the orphanage list when he came under the care of Sophia Mountain, widow of Jacob George Mountain* and lady superintendent of the asylum. In 1867 Mrs Mountain married the bishop of Newfoundland, Edward Feild*, and Simon thus became a member of the episcopal household in St John's. After graduation from the academy, he continued his education and preparation for the ministry under a Reverend Mr Hutchinson at Tilt Cove. Unfortunately the Tilt Cove records were destroyed in a rectory fire, and little is known of this period of Gibbons's life other than that he became one of a celebrated group who worked as lay readers, teachers, and catechists in Newfoundland's outport parishes.
In 1875 Gibbons moved to Quebec and a similar ministry in the diocese of Montreal. During a brief stay in Clarenceville, he revealed that he was a man of action. He taught in the church-run academy, acted as parochial lay reader, and tutored the rector's son, Frederick Herbert DuVernet, for university matriculation. (He would later choose the rector's daughter as his wife.) In 1876–77 he was enrolled at King's College in Windsor, N.S., in a brief, intensive preparation for ordination. Canon William Selwyn Hierliehy Morris, who knew him at King's, later reported that "his typical Eskimo physique in no way lessened his popularity," although Gibbons told a friend that he had been bullied by some students during his early days at the college because he was "different." Photographs of him reveal a short stocky figure and a round flat face, with dark skin and straight, coarse black hair and moustache. Gibbons was ordained deacon by Bishop Hibbert Binney* of Nova Scotia on 25 Feb. 1877 and priest on 17 March the following year.
During an all too brief ministry Simon Gibbons was incumbent in three Nova Scotia parishes. His first appointment was as travelling missionary in Cape Breton, with specific responsibility for the mission of Victoria County, an area that had been settled by fishermen from Newfoundland. Here he demonstrated his physical stamina and endurance under great difficulties. Canon Morris described the road through this district as "little better than a trail, often impassable in winter except on snow shoes." In an early letter to Archdeacon Thomas Fraser Draper of Louisbourg, Gibbons wrote, "I shall have a lot of walking to do and will have to carry some grub and a change of clothes with me on my back." He requested a soldier's knapsack, and with it he went from place to place throughout his mission. Vivid stories are still told in Cape Breton of his winter experiences: hopping from one pan of drift-ice to another so as to cross an inlet, crawling on his hands and knees along an icy shore-line to reach an isolated community for Christmas festival services, climbing a steep, winding trail over Smokey Mountain on snowshoes. More than once he stumbled into a friend's home after a 100-mile trek on foot from the north, utterly fatigued and with blood-stained shoes.
These exhausting ministrations were interspersed with trips to Great Britain in 1881 and 1882 to solicit funds for the building of churches in his mission. According to Canon Morris, "He had qualifications not possessed by every 'collector'; a musical voice, fluent and eloquent speech, an attractive personality, and above all his thoroughly Eskimo physique. These attracted large audiences wherever he went. His own single comment was: – 'My face was my fortune.'" While in England he preached in Westminster Abbey and appeared before Queen Victoria. With the financial assistance he received on his trips abroad he built and furnished two churches and a mission house in his first charge and placed in the hands of the bishop the sum of $4,500 for the permanent endowment of the mission.
Once, in conversation with Morris, Gibbons remarked, "I stayed in Cape Breton a year too long," as near a complaint as he ever uttered. After seven and a half years of most difficult and trying work, at the end of 1885 he went to his second parish, Lockeport, N.S. He is commemorated in Cape Breton by the naming of one of the two ecclesiastical regions Simon Gibbons. During his three years in Lockeport, Gibbons served three congregations in an area extending some 35 miles along Nova Scotia's south coast. This charge was much less exhausting than his first parish. Nevertheless there is evidence of a deterioration in his health, which necessitated a six-week stay in the West Indies in 1885. Two years later he again travelled to Britain in a search for both improved health and the means to increase the efficiency of work in his parish He returned with additional financial resources and laden with furnishings for his new church in Jordan Falls.
Three churches were built in Gibbons's last parish, Parrsboro, to which he moved in 1888. He assisted manually in the construction of each, and every morning he served the workers a tot of rum to give them encouragement. The distinctive Gibbons bell tower, known as the "Rhineland helmet" because of the shape of the gables, is still to be seen on most of his churches throughout Nova Scotia. His zeal and energy in raising money for these buildings has earned him the title "champion church builder of the diocese."
Although he travelled constantly under the most primitive conditions, Simon Gibbons demonstrated great skills in communicating with his audiences. Moreover, local and international papers and diocesan and national church publications of the day carried vivid descriptions of his activities and accomplishments and those of his parishioners. Closely tied in with his gifts as a speaker was his outstanding ability to help others experience for themselves that "the Lord loves an hilarious giver." On the night that he was to die, with a full awareness that his end was near, he preached a powerful sermon on the text "We must needs die." He was buried in the Parrsboro parish cemetery during one of the wildest winter storms of the century. So ended the brief ministry of a priest extraordinary.
A full-length biography of the subject is provided in L. F. Hatfield, Simon Gibbons: first Eskimo priest; the life of a unique clergyman and church builder (Hantsport, N.S., 1987).
Much of the material consulted remains in private possession, including the journals and scrapbooks of Olive Canning of Wards Brook (near Parrsboro, N.S.), in the care of Miss Hazel Slater (Wards Brook); a collection of newspaper clippings assembled by Helen Fraser of Parrsboro, in the possession of her niece, Mrs W. B. (Bruce) Fullerton (Parrsboro); and the journals of David Harris Jenks of Diligent River, N.S., in the custody of Jack F. Layton (Innisfail, Alta.), copies of which are available at St George's Anglican Church in Parrsboro. A copy of T. F. Draper's manuscript, "A history of the church in Cape Breton" (1901), is in the author's possession (a typescript version of it is available at the PANS).
An extensive search was made of the NA's copies of the SPG records (MG 17, B1). Of particular value is Gibbons's correspondence from Victoria County, N.S., available in transcript form at the NA (D.58/N.S.: 89; D.66/N.S.: 49, 54, 58; D.70/N.S.: 109–12). His 1879 report from the mission (E.34/N.S.) is available on microfilm at the NA and other repositories including the ACC, General Synod Arch. (Toronto), and the PANS, as are the records of Algernon Gifford at Forteau (C/Nfl., box II/27, folder 316).
ACC, Diocese of Montreal Arch., St George's (Clarenceville, Que.), records, 1875–78, including Clarenceville Academy records; reg. of marriages, 16 March 1878; Diocese of Nova Scotia Arch. (Halifax), W. S. H. Morris, "True clerical experiences"; Statistics for the parishes of Victoria County, Lockeport, and Parrsboro. Holy Trinity Anglican Church (Lockeport, N.S.), Records, 1885–88. St George's Anglican Church, Records of the parishes of St George's and Holy Trinity (Port Greville, N.S.), 1888–96. St James' Cemetery and Crematorium (Toronto), Burial records, F. E. [DuVernet] Gibbons, 23 Nov. 1918. St Peter's and St John's Anglican Church (Baddeck, N.S.), Records of the mission of Victoria County, Cape Breton, 1877–85. Univ. of King's College Library (Halifax), Matriculation records, 1876. Church Guardian (Moncton, N.B.; Halifax; Montreal; St John's), 1879–95. Church Observer (Springhill, N.S.), 4 Jan. 1897. Church Work (Digby, N.S.; Halifax), 1875–97. M. W. Morley, Down north and up along (New York, 1900). Newfoundland Church of England Widows and Orphans Asylum, Annual report (St John's), 1858–63 (copies are available at ACC, Diocese of Newfoundland Arch., and at Queen's College, Memorial Univ. of Nfld., both in St John's; the diocesan archives holds the complete collection). SPG Report (London), 1878–96.
Crockford's clerical directory . . . (London), 1891. Univ. of King's College, The calendar of King's College, Windsor, Nova Scotia . . . (Halifax), 1876–78. V. G. Kent, The origins of the Anglican Church in Cape Breton (n.p., 1985). R. J. Morgan, "Heroes of Anglican Christianity in Cape Breton" (paper presented to the ACC, Synod of Nova Scotia, Sydney, 1985). J. H. Purchase, The parish of St. Andrew's Church, Neil's Harbour, Nova Scotia: 100th anniversary, 1877–1977 (n.p., n.d.). Chris Thomas, Holy Trinity Anglican Church in Jordan Falls, Shelburne Co., N.S. (n.p., n.d.). "The Anglican Church celebrating 200 years in Cape Breton," Cape Breton Post (Sydney), 11 May 1985, supp. Canadian Churchman, 26 Sept. 1929: 635. M. A. Gibson, "Churches by the sea," Chronicle-Herald (Halifax), 22 Nov. 1980. W. S. H. M[orris], "Simon Gibbons, travelling missionary in Cape Breton, 1877–1885: a memoir," Church Work (Middleton, N.S.), 57 (1935), no.7: 10–11; no.8: 7.
© 1990–2023 University of Toronto/Université Laval
Image Gallery

Cite This Article
Leonard F. Hatfield, "GIBBONS, SIMON THOMAS," in Dictionary of Canadian Biography, vol. 12, University of Toronto/Université Laval, 2003–, accessed June 8, 2023, http://www.biographi.ca/en/bio/gibbons_simon_thomas_12E.html.
The citation above shows the format for footnotes and endnotes according to the Chicago manual of style (16th edition). Information to be used in other citation formats:
| | |
| --- | --- |
| Permalink: | http://www.biographi.ca/en/bio/gibbons_simon_thomas_12E.html |
| Author of Article: | Leonard F. Hatfield |
| Title of Article: | GIBBONS, SIMON THOMAS |
| Publication Name: | Dictionary of Canadian Biography, vol. 12 |
| Publisher: | University of Toronto/Université Laval |
| Year of publication: | 1990 |
| Year of revision: | 1990 |
| Access Date: | June 8, 2023 |