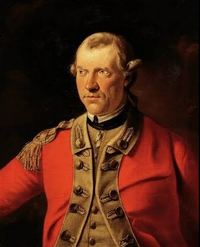 Source: Link
GLADWIN (Gladwyn), HENRY, army officer; b. 1729 or 1730, probably in Derbyshire, England, elder son of Henry Gladwin and Mary Dakeyne; m. Frances Beridge, and they had ten children; d. 22 June 1791 at Stubbing Court, Derbyshire.
Henry Gladwin became a lieutenant in the 48th Foot on 28 Aug. 1753 and in 1755 was wounded at the battle of the Monongahela (near Pittsburgh, Pa). His regiment spent the rest of 1755 and 1756 refurbishing near Albany, New York, and in 1757 it accompanied Lord Loudoun to Halifax, Nova Scotia, as part of the abortive expedition against Louisbourg, Île Royale (Cape Breton Island). On 26 Dec. 1757 Gladwin was commissioned captain in the 80th Foot, a new light infantry regiment being raised by Thomas Gage. He was wounded in James Abercromby's attack on Fort Carillon (Ticonderoga, N.Y.) in 1758, and in 1759 Amherst promoted him acting major. He served as de facto commander of his regiment in the successful British campaign against forts Carillon and Saint-Frédéric (near Crown Point, N.Y.) in 1759. He held the same command in 1760 but was detached early in the summer to assist Colonel Henry Bouquet in building Fort Presque Isle (Erie, Pa). By late October he was in command of Fort William Augustus (formerly Fort Lévis; east of Prescott, Ont.). He secured his permanent commission as major on 13 Dec. 1760.
In 1761 Gladwin accompanied Sir William Johnson on a diplomatic mission to the Upper Lakes tribes but became ill at Detroit and returned east. He took command at Detroit in the summer of 1762, and the episode for which he is best known occurred there in 1763. That spring the able Ottawa chief Pontiac* raised the Upper Lakes tribes against the British and by June they had captured most of the western posts. Pontiac attempted to gain entry at Detroit for himself and a war party by means of feigned peace parleys but Gladwin was not deceived, having been informed beforehand of Pontiac's intentions. About a thousand warriors then laid siege to the fort. Their attempts to starve and harry it into submission failed because of the commandant's sound defensive strategy and the timely arrival of several relief expeditions. Throughout the siege the garrison never numbered more than 450 men. One expedition, which reached Detroit on 29 July, consisted of 280 men (including Robert Rogers and 20 rangers) under Amherst's aide Captain James Dalyell (or Dalzell). He proposed to abandon Gladwin's successful strategy of relying on the Indians' unwillingness to assault strong defences in favour of a night attack on the Indian villages. Gladwin reluctantly allowed the sortie but word reached Pontiac, who successfully ambushed the force of about 250 men on 31 July. The British sustained 60 casualties including the death of Dalyell. The garrison returned to the defensive and by the end of October many Indians had sued for peace and gone home. Detroit had been the only upper post not captured, and both Amherst and Bouquet, the senior officer in the west, approved of Gladwin's measures; Amherst demonstrated his favour by appointing him nominal deputy adjutant general in America and recommending his promotion to lieutenant-colonel, effective 17 Sept. 1763.
In late 1763 and early 1764 Gladwin wrote to his superiors of his dislike for further service in America and of his desire to return to England to settle his deceased father's affairs. After John Bradstreet's force relieved Detroit in August 1764, Gladwin returned to England by way of New York. He settled on his estate and saw no further active service. Seniority brought him the rank of colonel on 29 Aug. 1777 and major-general on 20 Nov. 1782. He died in 1791.
Clements Library, Thomas Gage papers, letterbooks, 1759–63; American series, Gladwin to Gage, 26 Oct. 1760; 4, 24, 25 Feb., 5, 8, 24 March, 5, 7 April 1762. PRO, WO 34/2, ff.1–11, 14, 16–18, 29; 34/6, f.12; 34/7, ff.2–3, 31, 50, 96, 100–1, 112–14; 34/49. Amherst, Journal (Webster). [Henry Bouquet], The papers of Col. Henry Bouquet, ed. S. K. Stevens et al. (19v., Harrisburg, Pa., 1940–43). Diary of the siege of Detroit . . . , ed. F. B. Hough (Albany, N.Y., 1860). Johnson papers (Sullivan et al.), III, 421, 468–500, 512, 521, 524, 670, 730, 747, 751, 820. Knox, Hist. journal (Doughty), 1, 40–41. Thomas Mante, The history of the late war in North-America and the islands of the West Indies, including the campaigns of MDCCLXIII and MDCCLXIV against his majesty's Indian enemies (London, 1772). Michigan Pioneer Coll., XIX (1891), 27–295; XXVII (1896), 605–80. Military affairs in North America, 1748–65 (Pargellis), 223, 232, 235, 239–40, 265. The siege of Detroit in 1763: the journal of Pontiac's conspiracy, and John Rutherfurd's narrative of a captivity, ed. M. M. Quaife (Chicago, 1958). Peckham, Pontiac. M. M. Platt, "Detroit under siege, 1763," Michigan History (Lansing), XL (1956), 46.5–97.
© 1979–2023 University of Toronto/Université Laval
Image Gallery

Cite This Article
Peter E. Russell, "GLADWIN, HENRY," in Dictionary of Canadian Biography, vol. 4, University of Toronto/Université Laval, 2003–, accessed December 9, 2023, http://www.biographi.ca/en/bio/gladwin_henry_4E.html.
The citation above shows the format for footnotes and endnotes according to the Chicago manual of style (16th edition). Information to be used in other citation formats:
| | |
| --- | --- |
| Permalink: | http://www.biographi.ca/en/bio/gladwin_henry_4E.html |
| Author of Article: | Peter E. Russell |
| Title of Article: | GLADWIN, HENRY |
| Publication Name: | Dictionary of Canadian Biography, vol. 4 |
| Publisher: | University of Toronto/Université Laval |
| Year of publication: | 1979 |
| Year of revision: | 1979 |
| Access Date: | December 9, 2023 |