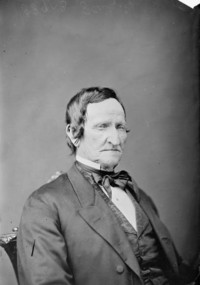 GLASIER (Glazier), JOHN, lumberman and politician; b. 3 Sept. 1809 in Lincoln, near Fredericton, son of Benjamin Glasier and Martha —; m. 24 Sept. 1842 Emmaline (Emanaline, Emeline) Garraty, and they had seven children, of whom one son and one daughter survived their father; d. 7 July 1894 in Ottawa.
Early in his career John Glasier became a legend as a combative woods boss and daring entrepreneur. A generation after his death he was elevated to the status of a folk hero with the appearance in 1926 of "Glasier's men," the most widely published and one of the most memorable of Hiram Alfred Cody*'s poems.
He was the second of four brothers, grandsons of Benjamin Glasier, a Massachusetts hero of the Seven Years' War who had acquired a large intervale property at Lincoln on the Saint John River [see Beamsley Perkins Glasier*]. John's father and uncle engaged in shipbuilding as well as farming but suffered a serious set-back in business in the mid 1820s and also had their sawmill and their woods destroyed in the great fire of 1825.
While all the members of this close-knit family farmed, lumbered, and helped in developing a small grist-mill and a carding-mill, John and his younger brothers became increasingly involved in the timber trade. John usually worked in partnership with Stephen, cutting timber and driving it to the booms near Fredericton; Duncan D. operated on the lower river, towing log rafts and carrying freight.
By 1837 John and Stephen had large contracts with the Saint John timber merchant Robert Rankin*. Initially they worked on the Shogomoc Stream in York County but in the early 1840s John was operating far up the Saint John watershed in the territory awarded to Britain under the Webster-Ashburton Treaty of 1842. In 1849 the Glasiers also moved into Maine, where they purchased a whole township (36 square miles). The tales of John's personal courage and of his bold spirit were born in that remote high country where Quebec, New Brunswick, and Maine meet: "First to bring a timber drive through the wild Grand Falls; / First to sight the Squattock Lakes where the lone moose calls." These lines celebrate Glasier's achievements in being the first to show that it was feasible to bring timber drives through the falls on a regular basis and in pioneering the exploitation of the last great resource of pine timber in the valley, to the considerable advantage of the port of Saint John.
Legends portray him as a tough, intensely competitive individual who lived by his own rules. Verifiable, at least in part, is a story of his leading his woods crews across the border into Maine, battling the local woodsmen, and destroying a large dam on the Allagash River below Churchill Lake in order to release a head of water to carry his timber drive over Grand Falls. His reputation for combativeness is similarly revealed in an allegation that a Glasier vessel, the Bonny Doon, in an effort to claim the title of fastest boat on the Saint John River, ran across the bow of, and later tried to ram amidships, Benjamin Franklin Tibbetts's famous Reindeer. A gentler side to John's character appears in stories of his favourite mare, after whom the river-boat was named. A New Brunswick version of Paul Bunyan's ox, Bonny Doon was a road horse, unequalled for speed, with the stamina to maintain an unbelievable pace from Fredericton to Quebec City and the added virtue of being John's adviser and business confidante.
In 1852 John and Stephen Glasier obtained the J. D. Pierce, the first stern-wheeler to travel the Saint John. They had the Bonny Doon built the following year at Farmingdale, Maine. It had a very shallow draught so that it could operate on the river above Fredericton and even reach Grand Falls at favourable seasons of the year. Their depot was 75 miles above Grand Falls on the St Francis River, where nearby Glasier Lake preserves their name.
The high point in the fortunes of the Glasier partnership was reached in the early 1860s during the American Civil War, when at one time they employed more than 600 men. The depression of 1872–73 caught the firm greatly overextended, however, and John and Stephen appear to have been able to retain only their inherited farms, both heavily mortgaged.
John Glasier had entered politics as a Liberal in the 1861 election, winning a seat in the House of Assembly for Sunbury by only two votes. In 1865 he was one of the small number of pro-confederation candidates elected, winning the poll by an overwhelming majority, as he did again in 1866. He was appointed to the Senate in March 1868 to fill one of the vacancies created when Edward Barron Chandler* and William Todd* declined the appointments offered to them. Glasier had few political graces and seldom spoke in either the provincial assembly or the Senate, though he was, according to the Saint John Globe, "able to express his views clearly when it was necessary to speak." He "conscientiously and fearlessly" discharged his public duties. Independence was characteristic of him in all fields; even in religion he was, as another newspaper commented, "wonderful in his knowledge of the scriptures" but "followed no creed or sect."
He refused to have his photograph taken, probably because he was sensitive about the black wig he always wore after losing his hair during a bout with typhoid fever at the age of 18. A grandnephew remembered that "he looked like Uncle Sam. He had a long nose that hooked down and a long chin which hooked up and he was never without his beaver hat – not even when he was tramping through the woods to visit one of his lumber camps. He was a tall, tremendously powerful man, all bone and muscle, and as supple as a boy even in his old age."
He was also sensitive about his status, insisting that in his partnership with Stephen he was "the main man." This led Paddy McGarrigle, an employee, privileged jester, and sometime cook, to dub him "The Main John Glasier," a name that was adopted widely among woods crews. First used to distinguish the proprietor of a lumber company from the local woods boss, it later came to be applied to the woods bosses themselves. The original "Main John" contracted cholera while attending a session of the Senate and died at Ottawa on 7 July 1894.
N.B. Museum, John Glasier letters; F. A. Hoben, journal. PANB, MC 30; MC 38; MC 300, MS2/115; MS5/5, 10–11, 17, 19, 23, 25; MS8; RG7, RS72, A, 1814, Benjamin Glasier; 1849, Benjamin Glasier; 1884, D. D. Glasier; 1923, Arthur Glasier. Sunbury Land Registry Office (Burton, N.B.), Record books, 1788–1898 (mfm. at PANB). UNBL, MG H104, T. S. Glasier, "Reminiscences of Thomas S. Glasier" (typescript, c. 1914); another copy, entitled "Lumbering with the Main John," intro. L. M. Beckwith Maxwell. N.B., House of Assembly, Journal, 1838, app.3; 1862–67. Daily Gleaner, 7, 9–10 July 1894. Herald (Fredericton), 14 July 1894. Saint John Globe, 7 July 1894. Elections in N.B. L. M. Beckwith Maxwell, An outline of the history of central New Brunswick to the time of confederation (Sackville, N.B., 1937; repr. Fredericton, 1984). H. A. Cody, "Glasier's men," Fifty-four narrative poems, ed. O. J. Stevenson (Toronto, 1933), 7–8 (copy at N.B. Museum). Ted Jones, All the days of his life: a biography of Archdeacon H. A. Cody (Saint John, N.B., 1981). G. [B.] MacBeath and D. F. Taylor, Steamboat days: an illustrated history of the steam-boat era on the St. John River, 1816–1946 (St Stephen [-Milltown], N.B., 1982). W. O. Raymond, The River St. John: its physical features, legends and history from 1604 to 1784 (Saint John, 1910). Beatrice Craig, "Agriculture and the lumberman's frontier in the upper Saint John valley," Journal of Forest Hist. (Santa Cruz, Calif.), 32 (1988). F. H. Phillips, "The Main John; lumber king Glasier had great courage but wasn't popular," Daily Gleaner, 24 June 1958. Telegraph-Journal (Saint John), 21 Oct. 1926, 29 Jan. 1936, 25 Oct. 1948.
© 1990–2023 University of Toronto/Université Laval
Image Gallery

Cite This Article
D. M. Young, "GLASIER, JOHN," in Dictionary of Canadian Biography, vol. 12, University of Toronto/Université Laval, 2003–, accessed March 26, 2023, http://www.biographi.ca/en/bio/glasier_john_12E.html.
The citation above shows the format for footnotes and endnotes according to the Chicago manual of style (16th edition). Information to be used in other citation formats:
| | |
| --- | --- |
| Permalink: | http://www.biographi.ca/en/bio/glasier_john_12E.html |
| Author of Article: | D. M. Young |
| Title of Article: | GLASIER, JOHN |
| Publication Name: | Dictionary of Canadian Biography, vol. 12 |
| Publisher: | University of Toronto/Université Laval |
| Year of publication: | 1990 |
| Year of revision: | 1990 |
| Access Date: | March 26, 2023 |